Your event website is often the first thing prospective attendees see, and a driving force behind getting them to show up. It's important to be thoughtful about what is—and isn't—included on the landing page. As you do your planning, consider this advice below from "The Universe of Events," a new comprehensive event marketing guide from Splash:
Here's what you want your event page to do:
• Convey your event's message, story, or value
• Provide the important details (location, speakers, etc.)
• Get them to RSVP or buy tickets (the holy grail)
Even though there are endless ways to customize your event pages, certain elements should always be included:
1. Date and time
2. Event title or event logo
3. RSVP button/sign up
4. Venue
5. Logo and/or partners
6. Description and details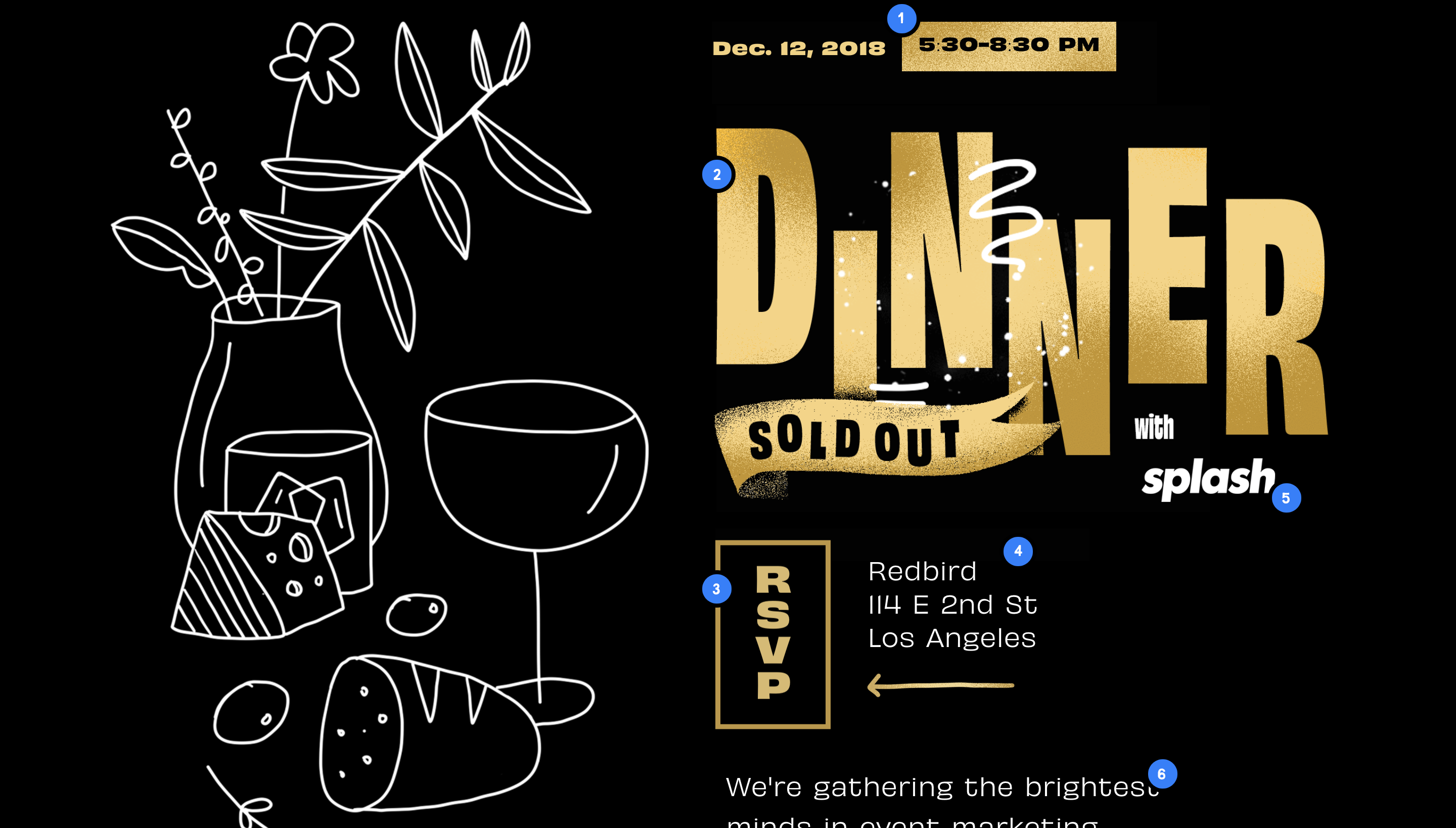 Depending on your event, you may also want to include bonus content like:
• A promotional video or live stream
• A packing list
• A guide to the host city
• A list of future events
• A list of the guests or brands who will be there
• Testimonials from past attendees
• Social buttons
• Navigation bar or jump links (especially if you have a lot of content)
The Essentials of an RSVP Form
What's even more important than the event page itself is the point of registration. Why? Because a great RSVP form can reduce the friction between your guests and the submit RSVP button ... which means more conversions! Here are the basic fields that every form should have:
• Name
• Email
• RSVP button
• Secondary information:
   – Business info: job title, company, industry
   – Plus one(s) and their information
   – Dietary preferences or restrictions
   – Personal info like t-shirt size or favorite color
   – Consent box for data processing or opt-in for future communications (GDPR)
   – Any data that will help you provide the best guest experience
Also, Don't Forget the Confirmation
The confirmation is a great opportunity to end the event registration on a high note. Think about it as a two-part experience:
1. On-Page Confirmation: This is online messaging indicating that the RSVP is successful.
2. Confirmation Email: This is the email immediately after indicating that the RSVP is successful. This email can also include all the important details that a guest can refer back to later (date, time, location, etc.).
Read Splash's free 10-chapter event marketing guide, "The Universe of Events," here.