Eating together is an integral part of the meeting experience and it is one of the best ways for attendees to network and discuss concerns and solutions while taking care of their basic needs. All the ideas in this story require one thing of meeting planners: Begin the food planning process much earlier than in pre-pandemic days. Thrive Meetings' Tracy Stuckrath, a food safety consultant and speaker, says, "Food and beverage is the number-one budget expenditure, but the majority of planners spend the least amount of time on it." 
In the post-COVID world, food and beverage will have to be considered in conjunction with educational sessions, lunch speakers, and even purchasing attendee swag for the event. Karen Watson, senior director strategic events at Maritz Global Events, says, "No one, no one, is allowing reusable water bottles from the attendee because they don't want to run the risk of someone's bottle touching the spigot," so that staple of conference gifts is out, and in the future, either an attendant will hand out glasses of water to guests or glass bottles will be provided at individual place settings. 
Menus
Here's the good news: very few menu options will change when meetings resume. In fact, the only foods that give planners pause are those that are shared, think salsa, cheese dip, or guacamole. A big bowl of guac and chips is no longer feasible, and small bowls of guac will turn brown and unappetizing very quickly. 
Other than that, James Filtz, CMP, CPCE, director of meetings and special events at The Ritz-Carlton Hotel Company, says, "I'm not going to tell a client that they can't have anything, and we are not currently planning on doing a 'pandemic menu.' I am going to find a way to make it happen in some way, shape, or form. For example, buffets are not permitted, but that doesn't mean that I can't have something that looks and acts like a buffet but is safely covered with a sneeze guard with servers on hand to give out individual portions."   
Dan Potter, senior strategic events manager at Maritz Global Events, believes that, if anything, the pre-COVID trend toward fresh, organic food will continue because people want to eat healthily and boost their immune systems. "We're finding more and more facilities that we work with really do grasp the concept of farm to table, and they really work with local providers. Flexibility is required: To use locally produced food, Filtz says, "Planners must be willing to accept the farmer's selection of vegetables or varieties of fruit." 
Ask yourself: 
Can I reassure attendees and get them excited about the menu by outlining where the food was sourced and how it was prepared?
Food Chain of Custody
A June 25 update from the Centers for Disease Control and Prevention says, "Currently, there is no evidence to suggest that handling food or consuming food is associated with COVID-19." 
But Stuckrath says the virus is a wake-up call for a long-neglected part of the planner's job. She shared this anecdote to illustrate complacency among food and hospitality workers. A few years ago, she was at a steakhouse with her family and the menu included three salads with romaine lettuce. At the time, there was a romaine recall because of E. coli infections but when Stuckrath asked about it, the waitress was completely in the dark. Finally, the manager came to the table and reassured her that the romaine did not come from Yuma, Ariz., the source of the outbreak.
Stuckrath says, "If we're talking about food safety, we still have to worry about listeria, salmonella, and E.coli, and that's what we need to be paying attention to because in this case, the waitress did not know about the recall. Planners have been relying on their food-and-beverage partners to have food-safety practices in place but rarely check on them," she says.  She recently polled a webinar audience to find out how many meeting planners ask about their venue's health inspection score. More than 70 percent of them never had.
For attendees, getting information about the origin and chain of custody of food can be reassuring. Local food is perceived to be safer than ingredients shipped in from far away on trucks and trains, and any additional information passed along to the diner shows that the planner knows where the ingredients came from and how they were prepared. 
Storytelling
Aurora Dawn Benton, Ph.D., founder of environmental agency Astrapto, suggests using the event app to share menus and information on where food is sourced and how it was produced to get attendees excited about it, especially when you're asking attendees to preorder their meals. Since people eat with their eyes, it is important to show images of the food as well as describing where it came from and how it is prepared. Here's her take on a vivid, engaging description of a herb and pasta parmesan dish: "We feature locally made pasta from Donatella's Italian Market. A third-generation family market, Donatella's is a staple in our city. Enjoy their classic Rotini topped with herbs from or own rooftop garden and parmesan sourced from an award-winning, regional cheese artisan."
Ask yourself: 
What is the venue's food inspection score?
Social Distancing
Stuckrath believes planners have a lot to learn from their school days.  "We may need to have a staggered lunch period like we did in elementary school so that there are a limited amount of people in the room at one time.  We have to think about flow, so there must be separate entrances and exits to the cafeteria."
While venues should provide new banquet seating capacities that reflect social distancing requirements, planners should focus on preserving the intent of the meal, not just the easiest or safest way to seat it. A classroom-style layout with diners in long lines of tables facing the stage is an efficient use of space and allows diners to watch a keynote or entertainment during dinner. However, while having diners all face in one direction may cut the risk of spreading the virus, it will also kill any chance for networking. Potter, at Maritz Global Events, says, "We really like our audience to collaborate with each other and network, so they need to see each other's faces. We still want human interaction. The needs of sponsors who like to have their own attendees mingling at meals should also be taken into account." 
Ask yourself: 
What is the goal? Do attendees want to be seated with others in their specialty, make new contacts, or focus on a presentation?
Sustainability and Food Waste
The key to F&B menus in the COVID era is curation, according to Benton. "We need to curate the food experience because we won't have the over-abundance of a buffet for a while," she says. "When I work with caterers on food-waste reduction, I will often hear really great wisdom and intuition from staff. But to make changes we need data, data, data." For example, some planners are insistent that their attendees love sliders, when the caterers end up throwing them away. I tell catering staff to start taking photos of the waste because without that they don't have the data to make planners pay attention." 
While fear of contamination is bringing back a lot of single-use products, many in the sustainability movement are holding their ground. Javier Rosa, the new executive chef at Utah's Salt Palace Convention Center aims to continue sustainable efforts already in place. 
He says, "I came from Miami and a building where we eliminated 99.4 percent of [single-use] plastics and were using materials like bamboo and cardboard—and recycling and composting at a high rate—to help the environment. The Salt Palace is working toward paper-free events, and maintains a robust recycling program that I look forward to helping fine-tune." 
Benton suggests that compostable disposables such as bamboo may not be right for every venue. "It is a great choice over standard plastics, but most U.S. markets and the vast majority of international markets don't have sophisticated enough infrastructure in their waste management to handle it. There are many markets that don't even have a commercial composter." Where possible, china plates and a dishwasher are still the safest and most sustainable option.
Ask yourself: 
Can attendees make menu choices at registration to make food purchase more accurate? 
Receptions
As meetings return, the goal at receptions will be to encourage small groups versus large ones, avoid lines at the bar, and have food served from tables behind sneeze guards rather than carried through a crowd on trays. While mixed drinks typically take longer to prepare individually, there are now premade cans of popular cocktails on the market that can cut down wait times. Some hotel chains, such as Loews, have the ability to bottle their own beverages so in-house signature cocktails can be mixed and bottled in advance. 
Ask yourself: 
Can you split networking events into smaller, topic-centered groups, or invite some guests one night and the rest on the following night to allow for social distancing?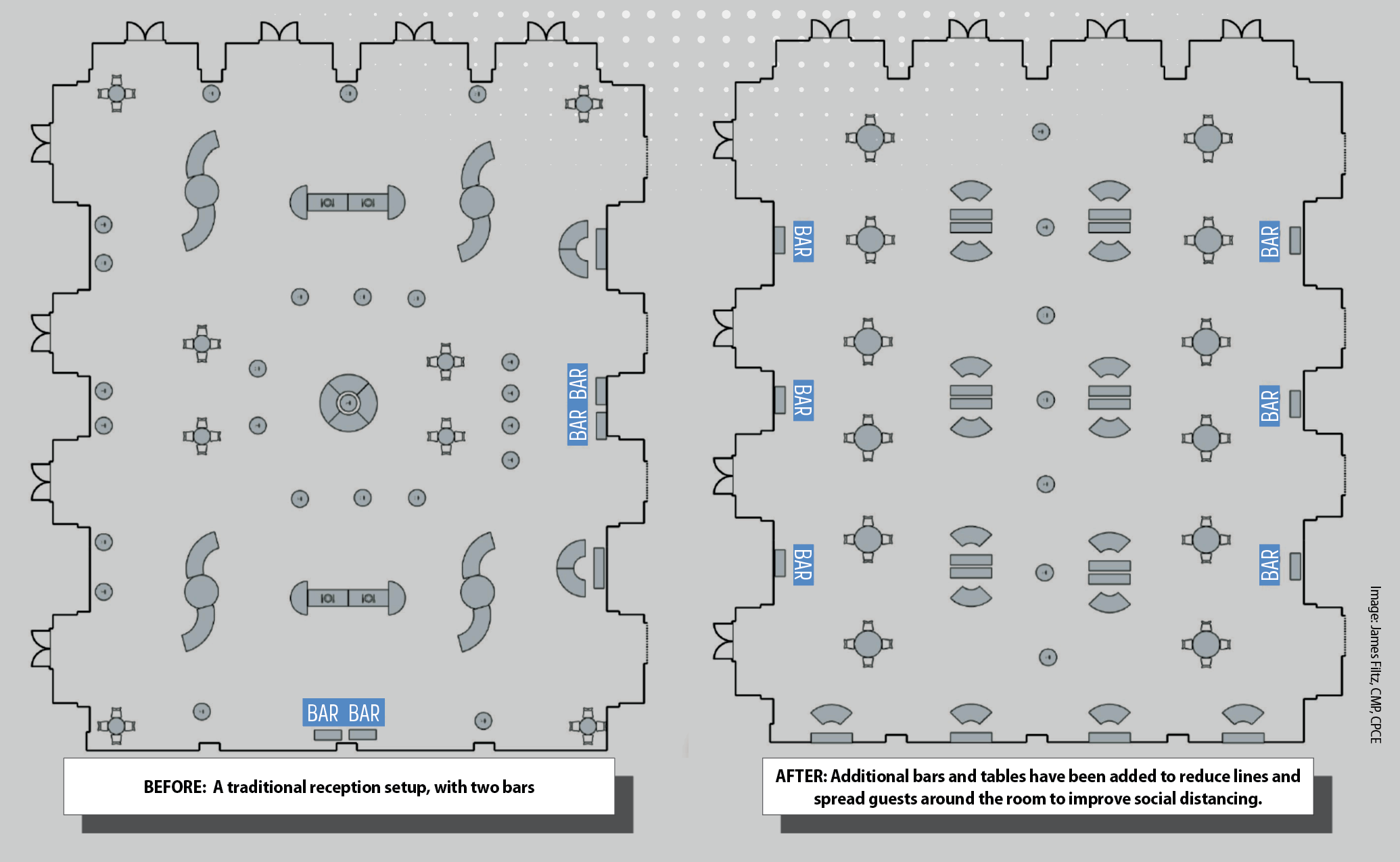 ---