The newly renovated Greater Columbus (Ohio) Convention Center already has 373,000 square feet of contiguous exhibit space, 75 meeting rooms, and more than 150 pieces of local art. But to really put it ahead, it needed, well, a head. Make that a giant 3-D sculpture of a universal human head made from ribbons of ultrabright LED screens situated in the center's new two-level open atrium north-end entrance.
The best part of the "As We Are" art installation, commissioned by the GCCC's owner, the Franklin County Convention Facilities Authority, is that it comes equipped with a photo booth that can take 3-D pictures that can be projected onto the sculpture. If your group likes to take selfies, this will be the ultimate selfie station on steroids—their mug will be projected onto the head, which is about 17 times bigger than the average person. "The eyes will be as big as dinner plates," said Matthew Mohr, the conceptual artist for the work and a professor at the Columbus College of Art and Design. No selfie stick required.
Photo credit: Ellen Dallager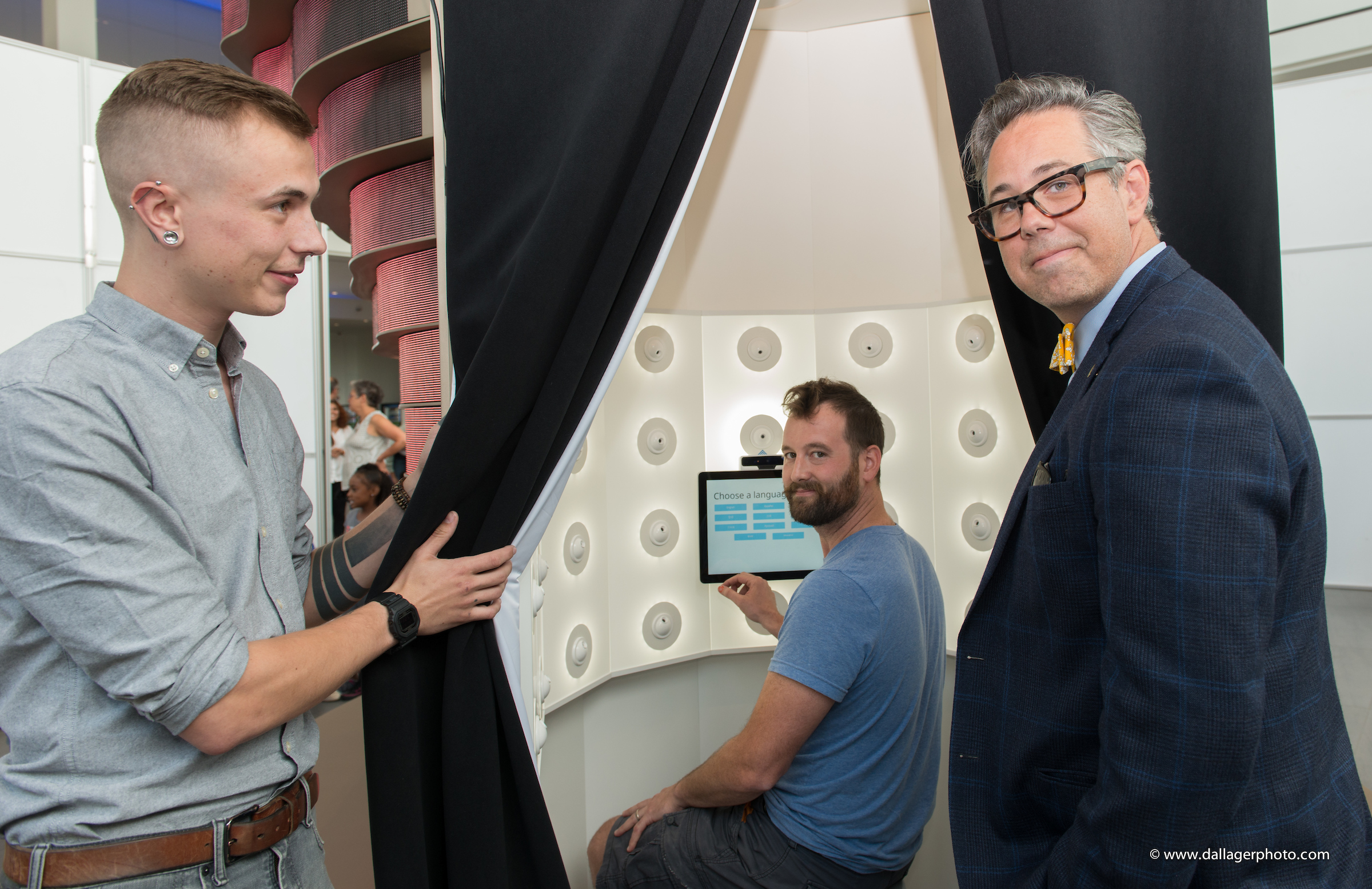 This photobooth where visitors can take a picture to be projected onto the sculpture makes the installation interactive.
"Through magnification, the sculpture re-contextualizes each participant and asks all who see their portrait to consider who that person is and the life they lead, no matter their age, gender or culture," he added. The project is designed to exhibit the welcoming and diverse culture of the city, which includes dozens of art galleries near the center, as well as entertainment, fashion, sporting events, and a hot restaurant scene.
"Columbus has a great story to tell, and part of that story is a rich arts culture that adds to the experience of visitors and residents alike," said Sally Bloomfield, chair of the FCCFA board. "We hope visitors enjoy the art collection, along with the other exceptional improvements that have been made to the convention center."
The 22-month, $140 million renovation and expansion of the GCCC and connecting Hyatt Regency Downtown included adding 37,000 square feet of new exhibit space, 10,000 square feet of two-level meeting space, and nine new meeting rooms with outdoor-facing windows; getting Leadership in Energy and Environmental Design (LEED) certification; new show offices overlooking the exhibit halls; new finishes, carpeting, lighting, social seating, sound systems, way-finding, ceilings, and technology; and a full renovation of the center's exterior.