As I wandered the halls of the 96-room, Austrian-style main building of the Trapp Family Lodge in Stowe, Vt., shortly after arriving for a celebration of my parents' 60th wedding anniversary, I couldn't help but think this would be one special place to hold an incentive program or corporate retreat. (Don't judge me—I know you can't turn it off either when visiting venues for personal reasons!).
While it does have that Austrian aura so many ski area resort venues sport, it falls far short of kitsch—as the tag line says, "A little of Austria…a lot of Vermont." The guest rooms, which are currently being refurbished and updated, feature in-room Keurig coffee pots, free Wi-Fi, cozy duvet comforters, and a balcony or outdoor seating area with Adirondack chairs to let you savor the gorgeous mountain views. The connectivity is generally pretty good, though cell coverage is spotty to non-existent for AT&T users, a common issue in Vermont, I've been told.
Trapp Family Lodge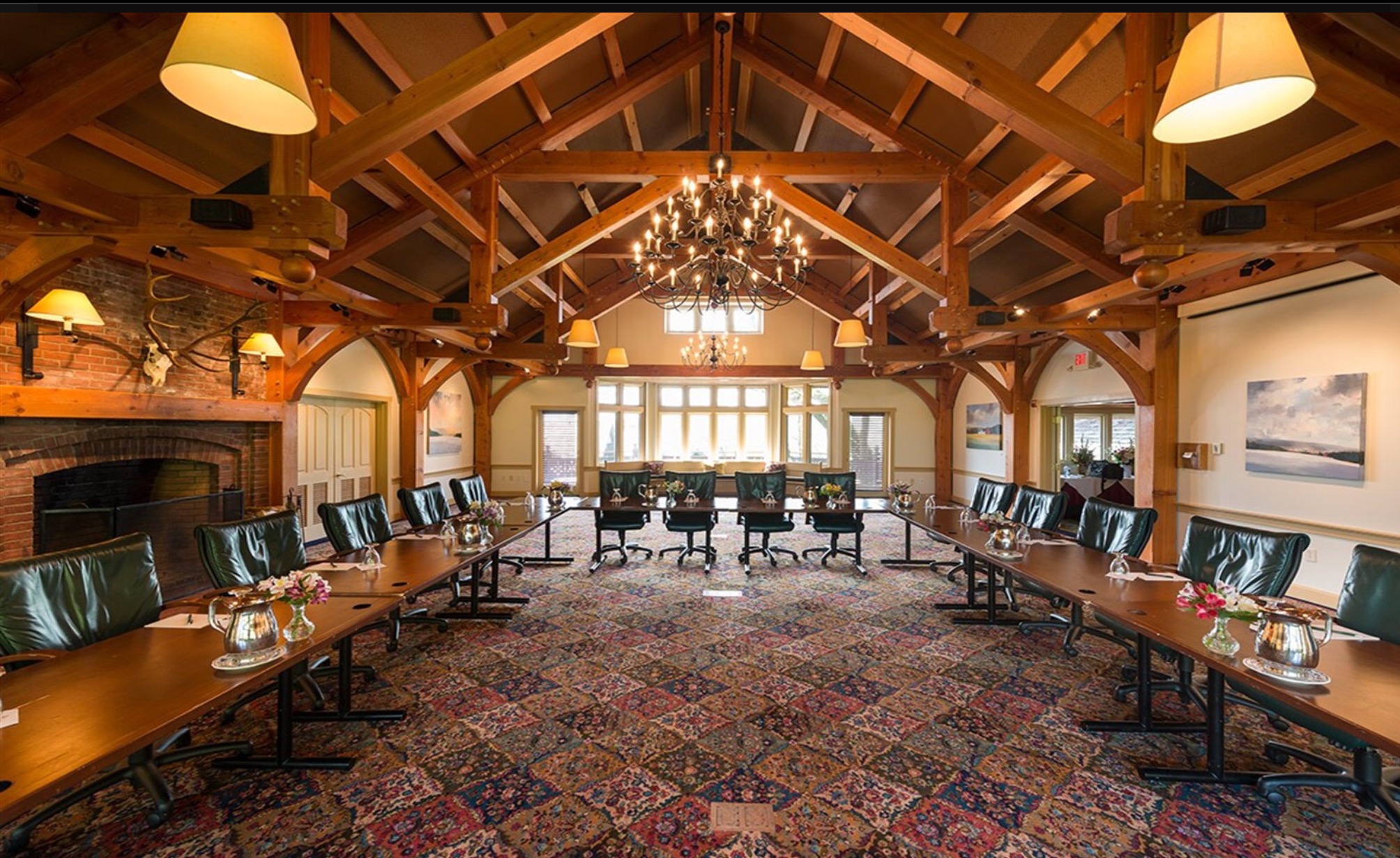 The Mozart Room offers a beautiful, yet businesslike, atmosphere.
The main lodge offers four main meeting spaces, plus many nooks and crannies that can be used for group gatherings. The most majestic of the rooms is the post-and-beam Mozart Room, which can accommodate 80–100. It features an open-hearth fireplace, high ceilings, Bose surround-sound system, a drop-down screen, large windows with electronic shades, and an adjoining patio and lawn area sprinkled with apple trees for breaks, casual dining, or even a picnic lunch. It also can be used for meals and receptions, either plated or buffet-style.
St. George's Hall, the Lodge's original meeting space, is often used as a cinema to show movies to hotel guests—including one highlighting Maria von Trapp, of "Sound of Music" fame, telling her story that concludes the resort's history tour. But it also serves as a general session room that can seat up to 100 theater style, and the drop-down movie screen can do double duty for PowerPoint presentations. Located in the lower level of the hotel, the windowless space has skylights to bring in natural light.
For smaller executive events, the Schubert Room offers a drop-down screen and can seat up to 20 in corporate board room style. The Strauss Room can seat 15–18 around a board table with panoramic mountain views.
The Lounge restaurant just off the main lobby also is a popular venue for group events, which also can spill over into the outdoor patio area. The Dining Room restaurant also features the Salzburg Room, where we held my parents' 60th wedding anniversary celebration dinner. The food and service were superb for our small group of 15; it can accommodate up to 45.
Other spaces for group events are around every corner, including "living rooms" on the second and third floors that can be privatized for events of up to 14 people. The third-floor living room is just off a luxury suite, which now that it is not longer the Baroness von Trapp's private suite, is well suited for a senior executive stay.
Trapp Family Lodge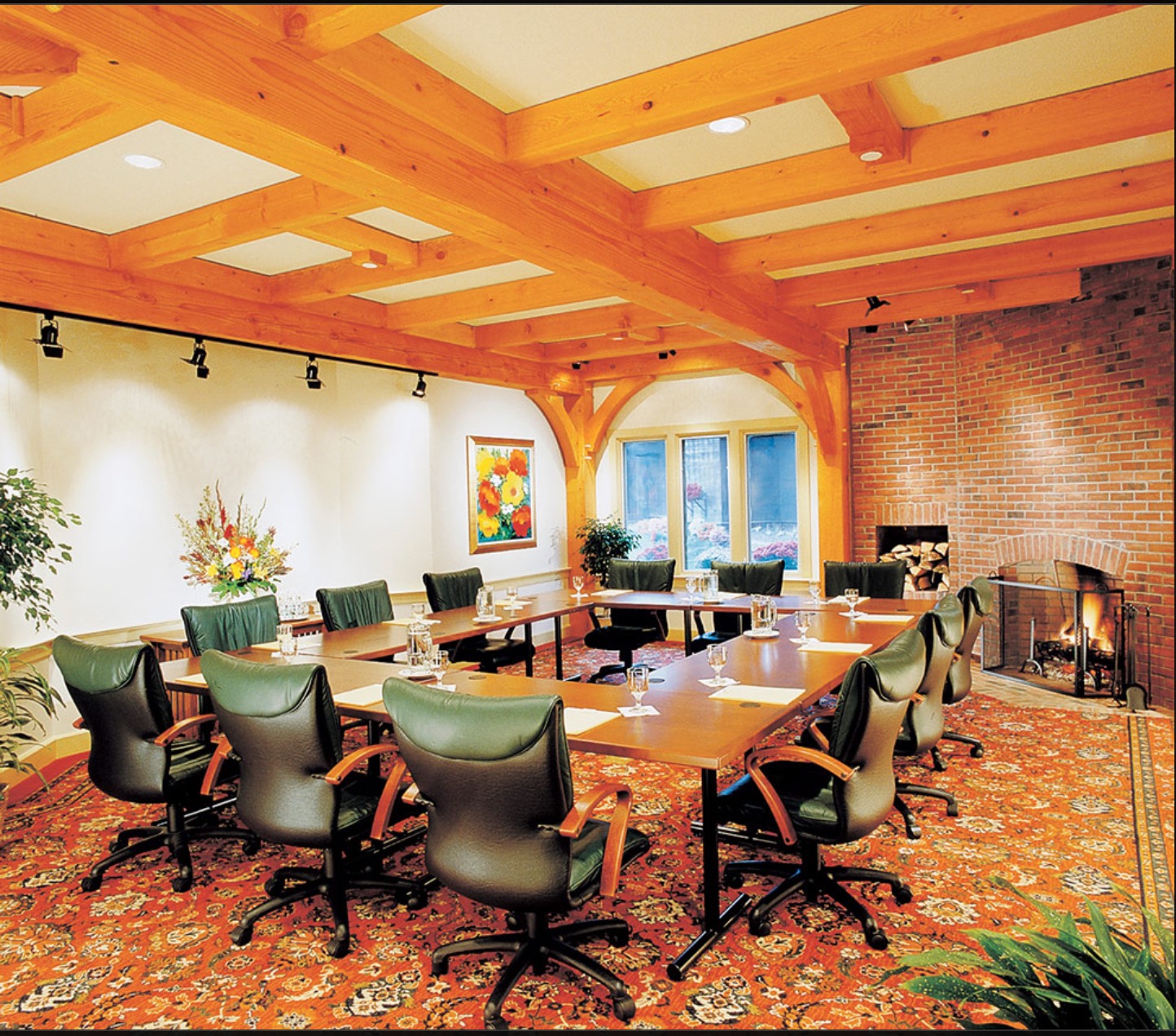 The Schubert Room offers an environment condusive for brainstorming and board meetings.
There also are outdoor venues for larger meetings and events, including The Concert Meadow, where we experienced the last of the summer's "Music in the Meadow" series, a Count Basie Orchestra concert. The outdoor stage area isn't just for bands, though—it can be used for receptions and other functions as well, as can the Wedding Tent venue. Event-planning and professional banquet services are available for all corporate and group events.
When they're not in meetings, there is no shortage of things for groups to do on the 2,500-acre property, including swimming in one indoor and two outdoor heated pools, lounging in a 20-person outdoor hot tub with spectacular mountain views, working out at the fitness center, which features a state-of-the-art equipment room, yoga and fitness classes—and the yoga is offered at a very civilized 9 a.m.—tennis and disc golf, horse-drawn carriage and sleigh rides, and miles of gorgeous trails for hiking, biking, snowshoeing, and cross-country skiing. Equipment for all the above is available for rent at the Outdoor Center just outside the main lodge. There's even a croquet court just off the Lodge's front lawn.
There also is an on-site brewery serving local ale, and the resort raises its own cattle and pigs, which eventually become some delicious beef and pork specialties at the resort's three restaurants. In addition to yummy farm-to-table cuisine (try the chicken schnitzel—so good!), the newly opened Bierhall also features an upstairs observation deck that would be a fun option for a group dinner or reception.
Part of the benefit of being part of a close-knit resort area is the Lodge's ability to coordinate with other local businesses to provide group experiences, including golf outings at Stowe's three courses. They also can bring in experts, including someone to talk about the maple sugaring process, and a host for local cheese tastings.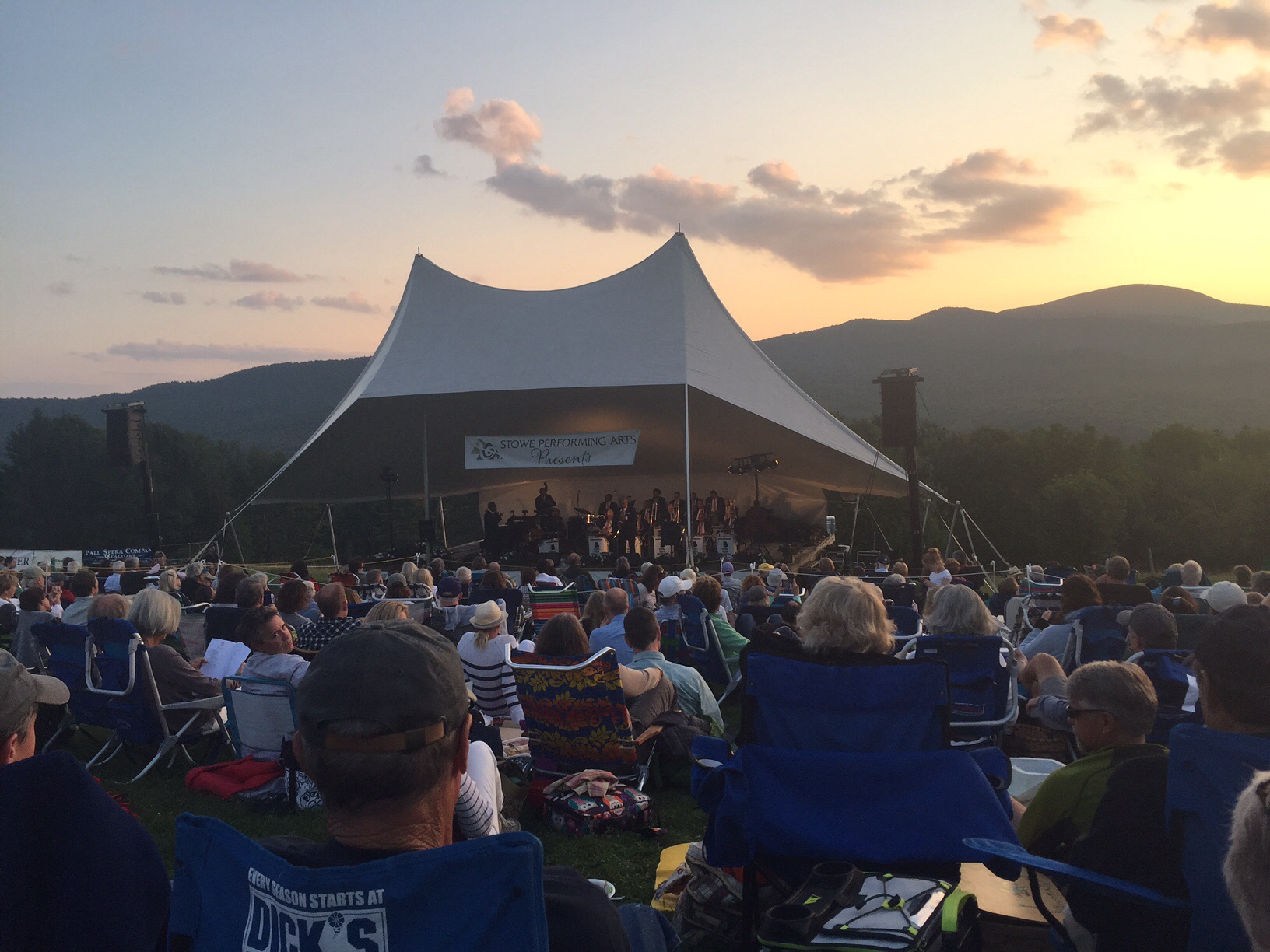 Sunset over the Concert Meadow pavilion was the perfect backdrop for a late-summer concert.