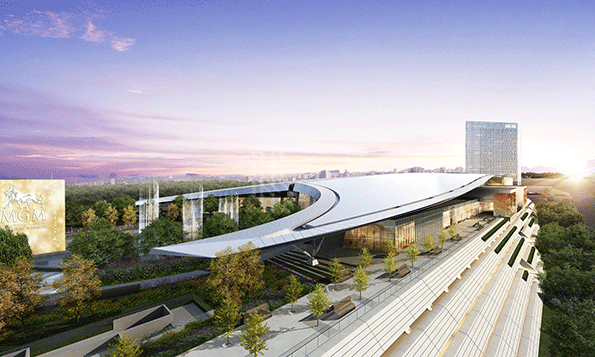 The $1.4 billion MGM National Harbor, the Washington, D.C. area's first luxury gaming resort, is scheduled to open December 8 in National Harbor, Md. The 24-story resort will offer 308 guest rooms and suites that range in size from 400 square feet to 3,210 square feet, and a 125,000-square-foot casino with poker, table games, and more than 3,300 slot machines.
One highlight of the National Harbor Convention Center's 50,000 square feet of meeting space will be the 16,200-square-foot MGM Grand Ballroom, which will feature floor-to-ceiling windows and a 6,000-square-foot terrace. The center also will offer the 4,282-square-foot Bellagio Ballroom; three 1,838-square-foot meeting rooms called ARIA, Mandalay Bay, and Beau Rivage; and two Mirage boardrooms. (The ballrooms are named after sister properties to highlight the resort's connection to other top properties in the MGM portfolio). A video wall will be available to greet attendees with customized messaging; and a 64x64 matrix router will provide intra-room connectivity for audio, video, and data-sharing throughout the conference center.
A flexible 3,000-seat Theater at MGM National Harbor will include seven VIP suites and the ability to tailor setups with scalable chair and table designs to accommodate from 500 to 4,000. For outdoor space, the property will offer the outdoor Potomac Plaza, from which groups of 50 to 500 meeting attendees can view the harbor, the Potomac River, and the nation's capital. Other locations available for private events will include the pool deck as well as the Capital and Corner Suites.
The National Market will offer nine distinct venues inspired by local and global flavors. Asian cuisine will be on the menu at the Ginger restaurant, while comfort food will be  on tap at the TAP Sports Bar. The Bellagio Patisserie, a European-style pastry shop, will feature a 12-foot-tall chocolate fountain. The resort also has partnered with Live Nation to bring entertainment to The Theater at MGM National Harbor, from top-name concerts to comedy shows to sporting events. For nightlife, guests can choose from the Felt Bar and Lounge, an indoor-outdoor lounge that features a tableside mixology program; and the Blossom Cocktail Lounge.
The resort also will feature a 27,000-square-foot spa and salon with wrap-around windows, and an adjacent fitness center that will overlook the outdoor heated infinity pool. There also will be 18,000 square feet of luxury retail outlets at this newest addition to the MGM Resorts International's portfolio.
Note: This article has been updated to include newly released information about the property's meeting space.