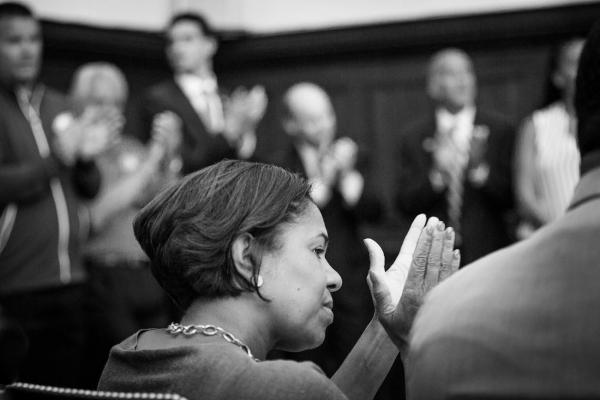 Julie Coker Graham became the first African American woman to head a major metropolitan convention and visitors bureau when she stepped into her role as CEO and president of the Philadelphia CVB on January 1, 2016. Coker Graham spent 21 years in Hyatt management before coming to the bureau in 2010. She offers a unique perspective on diversity and inclusion, both from a personal and professional point of view.
Her advice for women who are looking to overcome barriers to leadership roles is nuanced: "I have always believed in having sponsors and advocates. Whatever field or market you work in, it's important to have a person who is overtly or behind the scenes working on your behalf. That's key, and much more of a priority for women."
She adds that women often focus on team results, "and that's good but we need to have a balance because sometimes it is appropriate and necessary to take credit for your achievements. We also have to put ourselves in uncomfortable positions to take advantage of opportunities. For example, maybe you don't like networking but you need networking skills to get ahead. Don't put yourself in a box or allow others to put you in a box because of something you aren't comfortable with. Put networking opportunities on your calendar. Push yourself to build new skills."
Do industry associations need to do more to promote diversity and inclusion? "My immediate answer is yes, because diversity and inclusion build better ROI for any business or organization. Diversity builds your brand. It's about diversity of thought, too, how that opens up so many doors. Remember, there is a direct correlation between how demographics and our workforce are changing," she says.
There's no doubt that more change needs to happen in terms of leadership diversity at destination management organizations, she adds. "We've made progress but it's not enough. We have to have conversations about why that is. Do we have enough mentoring programs? Where are we dropping the ball?" She credits Don Welsh, the new CEO and president of Destination Marketing Association International, for stepping up to the plate and bringing these questions to the fore among DMOs.
Diversity has been a key marketing theme at the Philadelphia CVB for decades. PHL Diversity, the business development division originally known as the Multicultural Affairs Congress, will celebrate its 30th year in 2017. Its mission is to help support the business case for multicultural meetings in Philadelphia. It also helps connect planners with resources for their events, and facilitates new leads for multicultural (including LGBT) meetings.
The payoff for the city has been impressive: PHL Diversity has generated 40,000 room nights in 2016 for center city Philadelphia—that's a 50 percent increase since 2013, says Coker Graham. "And for 2016 and beyond, we have booked close to 30 multicultural meetings and conventions, which involve 86,000 delegates, 100,000 room nights, and $115 million in economic impact."
Meeting planners increasingly are looking for destinations that reflect the diversity and core values of their organizations. "They have an expectation that the destination can show its diversity in any particular area and how related local resources can be tapped for the event," she says. "Customer demand is driving a lot of this."
Back to Full Story:
Diversity by Design: 5 Leaders on the Evolution of Inclusive Meetings and Events