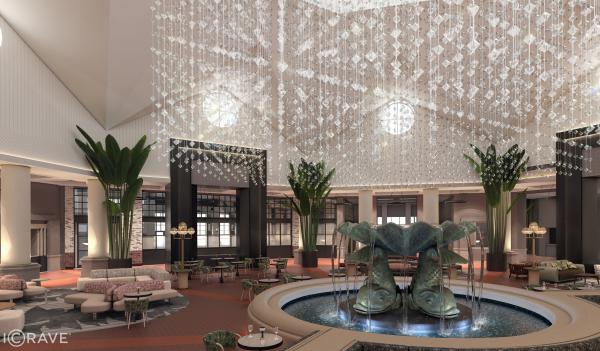 If you've got memories of the billowing, tent-like lobby of the Walt Disney World Dolphin when it first opened back in 1990, you'll know the design aesthetic has come a long way with the latest update opening in fall 2017.
The new $12 million lobby—with a geometric ceiling, dramatic crystal chandelier, color-changing lighting, and contemporary seating—will be the final step in a $140 million upgrade at Starwood's Walt Disney World Swan and Dolphin Resort. The project transformed all of its 2,267 guest rooms at the property and upgraded much of the property's 100,000 square feet of meeting space.
The resort—located in between Epcot and Disney's Hollywood Studios—features five pools, two health clubs, tennis, nearby golf, and 17 restaurants and lounges.