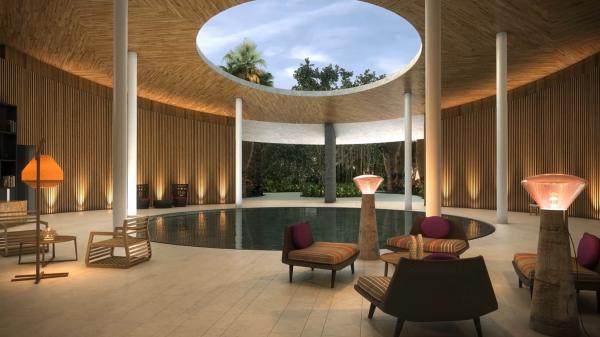 The lobby of the Mayakoba Resort Riviera Maya features a pool and oculus.
Before the end of the year, Hyatt Hotels Corp. will add two resorts to its 13-property Andaz brand. The 201-room Andaz Scottsdale Resort & Spa is accepting reservations starting November 28, and the 214-room Andaz Mayakoba Resort Riviera Maya, Mexico, opens on December 12.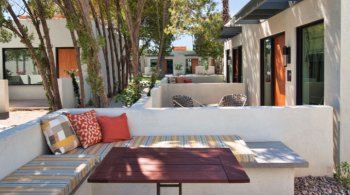 Bungalow-style accommodations at the new Andaz Scottsdale Resort and Spa opening later this month
The Andaz line, known for locally inspired design, will celebrate the Mayan culture at its new Mexico property, which sits on 590 oceanfront acres just north of Playa del Carmen. Planners can expect 14,000 square feet of meeting space, including a 6,000-square-foot ballroom and five meeting rooms situated around a central courtyard. The property also features a 10,000-square-foot spa, three outdoor pools, a white-sand beach, and four restaurants.
In Arizona, the look of the new Paradise Valley property reflects the mid-century art and architecture movement, with spare, fashionable décor inspired by designers like Paolo Soleri and Alexander Girard. The 23-acre property is working with the nearby Cattle Track Arts Compound, an artist collective now celebrating its 80th year, to bring a local arts flavor to the guest rooms and restaurants. Meeting space includes 10,000 square feet indoors and another 36,000 square feet outdoors, and when the meeting is over, attendees can relax at the spa, with its eucalyptus steam rooms, or at the property's three pools.
In addition to Mexico and the U.S., Hyatt has Andaz properties in Costa Rica, Canada, Amsterdam, the U.K., China, and Japan. The two new properties are part of the Andaz resort collection, which also includes properties on Maui at Wailea Resort and on the Papagayo Peninsula on Costa Rica's Pacific coast.