The Association for Women in Events' Awards Committee had its work cut out for it when it tackled more than 170 nominations from around the globe for its inaugural AWE Hall of Fame recognition program. The committee was looking for events industry professionals who exemplify AWE's values of inclusivity, resourcefulness, guidance, leadership, and professionalism, which they found in these five women. In addition to being inducted into the AWE Hall of Fame, they earned these awards for their specific areas of influence:
AWE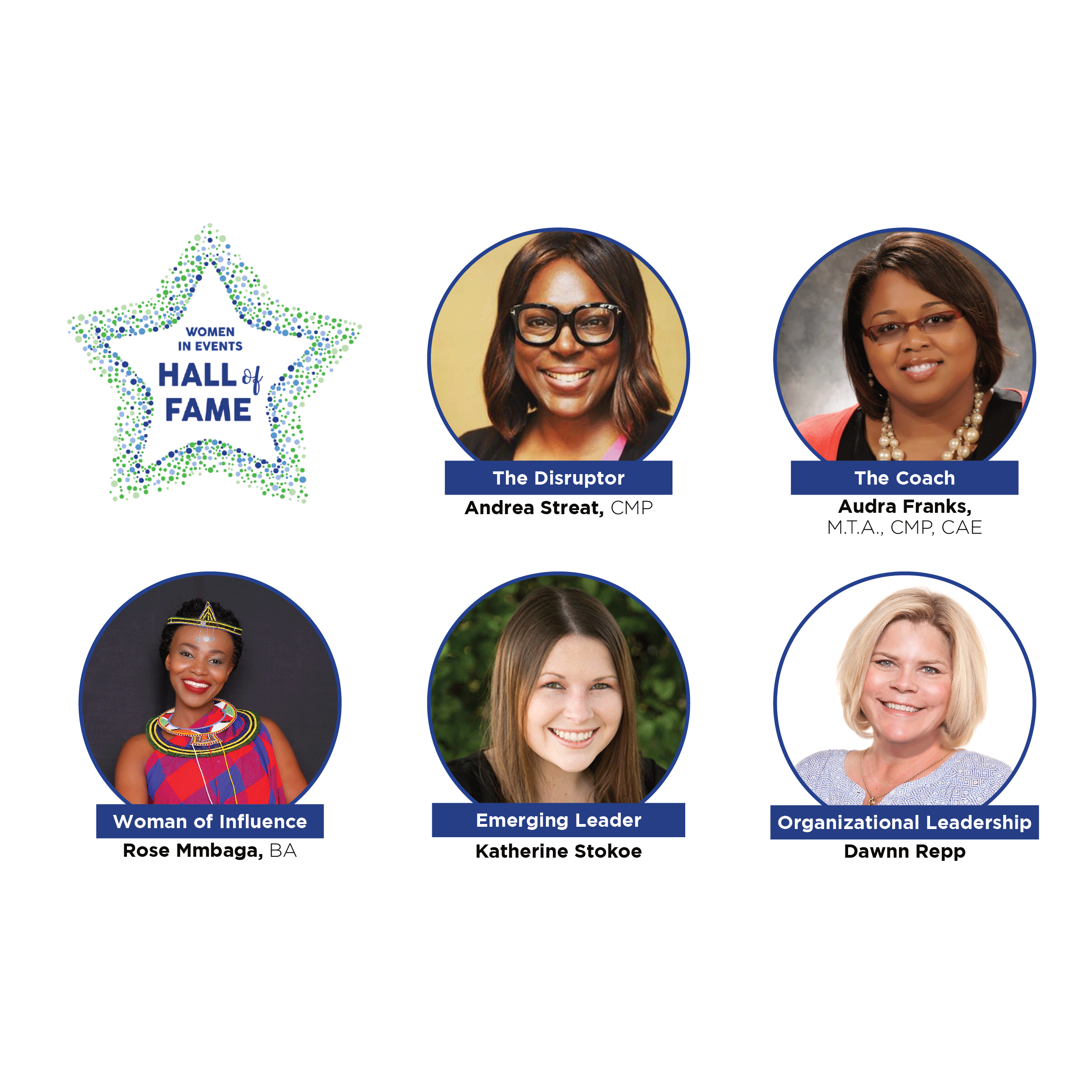 The Disruptor
Andrea Streat, CMP, director of conferences for the International Foodservice Distributors Association, earned the AWE Disruptor award for her work in changing the status quo for meeting and event professionals.
The Coach
Audra Franks, CMP, CAE, senior director for meetings at the American Dental Education Association, received the AWE Coach award for her dedication to advancing women in the events industry through mentorship.
The Organizational Leader
Dawnn Repp, executive vice president and chief legal and administrative officer at The Freeman Company, received the Organizational Leadership award for her work as an integral part of the Freeman leadership team and as a founding member of the Freeman Women's Development program.
The Emerging Leader
Katherine Stokoe, manager of meetings and events at Paragon Events, Inc., was named as the winner of the Emerging Leadership award for her exceptional growth in her own career to date, and for her willingness to help others succeed as well. Her peers nominated her last year for her company's Employee of the Year award.
The Woman of Influence
Rose Mmbaga, senior marketing and communications officer at Raleigh International, earned the Woman of Influence award for her knack for empowering everyone who crosses her path and her impact on young people, which has rippled out throughout her home country of Tanzania. Last year she was selected to participate in the Merit360 program, which included speaking at the United Nations.
These first five AWE Hall of Famers receive a lifetime membership and opportunities for recognition that include participating in AWE programs and events, press interviews, and profiles on the organization's website.
For more information, visit AWE's Hall of Fame.