The idea of a long bus ride doesn't usually generate much excitement, but start talking about saving money, time, and the environment and you might get some interest. Add in the idea of networking and earning CEU credits and the seats on the bus begin to fill.
That's what Marie Lou Coupal and Rachel Stephan found when they organized what they believe to be the first-ever credit-worthy educational program for conference attendees traveling to and from a conference.
The idea was born in an online chat in January 2013 during the Professional Convention Management Association's Convening Leaders conference in Orlando. Coupal, business development manager for JPdL International, and Stephan, owner of Sensov Event Marketing, both from Montréal, found each other on the backchannels of the meeting's hybrid sessions. Each was wishing she could have made the trip to Florida for the in-person networking and education. Messaging back and forth, they came up with the idea of chartering a coach for the January 2014 Convening Leaders event in Boston.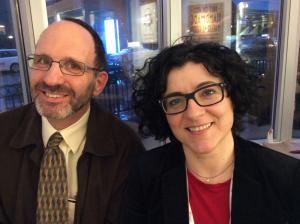 For months, the road trip idea percolated in Coupal's brain and finally she decided to take it to the JPdL team. Organizing affordable alternative transportation was one thing, but her vision for the Montréal–Boston trip had grown: How about adding an in-transit workshop that would get participants learning and networking, and help the 300 miles roll by.  "It was a crazy idea," Coupal says, "but it pushed all our hot buttons as a company: innovation, creativity, sustainability."
With her company's backing, Coupal took on the logistical work for the experimental event: chartering a biodiesel coach for the five-and-half-hour drive to Boston; organizing healthy meals; and, in time, working with PCMA to get the four-hour workshop (two hours each way) approved for four CEU credits toward the CIC's Certified Meeting Professional credential.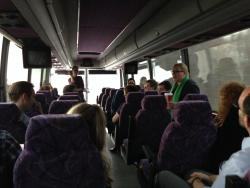 For the educational side of what would come to be called the Mobile Meeting Movement: M3 Road Trip, Coupal reconnected with Stephan, who signed on to help design the workshop and market the event. Stephen, in turn, drew in fellow Canadian Mitchell Beer, president of Smarter Shift and a passionate advocate for low-carbon meeting design, to co-present with her. Their session—"Should Your Meeting Have an Expiration Date?"— looked at changes in the industry over the past five years and changes coming in the next five, to get participants thinking about the evolution of their own meetings. As Beer summed up, "If the change outside your meeting is more than the change inside your meeting, you might be out of a job."
Despite his enthusiasm for creative meeting design, Beer was a pre-trip skeptic. He worried that a bus would not translate into a good learning environment. Would people be able to see over the seats? Would they pay attention, or just "check out?" By the time he got to Boston, his concerns had vanished. "I was amazed at how much people talked," he said. "There were some rip-roaring debates."
The price for a seat on the M3 bus was $275—about half the cost of a Montréal–Boston roundtrip flight—and included a meal each way, the education and CEU credits, and door-to-door hotel drop-offs in Boston. It also included some giveback, as JPdL donated $10 from each fare to the PCMA Foundation on behalf of PCMA's Canada East Chapter. Another bonus: Participants got to Boston faster than their Montréal colleagues who came by air that day. The bus made it through customs at the border in just 12 minutes, said Coupal, and some of the flights had to deal with weather delays.
Organizers marketed the trip with an e-mail campaign, social media postings, and personal phone calls. In the end, 22 participants, including the presenters, boarded the bus to Boston. It could have fit about 40 people, but Coupal needed just 20 to break even. The costs included chartering the biodiesel bus ($6,500) and meals both ways, and support came from JPdL's partners in the project: Sensov, Smarter Shift, GES, AVW Telav (now Freeman Audiovisual Canada), and PCMA's Canada East Chapter.
JPdL plans to publish a white paper on the M3 Road Trip this spring, which will be available free on its Web site.
Plan One Yourself: 6 Lessons from the M3 Road Trip
Unexpected: M3 presenter Rachel Stephan, Sensov Event Marketing, was surprised to find that speaking while facing the back of a moving bus made her a bit dizzy.
Best Practice: As an icebreaker, participants shared their quirky travel and packing tips, a conversation starter that Coupal says went over especially well en route.
Next Time: Wi-Fi on the bus would be a welcome addition. Participants were tweeting and posting from the road. (#JPdLroadtrip)
Best Practice: Schedule the education early. On the way south, the session was held in the second half of the trip (to avoid an interruption at the border, just an hour from Montréal). Unfortunately, that meant the presenters had to wake up their audience. On the way back, anticipating that people would want to sleep, the education was planned first thing. As it turned out, no one nodded off, says JPdL's Marie Lou Coupal. Post-conference conversations, she said, were especially lively.
Next Time: Poor acoustics on the bus made it somewhat difficult for those in the front to hear comments from those in the back. If a wireless mike isn't an option, Beer suggests a technique from the Occupy Movement where participants sitting in the middle repeat the comments of those in the back so everyone can hear.
Unexpected: The bus could have seated 40 passengers but having 22 allowed for movement. "People were hopping around the bus," Coupal says, "creating small informal discussions."
How Green Was the Trip?
According the Yale Community Carbon Fund Calculator, a carbon footprint calculator that allows for group calculations and also differentiates between traditional diesel and biodiesel buses, 22 people traveling by biodiesel bus roundtrip from Montréal to Boston generate approximately 1.39 metric tons of CO2 emissions. By air, those travelers contribute 8.34 metric tons of CO2 emissions.