Fans will see some nontraditional stats on the NFL twitter feed after the Super Bowl next weekend. These stats will come courtesy of the Whole Earth Calculator, an app that tracks the amount of leftover food donated from events and tweets the good news in terms of meals served and greenhouse gas emissions saved.
Created for the "hunger think tank" Rock and Wrap it Up by app developer EventMobi and Meeting U., the tech training consultancy founded by Jim Spellos, CMP, the Whole Earth Calculator app is making its debut at Super Bowl XLVIII, recording the recovery of food that is prepared but not served at all NFL-sanctioned events leading up to and including the big game. The app will then convert the pounds of food into total meals generated and total pounds of carbon and methane emissions saved from being released by keeping that food out of landfills. (The calculator uses USDA and EPA conversion formulas.)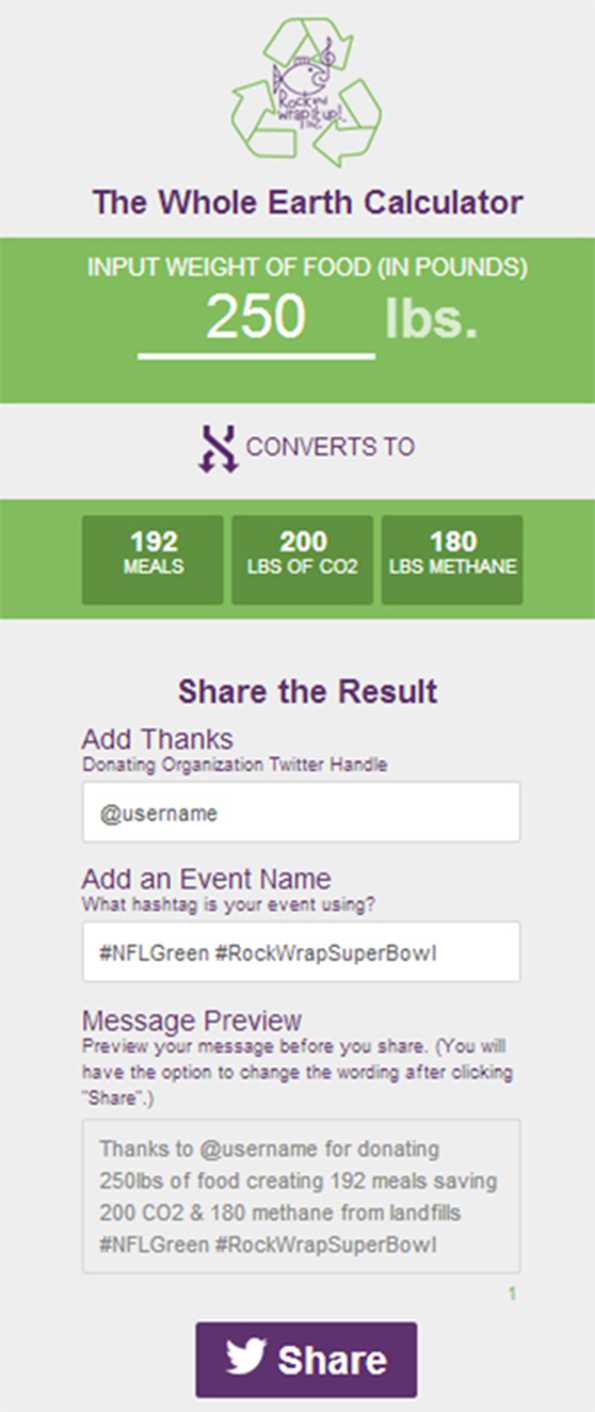 Founded 24 years ago by Syd Mandelbaum, Rock and Wrap It Up! finds and works with potential donors who have "renewable assets" to share. The Cedarhurst, N.Y.–based RWU has partnered with the entire National Hockey League, New York Yankees, and 40 other sports teams, hospitals, and TV and movie productions after getting its start recovering leftover prepared food from rock concerts. RWU also wrote and helped pass the Federal Food Donation Act of 2008, which encourages federal agencies to donate leftover food.
How You Can Do This

All food donors are protected by the Bill Emerson Good Samaritan Act, as long as safe food handling practices are used. RWU vets all of the anti-poverty agencies it works with to recover excess food. They must have health certificates, storage, ongoing programs, refrigeration, transportation, and the ability to record the food that is recovered.
You can find food program partners in your meeting destination by visiting RWU's Hungerpedia Web site, which provides a list of anti-poverty/hunger agencies in North America that have been vetted by RWU to receive and recover asset donations.
The Whole Earth Calculator is not a revenue-generating tool and Jim Spellos gives credit to EventMobi for generously donating development time and expertise to power the project technologically. At press time, the app was not being publicly released, but Spellos sees that coming in the future, so stay tuned. At this point, he says, the goal is about creating awareness. It's safe to say the meetings industry wastes tons of food annually. As food rescue programs become increasingly visible, hotels, convention centers, and meeting professionals will likely work harder to overcome any legal or logistical hurdles to realizing the double benefit of food donation: feeding hungry people and reducing greenhouse gas emissions.