In the 2023 American Express Global Travel Trends Report, wellness was among the top-four desired features of a leisure-travel experience. Almost three-quarters of respondents to an Amex survey said they are more focused on self-care than they were a year ago; 57 percent plan to take extended vacations to focus on wellness, and 68 percent want to surround themselves with nature when traveling to focus on mental clarity.
Of course, traveling for a meeting is not the same as vacation travel, but Justin Ball, president and founder of Bespoke Event Group, makes the case that today's planners need to put wellness front and center in the planning process.
Speaking at Catersource + The Special Event in March, Ball discussed five areas where planners can improve the wellness experience for attendees: nourishment, movement, rest, wellness tracks, and a focus on connection and belonging. 
Nourishment
"I want us to think about handling F&B like we are still working from home," Ball said. He urged planners to consider offering coffee and snacks throughout a conference, setting a tone of abundance and wellness rather than scarcity. "The days of the 20-minute break are over. We want to be nourished throughout the day." And attendees, he noted, don't actually consume more when food and drink is continuously available; they just take it on their own schedule.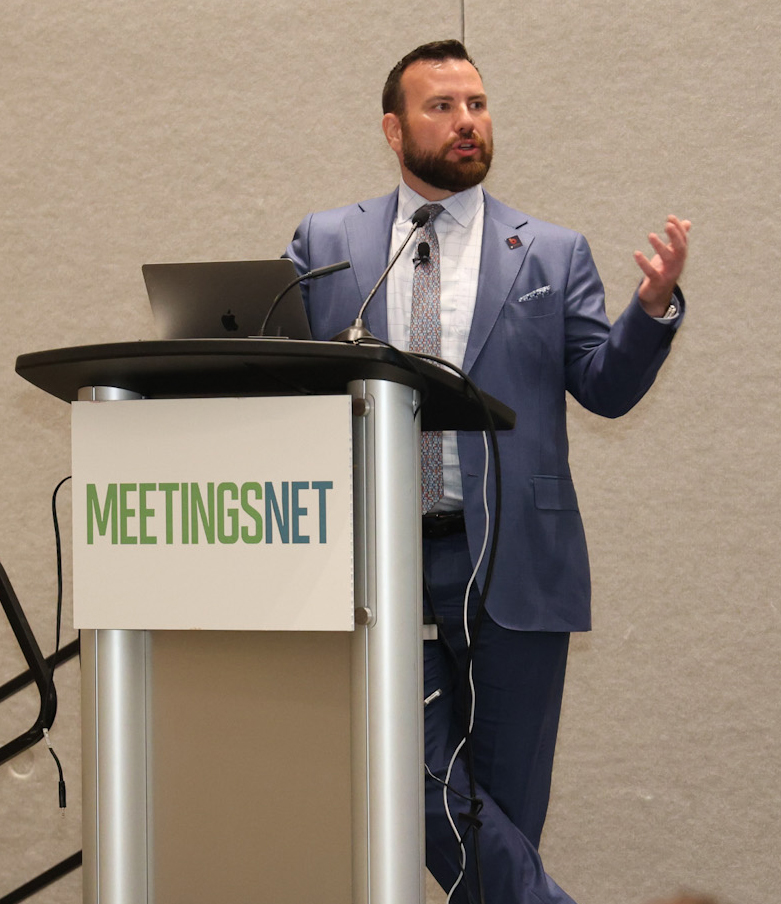 Ball (left) also reminded his audience about the importance of hydration to wellbeing, and how making water easy for attendees to access is "the most budget friendly thing you're going to do" on the wellness journey.

Movement
"So many of us design our conferences and meetings for hyper-efficiency," said Ball, working to engage attendees so thoroughly that they don't need to move throughout the day. And while there might be an optional 6 a.m. yoga session, it often doesn't fit with a packed agenda that runs late into the evening. Incorporating more movement into an event is a key wellness element and can be as simple as letting attendees know about the hotel's fitness classes or offering short-term memberships at a nearby gym. It could also mean bringing in local fitness resources or removing barriers to entry in group fitness events. For example, instead of just offering a 5K fun-run, how about adding a concurrent walk, or instead of making attendees choose between the 6 a.m. yoga session and getting to the 7 a.m. breakfast on time, designing an agenda that fits both.

Rest
Getting plenty of sleep is critical to wellness, but simple rest is revitalizing, too. "What we're seeing now more and more is places for meditation and quiet," at meetings, says Ball. These quiet rooms can be used for nursing mothers, for prayer, for people who want a stimulus-free space, but also simply for rest and downtime, said Ball. "Resting doesn't have to mean sleep, but it does mean calming our heart rates, finding our center, and getting a little bit more grounded."

Wellness Tracks
"One of the things we're really starting to see is the addition of wellness tracks," in organizations' meeting agendas, said Ball. This could mean adding a midday walk, rather than tacking it on at 6 a.m., offering more flexibility, or planning a rejuvenating outdoor session. Planners need to ask themselves, "Where can attendees find rest and quiet throughout the day?" said Ball, so they can, in turn, bring their full attention to the other parts of the meeting. "The idea of finishing every day of the conference exhausted—we have to move beyond this."

ALSO ON MEETINGSNET: Nominate a Planner for MeetingsNet's Changemakers 2023 List

Connection and Belonging
"Retention, connection, and belonging are probably the leading drivers of what we're seeing in the wellness space today," said Ball. He noted that human resource departments are often driving the meeting goals as organizations work to rebuild their cultures after the pandemic. In the new remote and hybrid work environment, there are fewer opportunities to connect employees with the company culture and create a sense of belonging. "What we know, is that employees stay at their jobs for the culture and the people." Belonging is part of wellness, and the planner has a role to play in creating environments where connections are made.

In addition to his many suggestions for addressing attendees mental and physical wellbeing, Ball said it was important for planners to look out for themselves. "We have to remember to put our own oxygen masks on first," he said. "At the end of the day, if we are not able to show up in a place of wellness, it is really difficult for us to do that for our guests."