It is not hard to see why many people consider the trend toward wellness to be long overdue. According to the Centers for Disease Control and Prevention one-third of Americans are obese, and heart disease is the leading cause of death in the U.S. In the MeetingsNet webinar, "Your Meeting Is Ready for a Healthy Makeover. Now What?" Holly Duckworth, president of Leadership Solutions International, and Angela Gaffney, author, nutritionist and corporate wellness consultant, discuss planning a healthy meeting, but they address more than just physical ailments.
Holly Duckworth explains that wellness encompasses, "Health in mind, in body, and in spirit." She cites a Gallup workplace study that indicates 70 percent of Americans are disengaged from their jobs, resulting in productivity losses that cost the economy between $450 billion and $550 billion a year. As a meeting planner, the last thing you want is to host an event where your participants are exhausted, disengaged, and unfocused. Read on for strategies to help you be a change agent for wellness.
Angela Gaffney's Four Principles for Healthy Meetings
1. Whole-food nourishment. Gaffney suggests rebooting your thinking; it's not about the calories, it's about the quality. Focus on plant-based foods, nuts, and whole grains, foods that contain phytonutrients that help the body fight disease. You can help attendees balance their blood sugar and maintain energy and focus throughout the day by providing fruits and vegetables, healthy proteins from good cuts of meat or fresh fish, and healthy fats. Limit sodas and processed sweets.
Here are some menu options she suggests.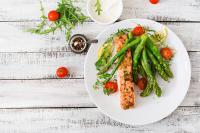 Breakfast:
• An oatmeal bar with fresh fruits, agave syrup and nuts
• Scrambled eggs loaded with vegetables and topped with avocado
• Fruit salad with wholegrain toast
Lunch:
• A large salad full of leafy greens and apples, pumpkin seeds, feta cheese, and wild caught salmon
• A cup of bean soup
• A fresh bowl of cherries with rich whipped cream and chocolate shavings on top
Dinner:
• Roast chicken with wild rice and roasted asparagus and a side salad
• Dark chocolate avocado pudding (Gaffney swears no one ever knows the avocado is in there!) or a caramelized banana chia pudding
Gaffney says serving a lighter dinner helps participants sleep well and wake up feeling energized, but she concedes that planners may have to adjust expectations well ahead of the event, making a feature of the healthy food choices so that attendees are forewarned. Duckworth suggests some groups may require a period of adjustment so introduce this shift to whole foods gradually over several years or events.
2. A body in motion stays in motion. Newton probably wasn't thinking about warrior poses when he wrote that law, but there are many ways to incorporate movement into your meetings. Here are a few of Gaffney's suggestions.
• Provide an early morning fitness or yoga class.
• Interject exercise into presentations if your speaker or moderator is willing. They can be as simple as circling the arms forwards and backwards, or doing jumping jacks or wall pushups.
• Encourage attendees to move around the room or stand up during a presentation if they need to.
• Organize guided hikes or walking tours near the meeting location.
3. Offer guided breaks. Instead of rushing off to answer emails and texts and mindlessly grabbing a cookie, offer group stretches to energize attendees for the next session. Participants need time to process information and consider action items so ask for a few moments of silence to give them the opportunity to absorb the presentation before heading to the next.
Gaffney's breathing exercise is a quick way to encourage calm. Repeating this cycle just five times can be enough to alleviate stress and clear the mind: "Place feet flat on the floor, relax shoulders, place palms face up on your lap. Take a long breath in through your nose filling the whole belly cavity, hold, then release breath through your mouth, forcing out every ounce of air."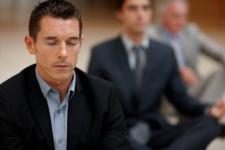 4. Incorporate spiritual practices. Duckworth suggests incorporating meditation into your meetings, and encourages planners to step back and look at their choices and the ones they make for their attendees. She asks, "Would you rather have every minute programmed or does it make sense to have breathing space in your meetings?"
She points out several industry leaders already embracing the healthy meeting trend and some of the things they are doing.
• IMEX produced a wellbeing map for participants
• The MGM Grand in Las Vegas has converted some rooms and meeting spaces to provide lavender-scented quiet spaces with calming lighting. It is committed to supporting meeting planners providing a holistic approach to events.
• SPIN (Senior Planners Industry Network) held events over consecutive days focusing on wellness in body, mind, and spirit.
Changes don't have to be big and costly. Even something as small as including calming essential oils instead of unhealthy snacks in attendee gift bags can signal your intentions for the event.
Once You Visualize, You Actualize
Duckworth suggests that stress in the planning stage can produce stress during the event. She advises planners to step back from thinking about the AV, room settings, and contracts and look at the entire experience for the attendees. Take some time to think through your vision for the event before you take out the spreadsheets and then be proactive about making it happen. If your goals for the event include an experience that boosts the physical, mental, and spiritual health of your attendees, you have given them a more valuable gift to take home than any swag bag or free T-shirt.