Cheryl Trinidad likes to try new things with meetings. "No risk, no reward," says Trinidad, who has a way of making the cliché sound fresh and fun. Which could be because we're catching her at what she considers the fun part of the process.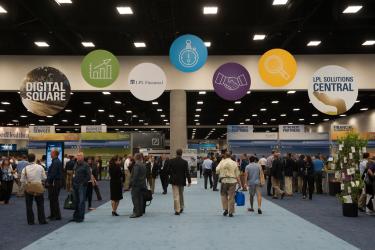 "Change is scary," says Trinidad, CMP, vice president, conference services, at LPL Financial in San Diego. "But we've been thoughtful. I've been working with sponsors and with the home office since last year, showing them the benefits of the new concept. So I'm past the scary part. Now I'm excited."
An Intimate Show Floor
The new concept is the layout of the exhibit hall at the focus conference, LPL Financial's largest annual meeting, which will draw nearly 6,000 attendees to San Diego in August. These attendees are independent advisers and financial institutions that are affiliated with LPL, the largest independent broker/dealer in the U.S. In addition to general sessions, keynotes, and breakouts, the event features an expo with 120 exhibitors, plus 22 booths from LPL Financial itself. Exhibitors (or sponsors, as LPL refers to them) are firms that provide product and investment recommendations for LPL advisers to help their clients.
Last year, Trinidad created a "community square" floor plan (she thought of it as Harvard Square–like) for the booths associated with the home office in an effort to make them more accessible and engaging—to make it a place that attendees would hang out, rather than walk past. Booths from other exhibitors were laid out in the traditional aisle format.
This year, all booths will be arranged in community-square settings. But Trinidad has recast the squares as "neighborhoods"—six of them, all named for areas of San Diego, her hometown. "The community square worked so well we decided to duplicate it and replicate it at focus 2014," she says. Truth be told, it worked almost too well in 2013, with many exhibitors reporting that their booth traffic was down because attendees were so drawn to the LPL community square. (Trinidad's attendee surveys corroborate the anecdotes: Traffic to home office booths showed an increase in 2013.)
Trendsetting Design
Trinidad's creativity didn't stop with naming the neighborhoods. She's also working with the convention center on serving F&B in each area that is appropriate for the setting: Old Town, which is near the border, will serve Mexican food; the Balboa Park area of the expo hall will have a gastropub theme, including local brews; Little Italy… well, this one is self-explanatory; Coronado features a tribute to Americana and the military influence in the city; La Jolla has beach chic vibe; and Ocean Beach offers a laid-back, farmer's market theme.
Even the venue was impressed. "The San Diego Convention Center said, 'We've never seen anything like this before.'" But Trinidad is proud to bring the flavor of her home city to the conference. "A lot of people are first-timers to San Diego," she says. "The more we showcase the city, and our partnership with the city, the better it is for all of us. People may come back to San Diego for their vacations because they experienced such warm hospitality at this LPL event."
The Sponsor Question
Sounds like an easy sell so far, but Trinidad made another choice that was even farther outside the aisle. Trade shows typically have prime locations and setups for hig
her-level sponsors, while segregating the lower-level sponsors. At focus 2014, that will not be the case.
"I made everyone get the same size space," she explains. That is, each exhibitor booth will look the same, with "storefront awnings" that match the design of the LPL Financial b
ooths. "I told the higher-level sponsors they could buy two spaces if they wanted to, but everyone is getting the same space that matches the LPL look, showing visually that we are one team." The one exception is for exhibitors that have an existing booth and prefer to use that.
In addition to integrating sponsor levels within each neighborhood, Trinidad is including each show element as well (mobile offices, a mini-theater, home-office booths, and technology demonstrations), while considering factors such as who does business with whom, what technology is associated with what exhibitors, how sponsors will align with each other, as well as interaction with the LPL home office booths. There will be more seating and F&B the outer edges of the trade show, but she expects most of the action in the neighborhoods, making the 6,000-person show "more intimate for all participants." 
Attending focus, with its general sessions, keynote presentations, 200+ breakouts, and 250,000 square feet of expo "can be overwhelming," Trinidad says. "That's why we're implementing some of these things. This is the one time advisers get a holistic view of the value of the affiliation with LPL at a live conference." About half of the attendees each year pay to participate, while the other half qualify based on sales level.
In one last new twist, the traditional opportunity for anyone to sign up for a 15-minute appointment with a home-office executive will be discontinued in 2014 and replaced by opportunities to engage more informally with executives who will be stationed at all the neighborhoods. Because there are only so many 15-minute appointments that can be scheduled in a day, Trinidad hopes that with the new system "we can connect with more clients." Of course, she'll have to wait to see if that happens. "It's a lot of experimenting," she acknowledges. "But we have a rock star planning team. And if we don't stretch, we won't get better."