Imagine the impact of a spectacular spread of spun sugar and sculptural desserts descending from the ceiling of the hotel ballroom as smoke swirls and confetti flies. That motorized display of dramatic deliciousness was the end-of-the-evening wow for a group of high-level execs at a reception in the MGM Grand Hotel in Las Vegas, recounts Sarah Sheehan, event design manager, purchasing, MotivAction. While lowering sweets from the ceiling may not be in your meetings' future, creativity in your meals, receptions, and breaks keep your events on trend and memorable. 
We've collected 11 fresh ideas from planners and chefs—dig in!
Canned Goods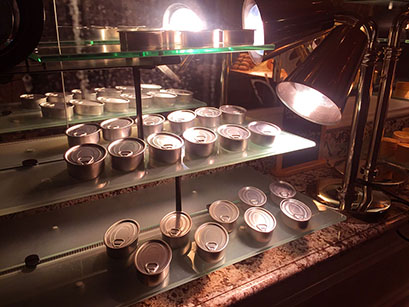 How to add intrigue to a buffet station of small plates? Punch up the packaging, advises Alexander deHilster, event design manager, Meetings & Incentives Worldwide. For example, a small tin vessel (pictured) looks exactly like a sardine can, but pull the tab to find a delectable bite of Lobster Thermidor inside. Another treat: picture a clear acrylic ball filled with seafood salad that can only be accessed by pushing the top down—releasing a swirl of liquid smoke upon opening. "I'm not usually a fan of buffet stations, but for this reception we presented the food in unusual vessels that really intrigued people," deHilster says.
Honey Bee Break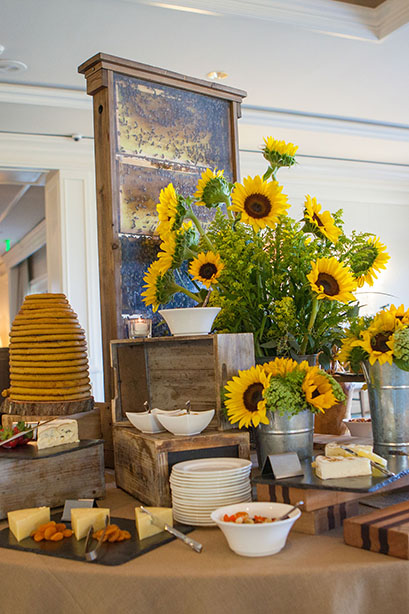 Plenty of hotels have chef-influenced gardens, but how many have a honeybee habitat? At The Ritz-Carlton, Amelia Island, up to 200,000 bees produce more than 400 gallons of honey yearly, and are the inspiration for a hyper-local and highly educational honeybee break for groups. Beekeeper Michael Lynch uses a honeycomb housed in an acrylic display case (pictured) to talk about the honey-making process, explain the health benefits of local honey, and guide guests on a honey tasting. "Not only was this a wow experience, but I hadn't realized that local honey could strengthen my immune system," says Lauren Andrews, director of site selection, Meeting Expectations. She now sweetens her tea at home with local honey.
#ShootTheFood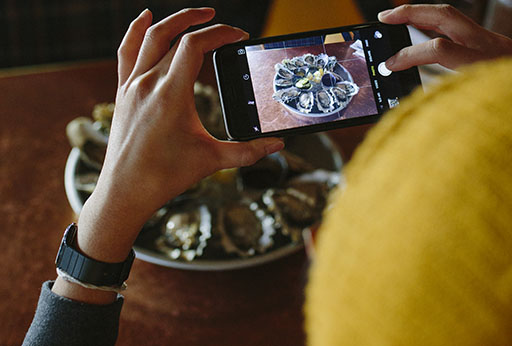 Creating Instagram-friendly food and beverage events is a conscious strategy for Liz Klostermann, conference manager, Meeting Expectations. Even on a tight budget, she says, there are things you can do to help attendees get better photos and more likes on their social streams. For instance, Klostermann recommends nostalgic food items that are hugely popular on Instagram, such as cotton candy and mac and cheese. She also prefers open-shelving vertical furniture instead of standard buffet tables, not only because they are space-savers, but also because their height provides the best backdrop for instagram-ready selfies and portraits. 
 Related:
Why Your F&B Needs to Think Beyond the Kale 
Culture-to-Table Thinking with Chef Thais Rodriguez  
5 Wild, Wonderful F&B Ideas You Have to Try
Banquet Food Transformed, with Chef Nick Calias
Top Chef, Event Edition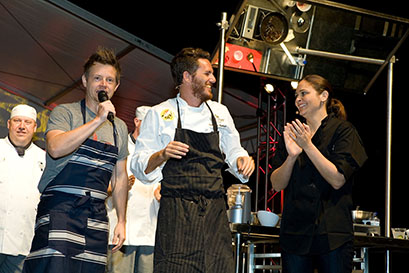 For a 500-person leadership conference reception, JNR Inc. took the food truck craze up a notch. Six restaurant food trucks served as the center of the action for tented food stations and "classroom kitchens," where chefs from local restaurants, plus three celeb chefs from the "Top Chef" television show, prepared their dishes and conducted cooking classes. Attendees were given a chef's coat and recipe cards for food that ranged from bison burgers to Mexican tortilla soup, and from lobster and arugula salad to cucumber curry with coconut rice. The evening ended with Top Chef's Richard Blais, Antonia Lofaso, and Spike Mendelsohn doing a quick-fire cook-off on a big stage with IMAX screens.
Make Your Mouth Water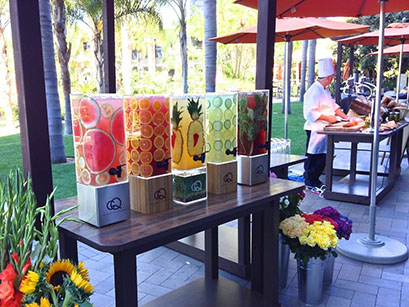 How can you turn a ho-hum water station into a fun, creative, and green experience? Offer fresh fruit for muddling or pre-infused water choices, suggests MotivAction's Sarah Sheehan, event design manager, purchasing. Citrus fruits, berries, watermelon, cucumber, lavender, and even jalapeño provide a range of flavors to please every palate. Give attendees a new generation, takeaway water bottle with a built-in carbon filter that they can use anywhere. "The filter system really steps it up," says Sheehan. "It's my go-to water bottle now."
Hydroponic Salad Station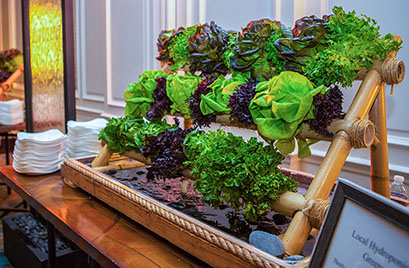 Heading to a group reception at The Ritz-Carlton, Amelia Island, Lauren Andrews, director of site selection, Meeting Expectations, heard what sounded like a distant waterfall. As she got closer, she realized the sound was coming from an automatic mister at a hydroponic lettuce station. Heads of locally-grown lettuces still in their growing containers were displayed in a farm-stand setup and kept fresh by the mister. A chef explained the process and clipped the desired lettuce when selected. The idea originated at a Meet the Farmers Dinner at the hotel's Coast Restaurant—reflecting a trend of hotels adopting innovative restaurant ideas for group F&B.
Perfect Pairs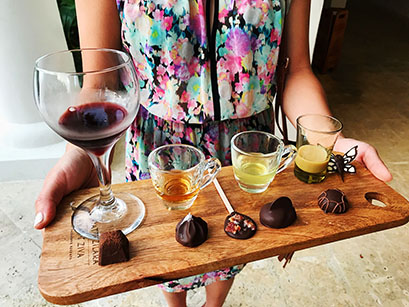 Self-titled "chocologist" and pastry chef Wouter Tjeertes recently introduced a tasting of house-made chocolates paired with select spirits at the Hyatt Ziva and Hyatt Zilara resorts in Montego Bay, Jamaica. Scalable for different sized groups, the tasting showcases unexpected flavor combinations using local ingredients, with commentary by Chef Tjeertes that explains the artistic process. Think smoked sea-salt and chipotle truffles paired with Appleton VX, a Jamaican aged sipping rum. Each spirit complements the creamy, not-too-sweet chocolates that have surprisingly layered flavors as they melt in your mouth.
Special Delivery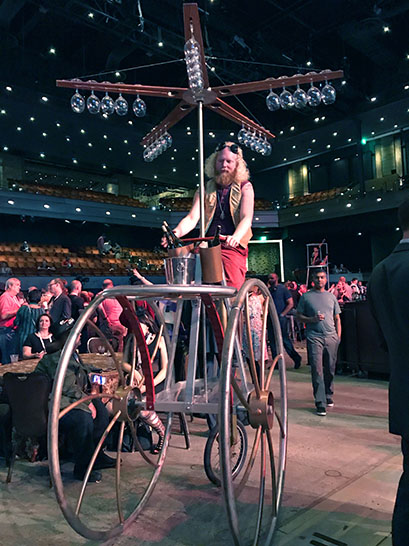 Devices from the circus company Cirque Mechanics that blend performance with foodservice are hot for group receptions, says Sarah Sheehan, event design manager, purchasing, MotivAction. A whimsical Wine Trike features a roving bartender pedaling an oversized bicycle with a rotating propeller that holds up to 50 glasses. The Buffet Train expands the concept with wagon cars of food and circus performers that roll through the event space. "We recently used the Buffet Train to deliver both desserts and the company CEO to the center of the room during an event," notes Chris Lashua, Cirque Mechanics founder/creative director. Many of the devices are designed to navigate in tight spaces, transforming even a small area into a culinary stage set.
A Buzz with Benefits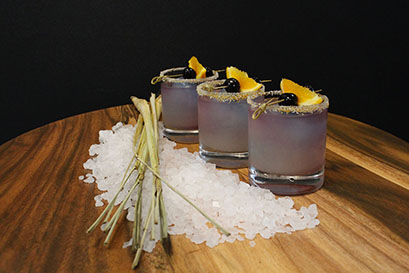 Looking to add fun and originality to a cocktail reception? The Resort at Longboat Key Club in Sarasota, Fla., has introduced a "Mood Cocktail" program with 20 mood-inducing drinks to choose from. Perhaps your attendees need time to transition from a day of meetings and would appreciate the "Mood Swing" cocktail of lemongrass infused Tequila, fresh lemon, and agave nectar over color-changing ice cubes, with a salt and sugar rim. Other "moods" on the menu: relaxing, celebratory, fanciful, sophisticated, ladylike, and more.
Hands-on Experience
When Hosts Global Alliance gathered clients and DMC members in New Orleans this summer for the 2017 Hosts Global Forum, creative F&B was on the front burner. Here are two ideas we love, developed by Epicurean Innovation chef Jenna Johansen. 
• A fresh mozzarella station where the cheese is pulled live and served three ways: burrata on crostini with smoked tomato jam; burrata with roasted red grapes, rosemary, EVOO and sea salt in a small mason jar; arugula tossed in EVOO and fresh lemon, marinated fresh mozzarella, pine nuts, cherry tomato, crispy prosciutto in a bamboo cone.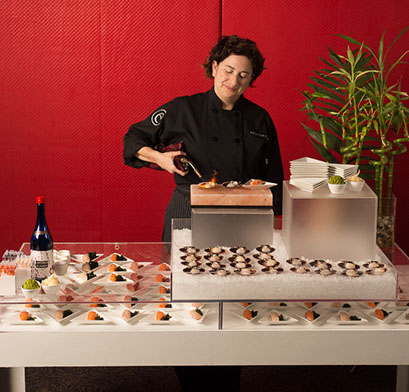 • Sushi and scallops topped with yum yum sauce torched to order by a uniformed chef