In spring 2023, less than six months after ChatGPT was released to the public, the Professional Convention Management Association and Gevme, an event-technology provider, rolled out the beta version of Spark, an A.I. platform built specifically for business-event planners. And on October 17, the complete platform was unveiled at the IMEX America show in Las Vegas.

"Think of Spark as your personal co-pilot with access to huge amounts of relevant knowledge that can help you every day, making you smarter, more productive, and more valuable," says Sherrif Karamat, CEO of PCMA.

Those claims may sound over the top, but for planners exploring the creativity and productivity promises of A.I. tools, Spark has unique advantages. The platform has been fed copious amounts of data related to event planning, and its built-in prompts guide users through meeting-related tasks. More than 5,000 people had registered for Spark as of mid-October

Karamat notes that the main differentiator between Spark and general-purpose A.I. platforms such as ChatGPT is that Spark was made intelligent through data from more than 2,000 people "in our specific industry—not just event organizers but also professionals from hotels, destination marketing organizations, destination management companies, and others."

Veemal Gungadin, founder of Gevme, stresses that data privacy is a central component of Spark. "The top concern we heard during user testing is, 'What happens to my data after I enter it?' Well, Spark takes an enterprise approach that's exactly the same as the CRM software a company employs," meaning that any data entered stays walled off to everyone except the user. 
How It Works
Spark is organized into five categories: content generation, content repurposing, brainstorming, legal, and analysis. Under each category are the tasks that the platform can complete. For example, in the brainstorming category, a planner could select any of nine prompts, including "generate event taglines," "generate session topics," "create personas," "create session polls," and so on. For any one of those prompts, the system then guides the planners to input the detailed information needed for good results. 
Here's an example: The prompt to brainstorm session topics includes drop-down menus for the "event type" and "session format," as well as content-input boxes for both "event info" and "main theme and subject areas." Here and elsewhere, users can cut and paste weblinks and other information or upload files of various types, including Word, PDF, Excel, and PowerPoint, in order to make the platform more intelligent to fulfill a planner's prompt. 
Further, using the platform's data-analysis prompts, planners can dump whole datasets from whichever attendee-feedback files and attendee-tracking apps they use. Spark can then generate charts, graphs, summaries, and trends from the data.
Currently, the system has 27 built-in task prompts, and there is also an option for planners to submit their own prompts.
During testing, Karamat was particularly impressed with some of Spark's capabilities. For instance, planners can enter entire contracts (with the parties' names removed) and Spark will assess whether any of the terms deviate significantly from what's found in other event contracts. Spark can also rewrite specific clauses in the proposed contract to bring those terms within industry norms. 
Another example: At the end of an event day, the production team can feed Spark content that was captured via video, audio, and text on that day. From all of that, Spark will create—in less than a minute—a content-highlight reel that can be emailed to attendees and/or non-attendees or posted to social-media channels with Spark-generated messaging that is customized for each channel.
Karamat notes that some language in the results that Spark generates must be edited so that the messaging matches the event host's brand voice. But the benefits, he says, are clear: "For your event marketing, think of how much time these content-repurposing capabilities will save."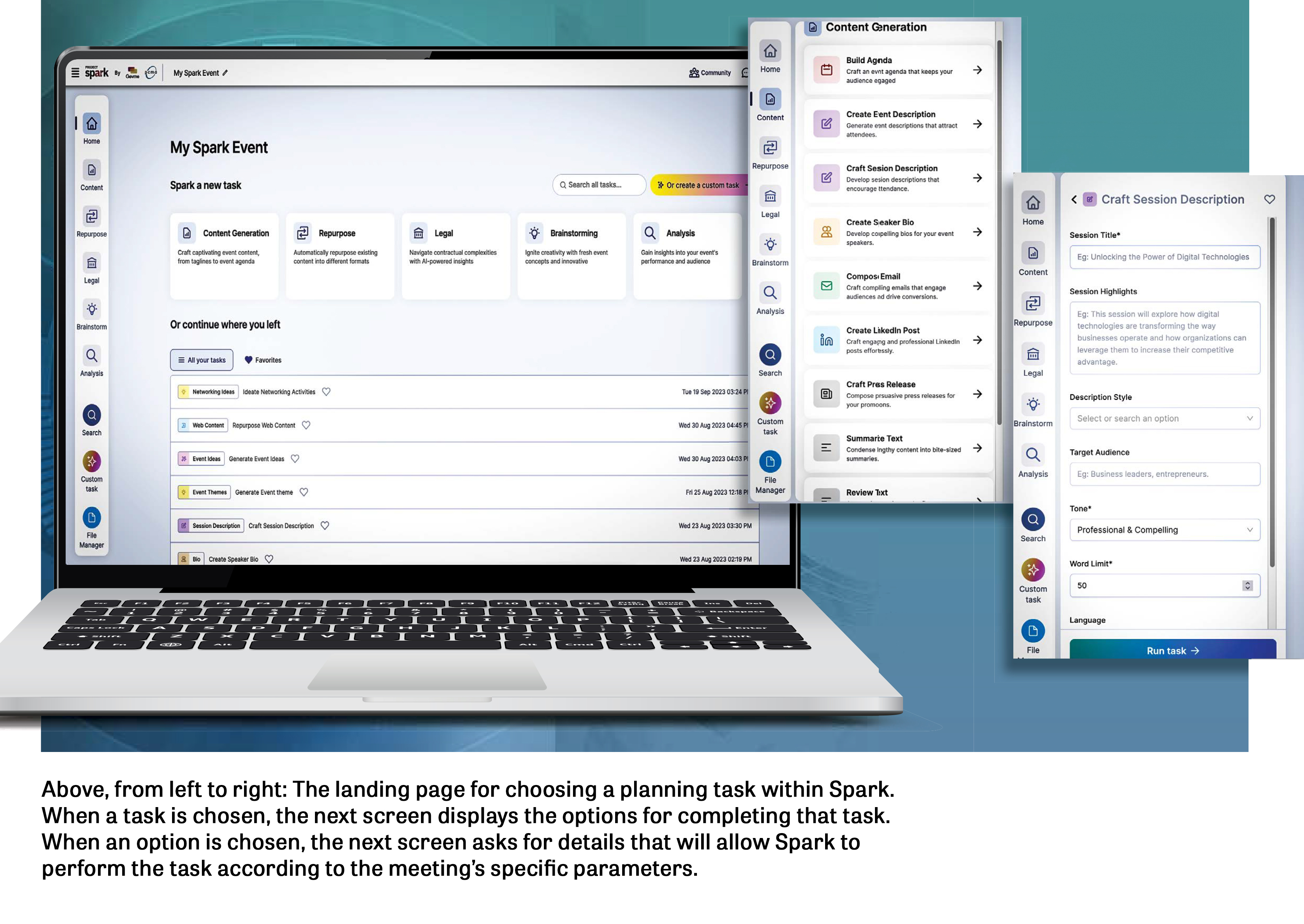 Training Opportunities and Cost
In late September, PCMA and Gevme launched the Spark Enterprise Accelerator, a training program for the platform. Both the three-week Explorer track and the eight-week Innovator track provide a personalized consultation; use-case workshops that help identify where A.I. can best help a planner's operation; and a tailored strategy for an organization's continued use of A.I. for meetings and events. The cost for each of these programs is $25,000 for up to 20 participants; this also provides one year of full Spark access for all participants.
Besides these fee-based training programs, the IMEX America show in Las Vegas in mid-October offered free Spark demos and learning sessions, while PCMA's Convening Leaders annual event in San Diego in January will also offer demos and tutorials.
The basic version of Spark is free—any planner may use it after registering here.  On October 17, PCMA and Gevme rolled out a paid version of Spark featuring more robust capabilities for data and feedback analysis plus other enhancements. Use licenses are offered for individuals ($19/month or $199/year), while enterprise use costs $25,000 for 20 users for one year, which includes personalized consulting services to maximize the effectiveness of the platform for all users within the client organization.
---
---