One thing the American Society for Association Executive staffers made abundantly clear throughout the Xperience Design Project was that its Business Exchange segment was not—repeat, not—a trade show or a hosted buyer program. Yes, it did replace a long-standing trade show, ASAE's Springtime. Yes, there was a separate space set up for buyers and sellers (or business partners and co-creators, in XDP terminology) to talk shop. And yes, they did set up appointments to hold 20-minute one-on-one discussions, but that's where the similarity ended, they said.
"This was not meant to be a hosted buyer program," said ASAE CEO and President John Graham IV, FASAE, CAE, at a press conference during the event, held May 23–24 at the Gaylord National Harbor in National Harbor, Md. Both industry partners and association executive attendees paid to participate, he said, and no one was required to make appointments. Even with no requirement, about two-thirds of the association executives in attendance made appointments—nearly 3,000 of them in total.
It also did not look much like a trade show. The appointment space was mainly branded with XDP décor, with sponsors allowed to display their logos in their area, but in a very limited way—there were no decorated booths or elaborate displays, no murals or running video loops, just discreet logo placement to delineate which space belonged to which business partner. There also was no roaming allowed in the Business Exchange area, as there would be in a traditional trade show. ASAE staffers checked in and escorted each person to their appointments. Those who showed up early had holding areas to hang out in until it was time for their next appointment.
Michael Dominguez, chief sales officer for MGM Resorts International and captain of the location zone during the Day 1 educational Lab, said the model has to change because what buyers and sellers are looking to accomplish at events has changed.
"It's not transactional anymore," he said. "We do not do [requests for proposal] on the show floor anymore. [Companies like Cvent that offer online event planning and management platforms] changed all that. We have to listen to the customer and be the solution provider, not just sell space and rooms."
Erasing the Lines
To develop the kind of relationship Dominguez said is needed today, you first have to break down the barriers that often are erected between buyers and sellers at events. Amy Ledoux, CMP, CAE, ASAE's senior vice president, meetings and expositions, pointed out that, unlike at most meetings-industry shows where someone's buyer or seller status is obvious with one glance at the color of someone's badge, all XDP participants had the same color badge, and "all industry partners…are considered to be equals as co-creators."
That means industry partners were expected to fully immerse themselves in the Lab held on the first day of the program, as well in the Business Exchange, including participating in the conversations around experience, location, technology, marketing, and learning that were held at the five zones that radiated out from the central stage. Each roundtable discussion featured a discussion leader, six association execs, and three business partners.
The idea was then for the association execs to take the ideas generated during Day 1 to the Business Exchange the next day, where they could sit down with the industry partners that can help them bring those ideas to fruition.
Building a Better Exchange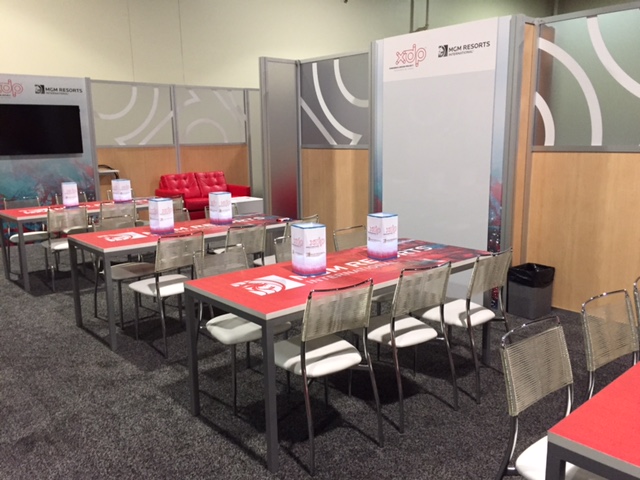 ASAE set up an online Hub where participants could set up profiles in advance that included what each person was looking to get out of the event. They then used an algorithm to suggest ideas on who might be able to help, though participants were free to reach out to schedule appointments with whomever they wished, or to eschew appointments altogether.
ASAE offered the business partners a range of sponsorship options, from the top Underwriter level—snapped up by MGM Resorts International—to the next highest Architects level purchased by Hargrove and Marriott. Other levels of sponsorship were designated as Innovator, Activator, Creator, and Designer.
The higher the level of sponsorship, the larger the number of "conference solution-based thinkers" each partner was allowed to bring in for the Day 1 discussions. The sponsorship level also determined the size and elaborateness of the appointment space, and the amount of branding allowed. Perks for the top levels included a suite they could use for appointments in addition to the Business Exchange space, access to a VIP area and a special VIP reception for the first evening's concert by the B-52s, and logo displays during the first day's educational sessions. 
While it's too soon to know whether those discussions, both during the educational sessions and the follow-up appointments, resulted in the type of solution-building relationships ASAE was aiming for, the buzz in the room was strong, the energy was high, and the conversations were animated. 
So, was the risk worth the reward? According to ASAE's Graham, it was. "The industry needs to do something different, and ASAE should be the one to do it," he said. While the organization will be looking at feedback in the coming months to find ways to improve XDP, the show will go on, said Graham. "We're going to do this again next year."