What better way to learn about how a learning format works than to use it to, well, learn? That's what Jessie States, manager of professional development with Meeting Professionals International, did during a Smart Monday session held in association with IMEX America 2017, going on this week at the Sands Expo and Convention Center in Las Vegas.
The format: The spectrogram format basically just asks participants to form a line based on their position on a specific topic or issue. The room, which was standing-room-only and set in rounds, made obvious one potential issue: You have to have enough space and the right room set to make it easy and comfortable for participants to move around the room to form the spectrogram. Another potential challenge, those in the room agreed during a short post-mortem at the end of the session, is getting buy-in from participants, who may object to having to be more physically participatory (or have mobility issues that make it difficult for them to join in).
But attendees also appreciated the benefits of the format, including how it encourages people to share their experiences and stories, and the way the energy level in the room soars when people start moving around and talking with each other.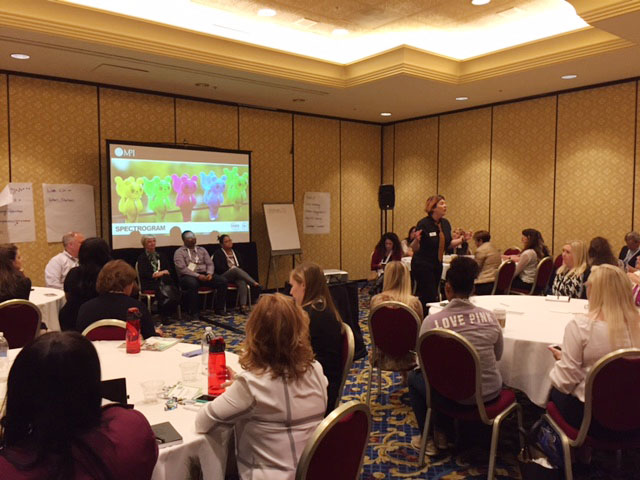 States showed two different ways to use the spectrogram as the group went through questions on a few hot meeting planning topics—contract issues, food and beverage trends, and the relative importance of content versus logistics in meeting design.
For the first two, she had participants form a line based on their level of expertise in contracting for F&B, with newbies on the left, experts on the right. She then asked three from the expert side to serve as an impromptu panel, which they gamely agreed to do. She broke the rest of the group into small groups to come up with a burning question they had on the topic, then had group representatives ask questions of the panel before throwing it to the rest of the room to elaborate on.
One possible pitfall of this use of the spectrogram, which became obvious the second time she did it as more people moved toward the middle (maybe to avoid being picked for the panel): you're training people to say they're in the middle, whether they are or not. But this group was eager to share expertise, so that wasn't a big issue.
For the third topic, she had participants line up based on where they stood on the question of which is more essential to an event's success, the content or the logistics. While there were a lot of people populating the spectrogram's center—indicating they think both are essential—people on the extremes were pretty adamant about their positions.
Generally speaking, the group seemed to be open to the idea of using spectrograms, though several expressed doubts about being able to get buy-in from either participants or their executives.