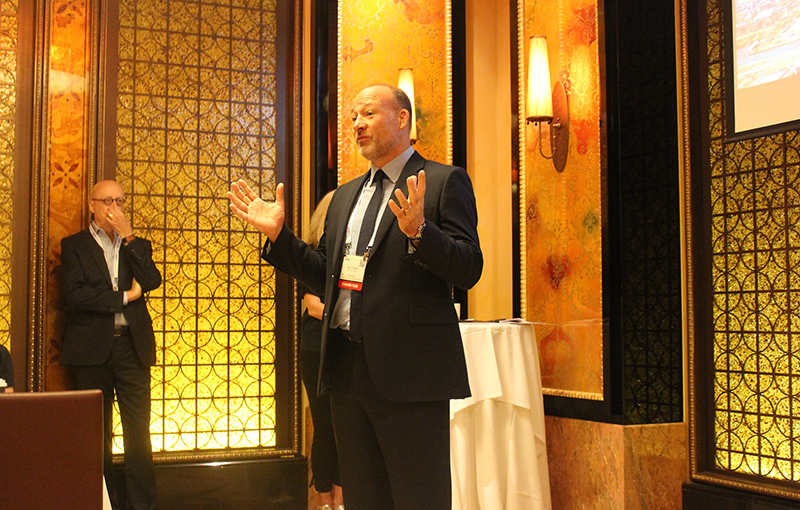 Although the decision of the United Kingdom to exit the European Union sent shock waves through the events industry in London, the city remains a bustling destination, with inquiries about bringing conferences to London up 41 percent since the "Brexit" vote in June. Representatives from CVB London and Partners and from major conference venue ExCeL London shared their findings at a breakfast Oct. 19 during IMEX America in Las Vegas.
David Pegler, ExCeL London's CEO, noted that the post-Brexit fall in the value of the pound has made notoriously expensive London more affordable for organizers and delegates from overseas. This depressed value is, however, likely to be temporary, he added, urging organizers to "pre-negotiate everything" in advance of their events.
In a separate interview, Chris FJ Lynn, vice president, North America and Emerging Markets with London & Partners, wanted to remind planners outside the UK that "Challenges create opportunity. Those who are savvy and plan further out—and pay their deposit early—will benefit. London has the best value of any major city right now." Plus, he added, London in one of the world's most-connected cities in terms of airlift. When and if future fallout of the Brexit vote arrives, London & Partners is already "working on potential pain points to find solutions before they can become an issue," he said.
London as a Foodie Destination
Great Britain historically has not been heralded for its fine dining, but that is changing, said Lynn. There are now 65 Michelin-star restaurants across London, and the city's chefs also have caught onto some of today's hottest F&B trends, from offering groups the opportunity to shop with the chef for their dinners, to offering epicurean group cooking classes, to a rise in gastro-pubs that offer a fusion of fine dining and the iconic London pub experience.
Also on the rise, literally, are sky-high dining experiences, said Lynn. One of the most-recent additions to the dining-room-with-a-bird's-eye view is the Fenchurch Restaurant in the Sky Garden at the top level of the Walkie Talkie skyscraper.
London as a Business Hub
Tracy Halliwell, MBE, director of business tourism and major events for London and Partners, pointed to London's unique standing in the world as a hub for the technology, creative, financial, science, and business-service sectors.
She added that the city offers a highly skilled workforce, giving organizers access to 368,000 experienced IT professionals. Some 250 languages are spoken in London, and "only Las Vegas has more hotel rooms," she said. Another 16,000 hotel rooms should be ready by 2018.
Besides new hotel rooms, London is making big investments in its infrastructure. The new Elizabeth Line, slated to start running in 2018, will increase London's rail capacity by 10 percent. The new line is expected to cut travel times sharply and allow passengers to travel across London on just one train.
Halliwell also stressed the city's fabled allure for visitors interested in history and the arts.
Pegler noted the special features of ExCeL London, which offers 100,000 square meters of flexible event space, including London's International Convention Centre. The facilities include the largest auditorium in the U.K., seating up to 5,000 attendees, and London's largest banquet hall, accommodating 3,000 guests. The property can be reached by train and subway, and offers parking for 3,700 cars.
Taking the ExCeL by Salesforce
Mrinal Warburton, senior director of client services for Portland, Ore.–based Opus Agency, shared her experiences hosting the Salesforce World Tour at ExCeL. Designed for staff, customers, and partners, the event welcomed 15,000 pre-registered, international delegates. The event is second in size only to Salesforce's massive Dreamforce event in San Francisco.
Warburton pointed to ExCeL's accessibility and attendee capacities as draws for her event. She added that the facility's management team worked with her team to make traffic flow for attendees smooth, seamless, and secure.