Last week, I had the chance to visit Foxwoods and Mohegan Sun hotels, both in Connecticut. I was very impressed by both hotels; although they are similar products, they are completely different.
Foxwoods is celebrating its 25th anniversary, and the hotel is amazing. The complex has about 2,300 rooms spread over five areas, but the majority of the rooms are in the Fox Tower and the Grand Pequod Tower. They put my entire 550-person group into the Fox Tower, which is just steps from the well laid out meeting space. On the ground level is the Premier Ballroom, a 47,000-square-foot space that divides into eight sections. The prefunction area is huge, with two three-story windows overlooking a large terrace. The second level has a few smaller breakrooms, and then there's the 15,000-square-foot Celebrity Ballroom and some additional breakouts on the third level. It is all very compact and flexible, and I loved the signage they had throughout. Our group had all of the meeting space, which made it a great fit.
Once you are at Foxwoods, there's really no need to go outside. The resort has six casinos (combined, it's the second largest casino in North America) and while I'm very sensitive to smoke, I never smelled it while I was there. The banquet food was really good, and the complex includes at least 50 restaurants, ranging from huge outlets like Sugar Factory to quick service restaurants. It reminded me of the Venetian Palazzo complex in Las Vegas—an upscale resort with far more things to do than you have time for.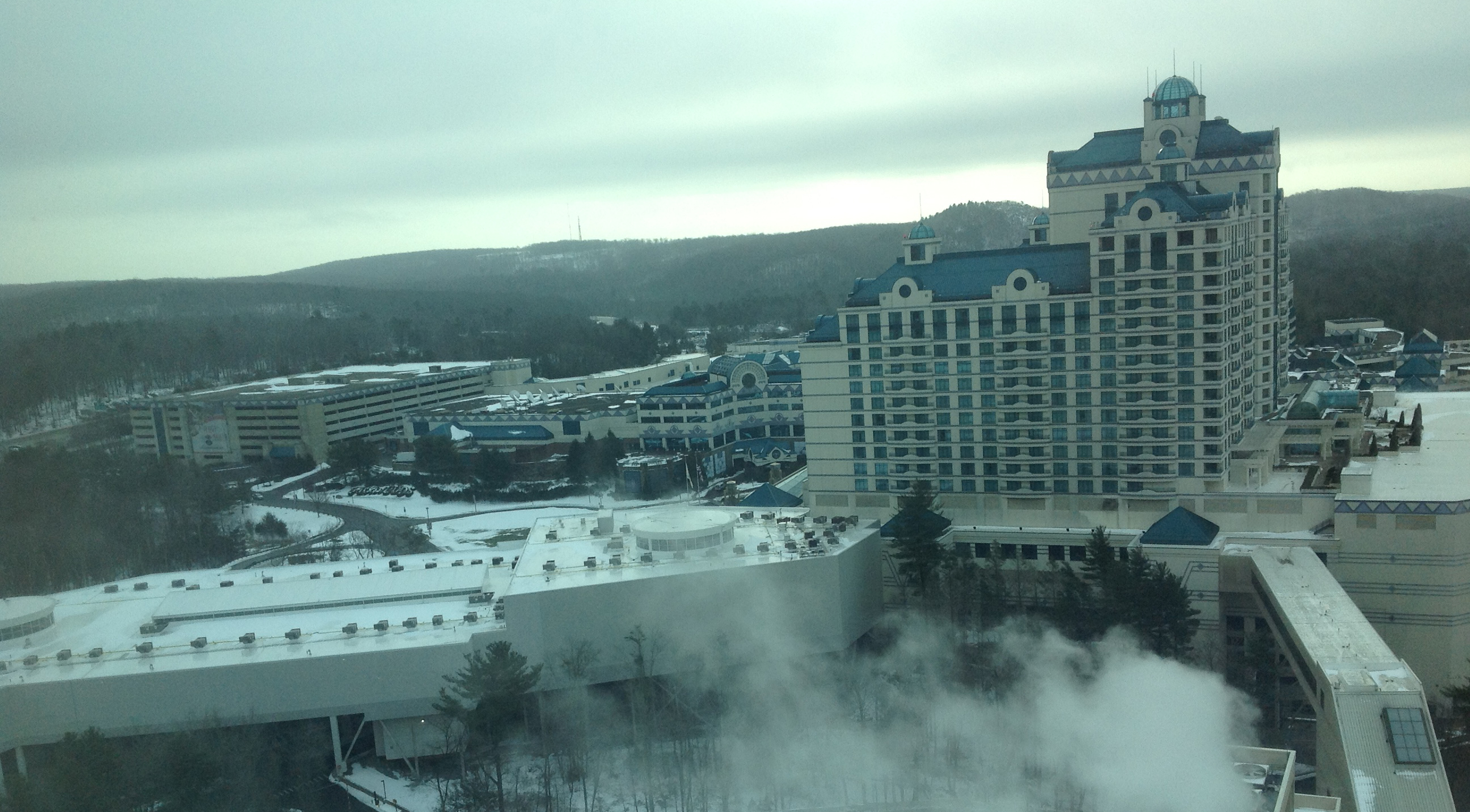 We had a successful evening event at the large upscale bowling alley located between the two towers, and Foxwoods has more special attractions coming. Later in 2018, it plans to open a three-story go-cart venue (available for group buyouts) as well as a zipline from the 32nd floor of the Fox Tower that will run three quarters of a mile to the Mashantucket Pequot Museum & Research Center. I can't wait to try it. Other notable pluses were the Tanger outlet mall attached to the property and the hopping Shrine nightclub in the Fox Tower.
To get there, I flew into the Providence, R.I., airport and drove about 40 minutes to the resort. You can also fly into Hartford, Conn., which is about an hour from the property. This is about the same amount of time it takes me to get to a downtown hotel when I fly into Chicago, LAX, Dallas, and dozens of other U.S. cities. Providence was a small airport but very nice and so efficient. It took me about nine seconds to go through security on my way out.
Just a Short Drive Away…
While I was in the area, I visited Mohegan Sun to see the differences between the two hotels. The15-minute Uber ride there was under $20, but while properties are close, they are worlds apart. Mohegan Sun has 1,600 rooms and is heavily themed around the traditions and history of the Mohegan tribe. Foxwoods, in contrast, has a standalone museum dedicated to its owner, the Mashantucket Pequot Tribe, but very little theming in the hotel.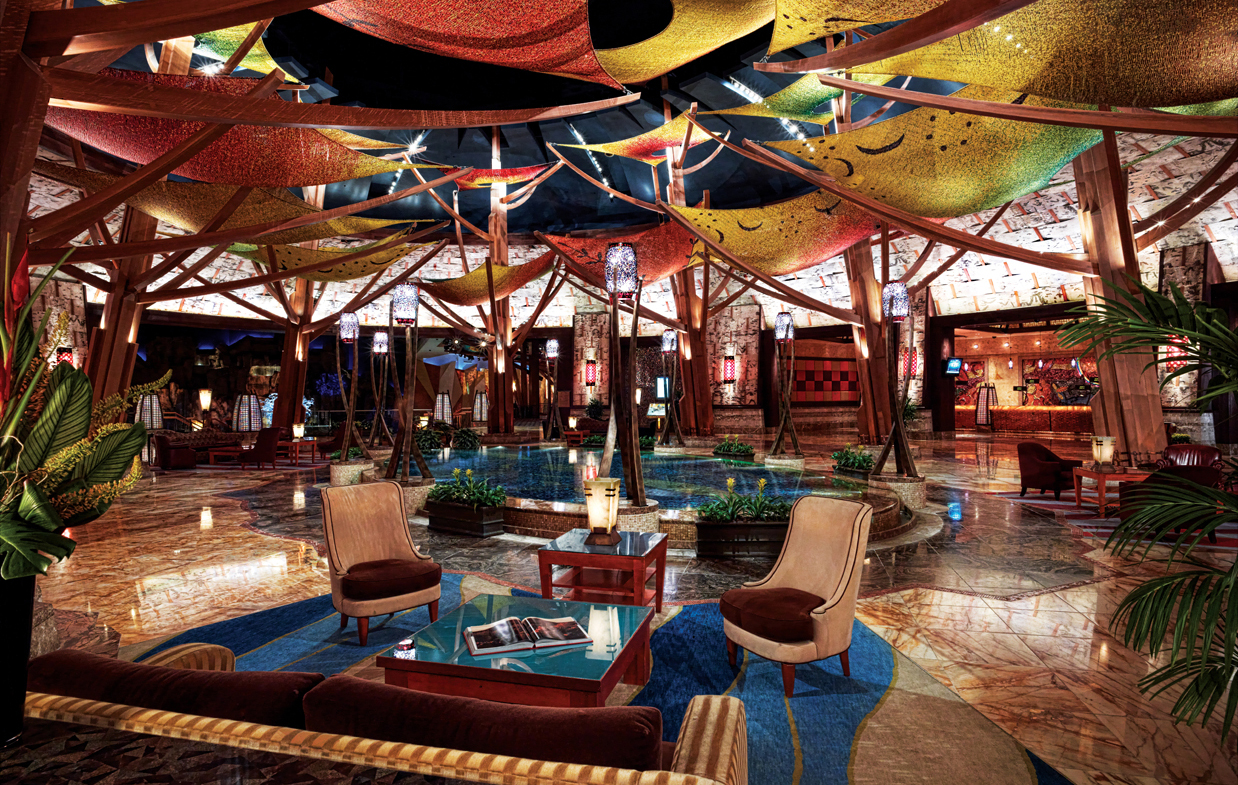 The central point of Mohegan Sun is a massive waterfall just behind the hotel lobby. It also has about 50 restaurants, including Michael Jordan's Steak House and a huge Irish pub. The current meeting space is highlighted by the 38,000-square-foot Uncas ballroom, 14,000 square feet of prefunction space, and supporting breakouts on the floor above. However, on the other side of the hotel is the new convention center that will open later this year. I did a hard-hat tour of this space and was impressed at the size. It will have a 125,000-square-foot exhibition center, two ballrooms (38,000 square feet and 20,000 square feet), and several smaller breakouts.
Monhegan Sun also has some non-traditional spaces, including a 10,000-seat arena that gets a lot of big name concerts a 400-seat cabaret theater.
Both Foxwoods and Mohegan Sun hotels had multiple golf courses, massive casinos, free parking, a spa, and more restaurants that you could eat at if you stayed there three weeks. Mohegan Sun is a little more tribally themed, but both were very impressive hotels. Mohegan Sun has no unions, while Foxwoods only has the card dealers and cocktail servers unions, nothing relating to meetings or events. This made food and beverage costs quite cheap compared to heavier union cities like Chicago or New York.