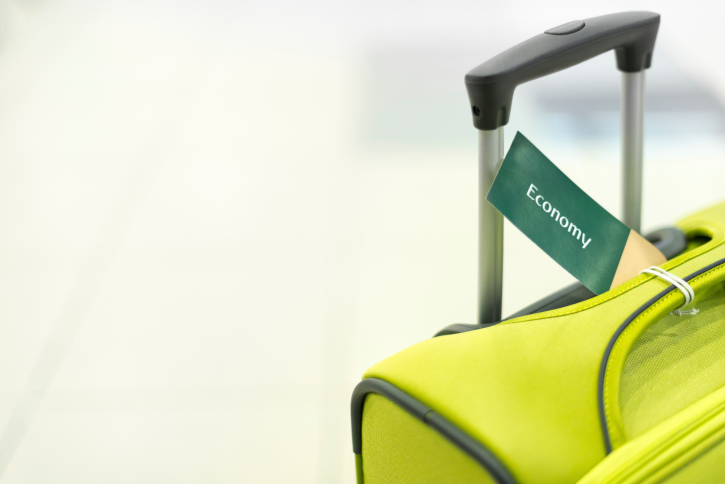 The International Air Transport Association (aka, IATA) earlier this week proposed that airlines worldwide rally around a standardized size for carry-on luggage of 21.5 inches x 13.5 inches x 7.5 inches—which is about 20 percent smaller than most U.S. carriers' current limits. Have you measured 7.5 inches deep? That's not a lot, and it's definitely less than what the carry-on bag I've been using for years measures.
So many of us will find ourselves investing in new, smaller luggage, and then trying our best to cram our stuff into the smaller bags, and then cram the smaller bags into the ever-decreasing space under the seat in front of us, since overhead bins seem to fill at at least twice the rate of passengers boarding (just how does the physics on that work? I never have been able to figure out how half the passengers, each allowed one bag for bin storage, manage to fill an entire plane's worth of bins before the other half boards—but I guess that is what this proposal is looking to fix).
Is this really a big problem though? I don't recall ever having an issue with a carry-on being OK for one airline and not another, but apparently it is, according to IATA.
"The development of an agreed optimal cabin bag size will bring common sense and order to the problem of differing sizes for carry-on bags. We know the current situation can be frustrating for passengers. This work will help to iron out inconsistencies and lead to an improved passenger experience," said Tom Windmuller, IATA's Senior Vice President for Airport, Passenger, Cargo and Security, in a press release.
U.S. Senator Bob Menendez (D-N.J.) was quick to counter with, hmm, is this just another airline industry money grab?
"Cutting the size of carry-ons will inevitably force more passengers to check their bags for a fee, driving up the cost to fly," said Sen. Menendez. "If the airlines' decision to trim the size of carry-ons is really about improving customer service, then they should in turn give them a break on checked-bag fees, otherwise it's just a bait-and-switch. I intend to contact the U.S. airlines and ask them whether they plan to adopt this standard—and if so, how they plan to reduce the negative consequences for the traveling public, who will be forced to pay costly bag fees or spring for brand-new luggage."
The new bags we all will have to buy will have a unique identification code and an IATA tag so airline workers can tell at a glance if it's up to snuff or not without making you stuff it into one of those little luggage pillories at the gate.
It sounds like airlines are leaning toward coming on board with the idea, so warm up the credit card to buy a new, teeny carry-on bag, and perhaps some wearable luggage, which is sounding less and less absurd all the time.
P.S. Showing my age—how many of you remember the classic James Brown tune referenced in the headline of this post?
Update: IATA has released a clarification that the Cabin OK initiative is just a guideline, not a requirement, that airlines can buy into or not, so it'll still be up to each airline to decide whether or not it wants to adopt the smaller bag guideline (which is an "optimum size, not a minimum size") as its standard. It also says that the point of the initiative is that to allow passengers to each stow one carry-on, which isn't possible if everyone is trying to cram oversized bags into the bins as currently happens. And you don't have to buy a smaller bag, IATA says. But if you don't, you may not be able to carry on your carry-on if the airline you're flying adopts the initiative. And, ahem Sen. Menendez, it's not a money-making scheme devised to make you check bags, they say—if you had to gate-check before, you'd still be able to gate-check after an airline adopts the guidance. The main difference seems to be that new bags with the special logo will get preference when it comes to gate-checking. So we don't have to buy a new, tiny bag, if we don't and most airlines do adopt Cabin OK, our bag may not come into the cabin with us. I'm not seeing a big difference from my initial take on this, are you?
Update: On June 17, IATA announced that it was "pausing the rollout of its Cabin OK initiative and beginning a comprehensive reassessment in light of concerns expressed, primarily in North America. This will include further engagement with program participants, the IATA membership, and key stakeholders." More here.
Suggested Categories

More from MeetingsNet

---