We all—yes, even me, especially me!—like to gripe about the very things that make face-to-face meetings possible: Planes and hotels. So what are our most pet of pet peeves? Let's start with hotels.
According to a Huno.com survey of our most common "hotel hates," the dirty little non-secret is actual dirt, as in filthy, unkempt rooms. Yup, I'd check that box along with the good company of 41 percent of 200 respondents to the survey. Dirt seems to bother women more than men (shocking, I know), with 48 percent of women saying yuck to just 29 percent of the men surveyed.
Uncomfortable beds came in next, followed by poor service and inexperienced staff (which bothered the men more than the women). Hidden extras like Wi-Fi fees came in a surprisingly distant third. And while hotels bombard me with press releases about their renovated décor and fabulous new amenities, according to these respondents, they'd be better off spending their money on cleaning staff and training, since most ranked dated décor as the least annoying thing about a hotel stay.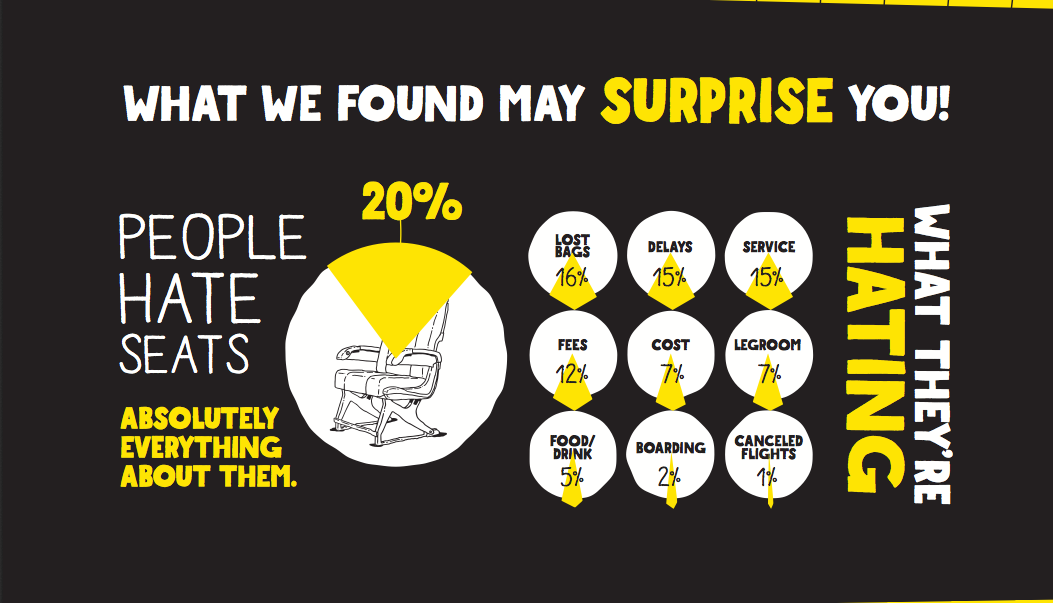 And then we have a "State of Hate" report from Scrooge's favorite airline, Spirit, which is weirdly offering free miles for spewing your disgust over the current state of air travel. Top of the list, not surprisingly, is pretty much everything about the seats, from size to pitch to the dreaded recline (20 percent). Lost bags and baggage policies come up in second place (16 percent); followed by delays and poor customer service (15 percent). Where are the fee-haters? They saved that for Spirit itself, which ranked highest (lowest?) for those who hate being dinged constantly with add-on fees. And they seem weirdly proud that only 40 percent of the total vitriol was hurled in their direction, with the other 60 percent being split up between (from worst to best) Delta, United, American, Southwest, US Airways, Jetblue, Frontier, Airtran, and others. And the words people like to use to describe their feelings about the airlines? Well, I'll let you cruise over to the infographic to check those out for yourself, but the whole thing is bemusing and amusing in almost equal parts.
I'll leave this post with one dirty little secret of my own: I type wicked fast when powered by leftover Halloween Reece's PB cups and Nestle Crunch bars!