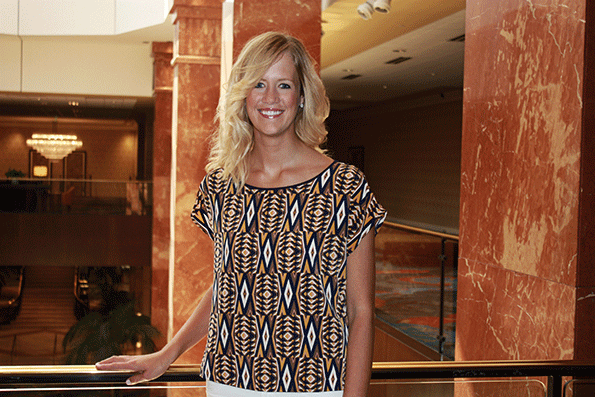 During IMEX this year, I heard a lot of cool property stories. One that seemed pretty unique was about the 1,606-room Hilton Anatole Hotel, which is near downtown Dallas. Not only do they offer an art-food pairing experience that sounds like a blast, and a soon-to-come three-acre, $15 million water attraction, but they also have someone on property who is designated as the official social media manager for both the hotel and groups that meet there.
Her name is Courtney Morrow, and she graciously agreed to talk about what exactly her job entails. Here's the resulting Q&A. Hoteliers, do you offer something similar? Planners, would you find this sort of service useful?
Tell me a little about yourself and your role with the hotel's meetings and events.
I'm the marketing and social media manager with the Hilton Anatole. In addition to coordinating the hotel's ongoing social media initiatives and campaigns geared toward our year-round leisure guests, I've integrated social media strategies we can leverage to our various groups on-property before and during their event. 
Why is social media integration important for today's meetings and events? What can planners—and their attendees—expect to get out of it? 
Social media is a truly multi-purpose tool that can be implemented in a variety of ways depending on the group or event. For example, catering events (i.e., special events such as galas or luncheons) may use day-of hashtag tracking or live feeds to promote engagement during an event, while conference/convention events may leverage social media prior to the event date in order to boost attendance or excitement. 
How do you work with planners to develop a customized approach to social media for their specific meeting and audience?
We have developed a customized approach to integrate social media and digitally based offerings into the planning process—from the initial site visit through the duration of the program.
We can offer real-time hashtag display feeds, which drive awareness of hotel and group social media handles/hashtags and foster real-time discussions among attendees and speakers. 
Social media integration allows us to provide rapid response customer service by directing questions and feedback to Twitter with use of a custom hashtag.  At the Hilton Anatole, we are also able to incorporate our SMS service, Kipsu, to interact with guests via text message.
Our emphasis on mobile technology extends to on-property programming in the form of our Anatole Art smartphone application, which invites guests on an interactive tour of our world-class art collection.
Walk me through how a typical program would be designed—what steps do you take, what kind of information do you need from the meeting planner, etc.?
Unless a planner also happens to manage social media at the event, they typically connect me with their designated contact to align needs and communication goals during their planning process. From there, we discuss specific needs and areas of importance. It's definitely a collaborative process in which I can provide guidance based on our capabilities and previous successes. It's key for me to learn about the size and demographic profile of an event, as well as connectivity and schedule prior to the event. Our goal is to integrate social media in to the program as an ancillary service, rather than an afterthought.
Do you see this as becoming more or less important in the future? Any thoughts on how these types of programs may evolve in the near (or more distant) future?
Social media and the digital age have given corporate brands the ability to personalize and connect with employees and consumers on a deeper level. Our goal is to help meeting planners create a collaborative, tech-driven setting to better engage and impact their attendees.
While I do feel the rise in social media integration is somewhat related to the growing number of Gen Y and Millennial workers attending meetings and conventions, it's clear that this desire for connectivity reaches beyond generational gaps to travelers as a whole. I don't feel this will show any sign of stopping.
As a hotel, when connecting with users on social media platforms and review sites, our online hospitality is a direct reflection of our offline hospitality. That is what is at the heart of everything we do as a brand and as a hotel team.
Note: Welcome, MPI News Brief readers!
For more news delivered daily to your inbox, you can subscribe to our daily e-newsletter, MeetingsNet Today, here.
Suggested Categories
More from MeetingsNet

---