There was a lot of playing around with session formatting at IMEX America 2016—even more so than last year (my first experience with the massive meetings and hospitality trade show that takes place in Las Vegas each fall). When I first heard they were doing "tours" on the trade show floor, I wasn't quite sure how that would work. So of course I took part in one, and it was interesting.
I hopped into one of the Innovation Tours, which were led by one of my meetings industry heroes, Glenn Thayer, president of Emcee Squared. The tour, which was limited to 15 people maximum, started out at the Media Café in the far left corner of the expo hall. Glenn and the good folks at the IMEX booth next to the café handed out headphones to all of us tourists so we'd be able to hear Glenn and the other speakers over the din of the show floor. Glenn gave us a quick overview on what innovation trends are picking up speed for meetings, and then trotted us out onto the main show floor to make our first stop.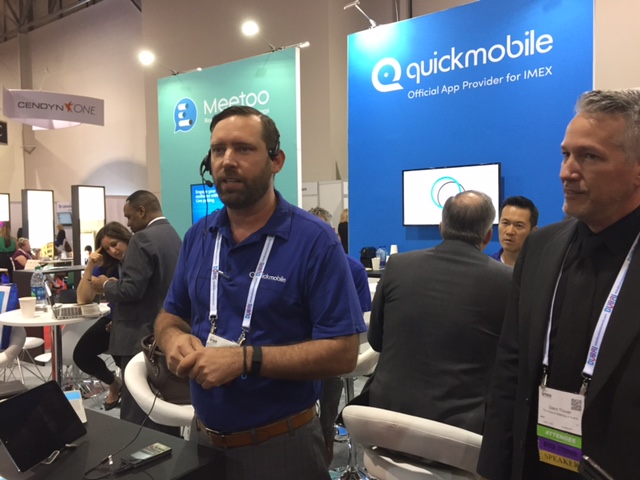 Which happened to be at the Quickmobile booth. Now I'm thinking, "Uh oh, we're going to get a commercial on the company's app," but no, they were way too smart to do that. Instead Quickmobile's Scott Lockey gave a lightning-fast take on some of the top tech trends that are driving innovation, the biggest of which is that technology is getting more interactive, which means it also can be personalized to an individual attendee's experience. He gave some gamification tips too, including the importance of tying the game mechanism into the business goals of the event.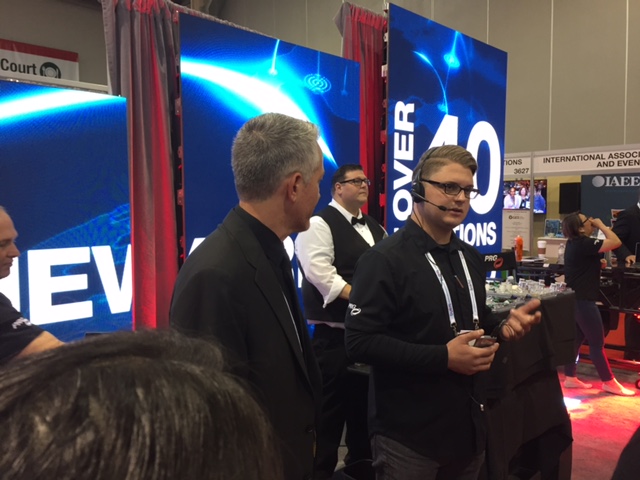 We scurried over to the other side of the hall for our next stop at , where Stephen Henric talked about how innovations in AV and production are shaping today's meetings, from LED screens that provide more flexibility to a conference's messaging to video-mapping at general sessions to create some serious wow. LED technology, interactive lighting solutions, and audio system are all going up in quality and down in price, so you may be able to afford more production dazzle than you think. He urged planners to engage their production company at the very beginning of the planning process to find out what options may be available, and affordable, to help you meet your event's business goals.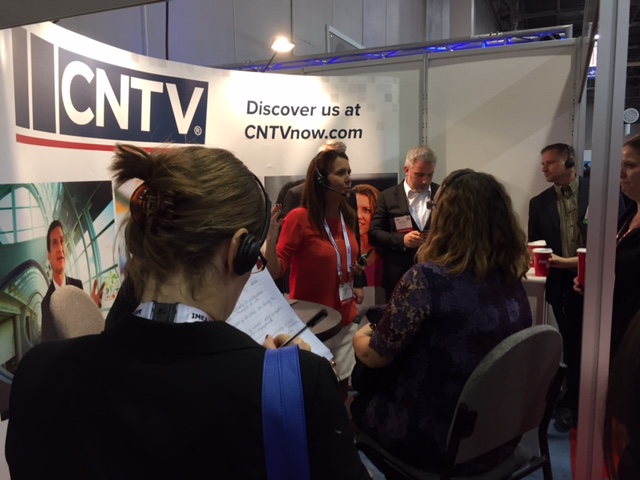 The next stop was at the CNTVNow booth, where Carrie Ferenac did a quick dog-and-pony show about how meeting organizers can, and should, be attaching video to all their communications throughout the year. (Her company provides live show coverage in a TV news format, plus a lot of other event video support.) Some ideas her clients have used include video email promotions—it's all about the music and visuals, she said.
One cool thing a client did during their show was have an attendee go booth to booth to highlight what he thought were the most interesting things on the expo floor. His segment was streamed live via Facebook, then recorded, posted on YouTube, and promoted on all of the organization's social channels. After the show, you can post a wrap-up video that also promotes the next year's show.
Her tips for video: Plan out the content ahead of time, and include words on the screen that will catch people's attention when it scrolls by on their Facebook feed. Keep any clips you plan to promote on social media short, and include links to the full general session on your website.
The tour ended at the Senior Planners Industry Network booth, where SPIN Founder and Chairwoman Shawna Suckow, CMP, gave some tips on how to get your stakeholders on board with trying some of the innovations we had just heard about. She suggested working with your technology provider to get monetary data that backs up your argument for trying that new tech. In fact, get all your technology providers together on one call and brainstorm how what one is doing can augment other aspects of your show. Get video of the tech being used at other conferences so the C-suite can see it in action. Think about how it might benefit sponsors, she said. How can you get sponsors to pay for it? Do you have any vocal—and influential—attendees who could help you make the appeal? She also recommended just working in one innovation at a time to keep from overwhelming reluctant stakeholders.
We then handed our headphones back to Glenn and wandered off to our next appointments. What made the tour format work was that each of the speakers at the booths were nonpromotional and full of good ideas, advice, and suggestions. It was content marketing, sure, but it was content marketing done very well. The fabulous Tahira Endean, CMP, an event producer and meeting technology maven, also led some tech-related tours, which I couldn't manage to shoehorn into my ridiculous IMEX America schedule.
Would I implement a similar tour format at a show I was organizing? As long as I could guarantee the quality of the content—and give people those headphones!—I absolutely would. And, assuming that the companies whose booths we stopped at paid for the opportunity to spotlight their thought leadership, it could be a nice source of revenue as well. Well played, IMEX America!