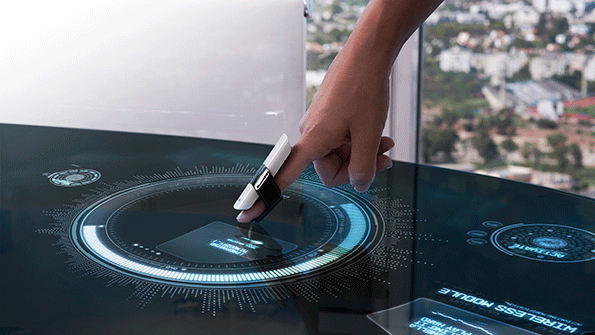 I've seen some really cool meeting technology demos and pitches lately, both as a judge in the Event Tech of the Year contest and as an observer at the IMEXPitch, but one new device that really knocks my socks off is an amazing little device called Bird that I got to see in action via Skype recently. Developed by an Israeli startup call MUV Interactive, Bird looks a little like the temperature sensor a doc slips on your finger during an office visit, and is activated with a tap.
Once activated, it turns any surface into a screen presenters can use to display and interact with content from their PC, tablet, or smartphone (it's compatible with Android, IOS, Windows, and Macs) using touch, remote touch, gesture control, voice command, a mouse, or just by hovering over the surface—from up to 100 feet away. All you need is a room that is equipped with a projector or LCD display; Bird comes with everything else that's needed and is designed for easy plug and play.

Watching the demo was like watching a scene from the movies "Minority Report" or "Iron Man" in real life. An MUV exec wearing a Bird drew on a projection on the wall of the demo room, zoomed in and out, annotated, and rotated a 3D model. Then he just got crazy and flew a drone with it, and even turned on and off an Internet of Things version of a lamp that was controlled via an app. Then multiple people put them on and they played a video game together on the wall from 10 feet away. It was wild. I want one. So do these kids:
And think about how presenters could use this thing during a session. It's different than things like Kinect (the Microsoft remote controller for Xbox video gaming, which also blew my mind when I first saw it), which only works if the person using it is standing in a specific location. With Bird, a presenter can wander the aisles while interacting with what's on the screen, or even hand the Bird to an audience member to add his or her ideas. Think about panelists who could each wear one to interact with what's on the screen and collaboratively build on their topic visually as well as through talking. I can even see this be used during planning meetings to build agendas and activities collaboratively.
The whole thing, including a Bird, cradle, charger, a base unit that can handle up to 10 Birds, software, and charging cable costs $249 for consumers. It's brand new to the market, having just launched October 12, so I haven't seen it in use at meetings just yet, but I can't wait to see how people use it to make their presentations more interactive. I have no connection with MUV Interactive, other than they kind of blew me away with this little device. (Here's the company CEO and founder doing a Bird demo on a 300-inch screen before 14,000 people at the AIPAC conference in Washington, D.C., earlier this year, if you want to see its conference applications in action.)
What #EventTech have you experienced lately that made you sit up and take notice?
Suggested Categories
More from MeetingsNet

---