Venture Out! How to Get Support for Global Meetings
Date: Thursday, June 23 2016, 2:00pm ET / 11:00am PT
This session has been submitted for review and will align with CMP-IS Domain A: Strategic Planning pending approval. Attendees must attend LIVE to automatically earn 1 clock hour toward your CMP certification or re-certification. OnDemand viewers must self-report.

 
Is your organization considering holding an event outside the U.S. for the first time? Or have you held many international programs but now want to venture farther afield, to an emerging destination?

Our webinar will help you evaluate the benefits and challenges of exploring new international destinations for your meetings, as well as offer advice for planning those meetings.

In this webinar, you'll learn:
- The best reasons for taking a meeting outside the U.S.
- How to build stakeholder support for your first global meeting or for venturing beyond your previous international experiences
- How to respond to the most common destination objections (cost, safety and security, language, attendance, and more)
- The best resources to help you understand your meeting destination and find local partners
- Two experts' biggest lessons learned from their careers in global meetings
Moderator
Sue Pelletier - Editor, MeetingsNet
Presenter?s
Agnès Canonica, CMP, CMM, HMCC, Global Director, Strategic Meeting Management, AHM,  New Providence, NJ
Carol McGury, Executive Vice President, Event and Education Services,
SmithBucklin, Chicago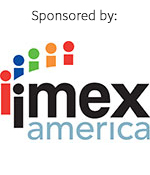 MeetingsNet is a CMP Preferred Provider. The program(s) identified with the CMP Preferred Provider logo meet the requirements to receive continuing education (CE) credit for the Certified Meeting Professional (CMP) credential. All qualifying activities also indicate how many CE credits attendees will receive for participating.


For more information about the CMP credential or CMP Preferred Provider Program, please visit www.conventionindustry.org.
Note: This program is not endorsed, accredited, or affiliated with the Convention Industry Council or the CMP Program. Applicants may receive CE credit for attending any program that meets eligibility requirements of the CMP Program. There are no specific individual courses required as part of the applications –selection of eligible education is up to the applicant based on his/her needs.