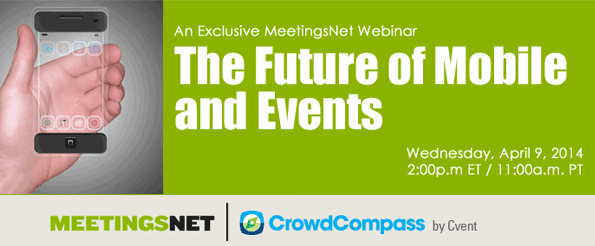 Wednesday, April 9, 2014 @ 2 p.m EST / 11 a.m PT
How will your events be different this year? What will they look like in 5 years? The nature of meetings and events has already changed dramatically due to the growth of mobile technology. Your attendees aren't picking up printed guides at the event anymore. They're using event apps to get involved with the event before it even begins. How will emerging trends like wearables and iBeacons continue to make events more personal and efficient?
Mobile stats have far exceeded expectations. Attend this webinar to see what's in store for 2014, and what you should be prepared for in the future.
This presentation will cover: 
A mobile "then & now" comparison
Mobile fads vs. mobile trends—and which ones matter for events 
Mobile app features for everyone at your event
Attendance qualifies for one clock hour in CMP-IS Domain A. Strategic Planning toward certification or recertification application for the Certified Meeting Professional designation.