April 22 is Earth Day, a time for those in our industry to consider the substantial environmental impact of holding meetings, conventions, and trade shows. With the in-person event business back to full strength, it's more important than ever for host organizations to rethink how they conduct gatherings in order to minimize their carbon footprint. Every effort counts.
Here are eight recent sustainability developments around travel and meetings that planners should have on their radar.
• On April 17, Washington state lawmakers passed the Plastics Reductions Bill, which, among other things, will eliminate single-use plastics for personal care products in hotels if signed by Gov. Jay Inslee. In California, a law banning mini hotel toiletries passed in 2019 and went into effect in January of this year, while a similar law passed in New York State in 2021 takes effect on January 1, 2024, for hotels with 50 rooms or more and on January 1, 2025, for hotels with fewer that 50 rooms.
• On Friday, April 21, the Sustainable Events Forum holds its fourth annual Earth Day for Event People, a free, 90-minute online event from 11:00-12:30 ET. Attendees will learn about zero-waste events, take a lighter look at greenwashing, explore ways to keep stress down and sustainability up, and understand how their events can have a positive, lasting effect on the host community. Register here.

• While more focused on business travel than meetings, a new group, the Sustainable Travel & Transportation Network, launches April 24 "to provide information, tools, certifications, and professional networking to help members understand what sustainability is, why you should be interested, how to get started, and what a sustainable organization looks like." The organization's principals are Patricia Charla, co-founder for environmental consultancy Tech360, and Sara Richardson, founder and president of RAS International. Among the advisory board members is Lee Palmer Turner, corporate travel manager for MGM Studios and president-elect of the Global Business Travel Association.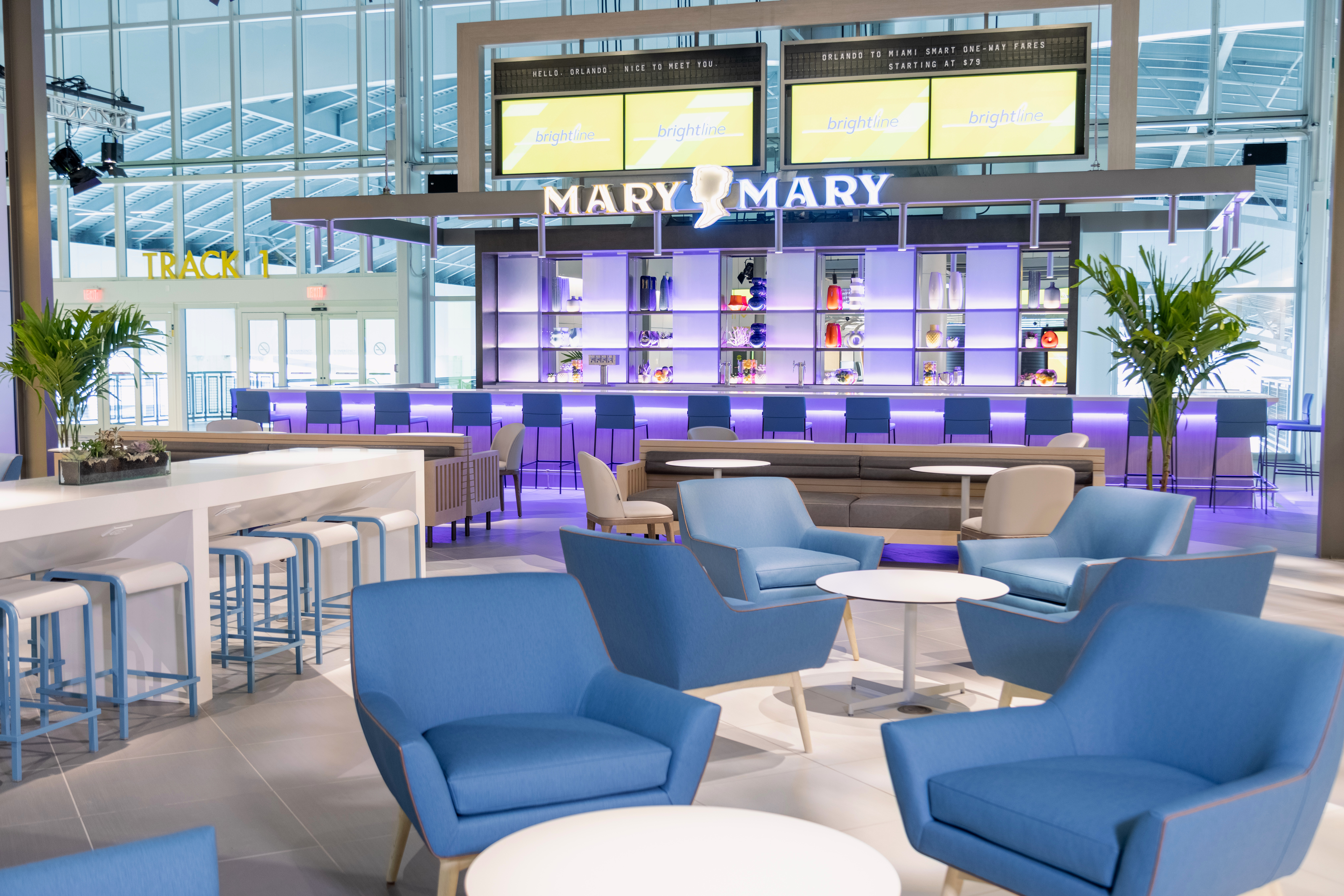 • In advance of train travel launching between Miami and Orlando this summer, the Brightline Orlando Station (left) opened on April 20 at Orlando International Airport. The eco-friendly travel option will take three hours nonstop or three and a half hours with stops in West Palm Beach, Boca Raton, Fort Lauderdale, and Aventura. On the other side of  the country, another proposed train route could get cars off the road and passengers out of the sky. Dreamstar Lines is working to launch a San Francisco to Los Angeles "premium overnight hotel train" by the end of 2023.

• In mid-April, ride-share company Lyft began a major expansion of its "green mode," which allows riders to request electric or hybrid vehicles. "Green" began in Portland, Ore., and is initially expanding into 14 markets: San Francisco; Seattle; Los Angeles; Silicon Valley; Boston; New York City; Chicago; San Diego; Washington, D.C.; Austin, Texas; Denver; Orange County, Calif.; Sacramento; and Phoenix. Riders with a Lyft business profile will be the first to gain access to "Green." Lyft says it's committed to 100-percent electric vehicles on its platform by the end of 2030.  Lyft's competitor Uber has a similar "green" option to match riders with low-emission vehicles, which is available in eight cities across the U.S. Both companies have a $1 surcharge for their green vehicles.

• This week, KSL Resorts announced four specific, measurable sustainability goals for its portfolio of 11 properties, which includes San Diego's Fairmont Grand Del Mar and the Sheraton San Diego Hotel & Mariana. KSL's hotels and resort are aiming to eliminate all single-use materials by the end of 2023; achieve 20 percent waste diversion; and reduce water use by 5 percent and energy consumption by 10 percent in 2023 over the previous year.

• In March, sustainability-advisory firm Thrust Carbon introduced Thrust Events, which combines the ability to gather data and generate reports on carbon emissions from on-site event activity with the firm's original product: a calculator and reporting tool for carbon emissions from business travel. Read more.

• Experience Kissimmee, the destination marketing organization for Osceola County, Fla., is launching two new sustainability programs May 1. The first is an expansion of its "It Pays to Meet in Kissimmee" incentive program, where meeting organizations can earn up to $10,000 cash back for meeting in Kissimmee based on the number of paid room-nights. The expanded program now gives planners an additional reward of offsets through Trees4Travel. The program not only plants trees to create future forests and restore eco-systems but also makes an investment in a United Nations renewable energy carbon credit, to help offset a portion of the meeting hosts' CO2 emissions.
RELATED READING:
Green Clauses: Don't Forget the Remedy
14 Sustainability Terms You Need to Know