At Club Med Rio das Pedras on Brazil's Green Coast, finding happiness has never been easier.
A 90-minute car ride via highway south of Rio de Janeiro, Club Med Rio das Pedras is nestled amid lush greenery at the edge of a long beach in the country's second-largest nature reserve, the Mata Atlantica. The resort covers more than 74 acres and faces the islands in the calm Bay of Angra dos Reis. After arriving through a gated entrance, guests are greeted with open-air canopies, mimosas and bottled water, and welcoming faces eager to assist.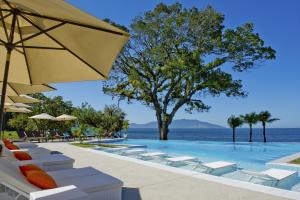 A front-runner of the "all-inclusive" vacation, Club Med has been creating happiness for its guests for more than 60 years. With 78 resorts in 25 countries, each Club Med Village spans an average of 50 acres. And if there's a secret ingredient to the Club Med formula for happiness, it's the high-energy, extroverted staff, who go from teaching water sports and helping guests with other activities throughout the day to performing in a variety of shows in the evening. Portugese, French, and English are spoken, with many staff-members multi-lingual.

Rio das Pedras Renovations
This June, the Rio das Pedras reopened with its restaurants and conference center fully renovated. Meeting rooms range in size from 366 to 10,172 square feet for groups from 16 to 1,000 people.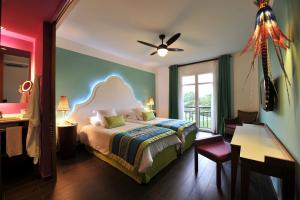 Dining options include a large open-air restaurant in the center of the resort featuring an international buffet. With 790 seats, the main restaurant is divided into five thematic seating areas. What's most striking is the abundance and variety of the cuisine. Each station features a unique offering, often freshly prepared and plated right before you.
A specialty restaurant, Janganda, serves light meals throughout the day and Brazilian dinners at night (such as churrasco—Brazilian barbeque). It, too, is open-air and situated near the river that flows through the resort.
Lodging options include new and upgraded rooms in the property's 346 Colonial-style bungalows. With the help of French architect, Marc Hertrich, 120 deluxe rooms were redesigned with a décor that blends influences from Brazil, India, and Portugal and uses natural, local materials with colorful accents.
The resort is ideal for both land and water sports, from archery and tennis, to water-skiing, wakeboarding, sailing, and kayaking through rainforest waterways surrounding the property. There are two pools, one of which is away from the social area and exclusive to adults. Both overlook a 1,640-foot long, fine-sand beach.
Rio das Pedras works well for families and offers supervision and activities for kids, age 4 months to 17 years. For tweens and teens there's a "hang-out zone" and the big kids have the autonomy to be on their own in a club environment.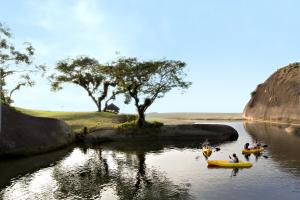 Excursions to Sugarloaf Mountain and the well-known Christ the Redeemer statue are musts for first-time travelers to the area. Overlooking Rio, at the entrance of Guanabara Bay, sits Sugarloaf Mountain.Rising 1,299 feet above the harbor, its name is said to refer to its resemblance to the traditional shape of concentrated refined loaf sugar. Stunning views await in all directions as you walk around the peak. While some people choose to climb up—mountain climbers are a common sight—most people take the cable car from Praca General Tiburcio to the summit.
Rio's "Christ the Redeemer" is one of the world's best known and most-visited monuments. Constructed atop the Corcovado mountain, it is the world's second-largest statue of Jesus, and the largest done in Art Deco style. As a vantage point, the Christ the Redeemer statue offers superb views of downtown Rio de Janeiro, the bay, Sugarloaf Mountain, and the Copacabana and Ipanema beaches.
MICE Made Easy
Planners of meetings and incentives will find budgeting easier with the all-inclusive pricing that is the hallmark of Club Med. Dining, drinks, activities, and amenities are built into the price, which is per-person, per night and includes all taxes and gratuities.There are no hidden fees.
The main meeting room at Rio Das Pedras is theater style and can accommodate up to 1,000 guests. Meeting space, AV, and other meeting-oriented costs are charged per day, per room, based on needs, size of room, and amount of time needed. Internet access is extra.
For more information, visit Club Med's groups page.