Meeting Professionals International's plan to hold its World Education Congress in person at the Gaylord Texan Resort in Grapevine, Texas from November 3-6 is still a go as of July 24, despite rising Covid-19 case numbers not only in the host state of Texas but also in Arizona, Florida, California, and 33 other states.

To ease the minds of attendees and prepare them for the new in-person experience, MPI posted its duty-of-care document on July 22. It outlines the actions MPI is taking to reduce the chance of having infected people attend, and also to reduce the chance of any infection spread on site.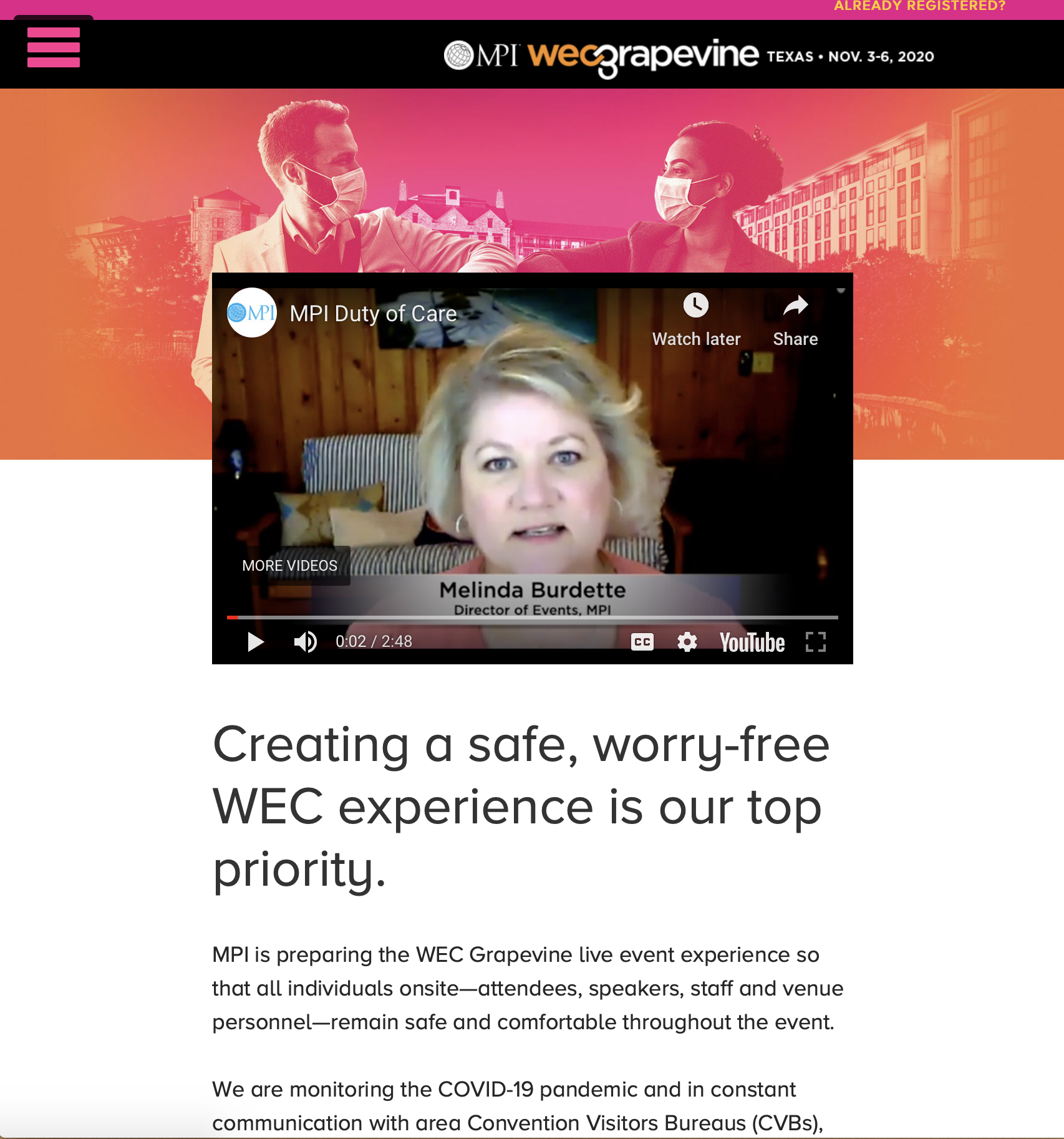 The document states that MPI will mail name badges, masks, and hand sanitizer to each attendee ahead of the event. Also included are color-coded lanyards that display an attendee's preference for interpersonal contact: green indicates that physical contact is acceptable; yellow indicates that standing nearby without contact is acceptable; and red means that only social distancing is acceptable to that attendee. The association is also taking actions on site such as conducting daily temperature checks, having an on-site medical office with healthcare providers, and posting signage reminding participants to maintain social distancing throughout the building. Spaced-out seating in meeting rooms and F&B areas are also outlined in the document. 

To reinforce the comprehensiveness of its duty-of-care plan, MPI enlisted Melinda Burdette, the association's director of events, to prepare a three-minute video that appears at the top of the webpage. Besides reiterating several of the points in the duty-of-care plan, Burdette emphasizes individual responsibility too. "Attendees should arrive healthy, and we will ask you when you arrive to attest to a personal accountability commitment. This means we'd like you to keep your mask on, do social distancing, and submit to daily temperature checks" as well as not attend any event if feeling ill.

To lighten the mood and pique attendees' interest, she goes on to say that "we will have some fun in the time between onboarding and offboarding of meeting spaces—look for more information on that as we get closer to the event."

In addition to the duty-of-care document and video, the online page also connects to the Gaylord Texan's "Commitment to Clean" guide, which details the various ways the hotel and meeting venue will be serviced in order to remain clean and safe for participants.

Lastly, the web page highlights MPI's modified attendee-cancellation policy. Until October 23—just two weeks ahead of the event—attendees can cancel and get a full refund of their registration and housing costs, or change their registration to the event's online experience, or defer the money to WEC Las Vegas in 2021.