The first meetings industry expo since the pandemic lockdown began takes place on July 24 at the Orange County Convention Center. While it may seem strange that the Together Again Expo is happening in one of America's top-three virus hotspots, the free, one-day, hybrid conference will showcase industry efforts to keep attendees safe.
About 1,035 in-person attendees are expected to convene in the West Concourse of the OCCC, which has 1,104,940 square feet of exhibition space, 45 meeting rooms, 132 breakout rooms, and a 62,000-square-foot ballroom. All in-person attendees will have a non-invasive temperature screening and face coverings are required. An additional 3,035 virtual participants have registered to view panels on YouTube and Vimeo, according to the organizers.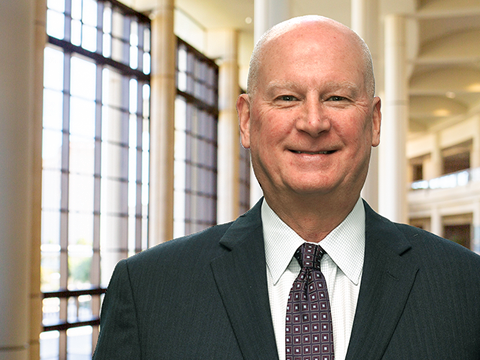 Not all of the panelists will be on site. For example, Sherrif Karamat, CAE, president and CEO of the Professional Convention Management Association filmed his comments for the State of the Industry panel remotely on July 17, and Amy Calvert, CAE, CEO of the Events Industry Council will participate remotely. However, OCCC Executive Director Mark Tester (left) will be participating in the opening remarks and shared the following comments on safety measures that the facility has in place for planners attending the event in person.
MeetingsNet: What will the arrival process look like?
Tester: Guests will be using a QR code to check in for the Together Again Expo. They will scan it at the registration desk where they will receive their event credentials and PPE kits.
MeetingsNet: Are masks compulsory?
Tester: Yes, all attendees will receive PPE kits and will be required to wear a face covering at all times during the Together Again Expo.
MeetingsNet: How will attendees visit the 248 exhibitors in the expo hall?
Mark Tester: The event organizers, Alliance Nationwide Expositions, will be implementing one-way aisles on the exhibit floor.
MeetingsNet: What measures are in place for the live cooking demo in the exhibit hall?
Tester: During the live cooking demo, Centerplate chefs will be socially distanced on stage to limit person-to-person contact. Plexiglass barriers will separate the chefs from one another as well as separate the audience from the stage. Gloves will be changed frequently throughout the day and a hand-washing sink has been placed behind the stage for constant use. In between each demo, the area will be sanitized and wiped down. All food items will be pre-packaged in to-go containers and handed out by Centerplate staff. Our priority will remain on our team members and guest safety.
MeetingsNet: Is the virtual component of the event being handled in house?
Tester: The OCCC frequently hosts hybrid trade shows and events with virtual and in-person sessions. [Event organizer] Alliance Nationwide Expositions is working with a local tech and audiovisual company, Technish Creative to implement and host all the virtual aspects of the event.