The scenes from the west coast of Maui are heartbreaking: Wind-whipped wildfires engulfing the resort town of Lahaina in a matter of minutes, forcing people to flee for their lives. As of August 10, at least 36 people are known to have died, while the majority of homes and businesses in Lahaina are burned to the ground.

Maui's public officials, emergency crews, and hospitality-industry leaders are working around the clock to get residents, employees, and guests evacuated to safe areas. In fact, the Honolulu Convention Center on neighboring Oahu is part of the effort, acting as a shelter for thousands of evacuees even as it has a 2,500-person meeting group in house. Commercial airlines are also helping by flying empty planes to Maui's Kahului Airport to get visitors to Honolulu and the U.S. mainland.

Once the fires subside and the emergency management ends, though, the near-term future of Maui's meetings and incentives business will remain unclear. The popular resort destinations of Kaanapali and Kapalua are only four miles and nine miles, respectively, from Lahaina.

MAUI STRONG FUND: Find out more about helping wildfire-relief efforts on Maui here.
According to a CNN article on August 9, Jim Bendt, owner of Pique Travel Design in Minneapolis, said that "our local contacts have told us the damage is contained to the Lahaina area. The major resort areas such as Kaanapali, Kapalua, and Wailea were not part of the fire."

However, the lone road that goes to Kahului Airport from Kaanapali and Kapalua runs through Lahaina. The main meeting and incentive resorts in Kaanapali and Kapalua include the Hyatt Regency, Outrigger, Sheraton, Ritz-Carlton, and Westin. 

Further, the historic 230-year-old town of Lahaina (photo below, before the fire) is the west coast's main destination for day trippers coming from the resorts. Favored by the Kamehameha royal family and a famed whaling port, Lahaina was the capital of the Kingdom of Hawaii from 1820 to 1845, before Honolulu. It's known for its shops, museums, and restaurants on Front Street along the ocean as well as Banyan Court Park, which contained the largest Banyan tree in the United States. All of these features were destroyed in the fire.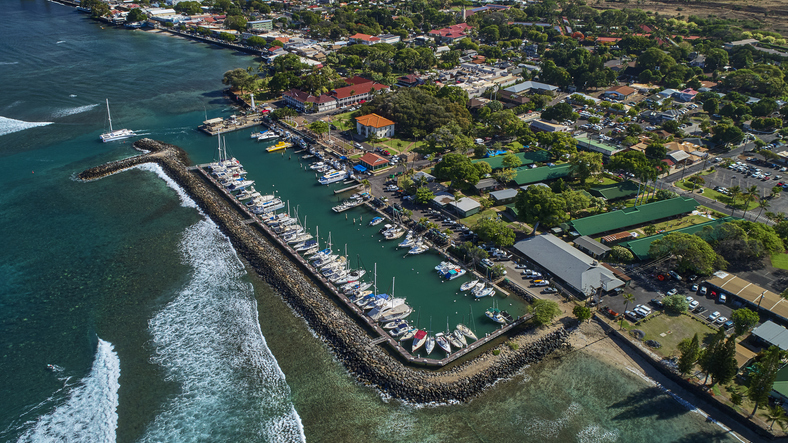 Local farms that grow coffee, nuts, fruits, vegetables, and flowers have been scorched, and many tour operators have had their operations devastated from either equipment damage or employees' property losses. For example, the president of a Hawaiian helicopter company said in this CNN article that several of his coworkers lost their homes while other tourism partners lost their businesses.

"It is absolutely tragic, devastating," Quentin Koch of Blue Hawaiian Helicopters told CNN. "Tears just keep pouring and pouring from people's faces as we all wake up and realize what we have in front of us." Blue Hawaiian Helicopters canceled its tourism operations and is partnering with the state to "focus and take care of the people that are in need." Koch said his firm's helicopters have been landing in tight places such as parking lots and golf courses to get people evacuated. "Seeing [the devastation] in pictures just doesn't do it justice," he said.

As for Wailea, 27 miles to the south of Lahaina, the good news is that wildfires closer to that area have not reached the coast. Meeting and incentive resorts there include the Andaz, Fairmont, Four Seasons, Marriott, and Waldorf Astoria.