After three months of work by representatives from more than 30 organizations representing both the planner and supplier sides of the business, the Events Industry Council has published a Meeting and Event Accepted Practices Design Guide to help planners and their organizations hold safe meetings.

EIC formed the APEX COVID-19 Business Recovery Task Force in March to focus on aggregating and curating accepted practices across the events ecosystem and provide a framework for recovery and resilience as the Covid-19 situation plays out.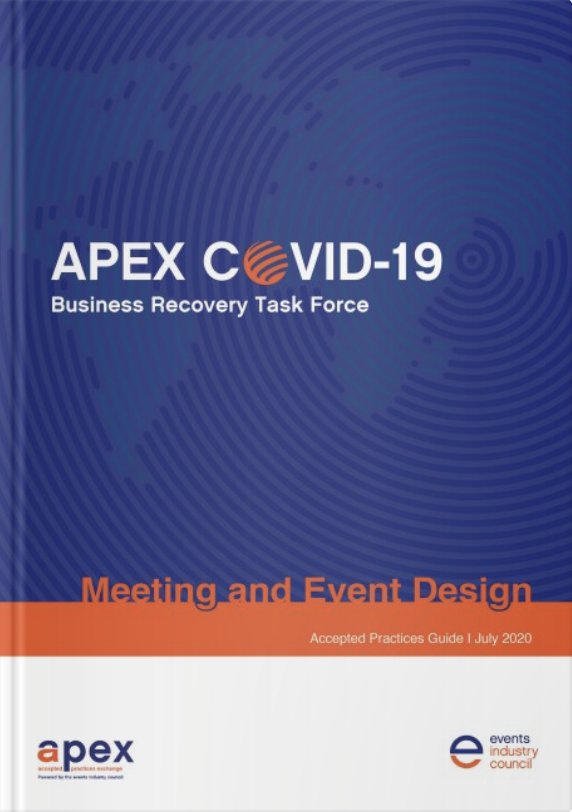 To rebuild trust that in-person meetings and events can happen safely, the guide provides customizable tools that include a meeting and event decision grid based on the state of Covid-19 transmission at a given time; guidelines and a code of conduct for staff and attendees in the pre-event, on-site, and post-event environment; meeting and event success metrics (pre- and post-vaccine); attendee communication considerations; and more.

"While we have seen some very encouraging examples of events beginning to take place across the globe, we must continue to advocate our ability to create safe environments," said Cathy Schlosberg, a meeting and event design work group member within EIC and senior vice president of marketing for PSAV, which recently released its own guidebook for designing meeting spaces in the new environment. "Our colleagues want to understand and implement accepted practices that bring in-person meetings, events, exhibitions, and trade shows back to life. The guide will help do that."

"Individuals and organizations must take responsibility to own event risk assessment and mitigation, taking into account guidance from global, national, regional and local public health officials," said Amy Calvert, CEO of EIC. "If we do so consistently and communicate these steps effectively, we will make considerable strides toward reestablishing trust with organizational decision-makers, event organizers, participants, and all stakeholder groups. Trust is the essential element in the recovery process and ensures our [industry's] future relevance. "

Further, Calvert noted that "the guide's materials represent a living workstream—as new information and knowledge is gathered, we will update this guidance so that trust is renewed and reinforced."

EIC will host a webinar on Friday, July 24 at 11 a.m. ET to discuss the guide in more detail.

Another guide, this one from EIC's Hotel/Accommodations Health & Safety work team, will be released in the coming weeks to give planners a better understanding of supplier-side issues and actions related to Covid-19 protections.