For groups that host events in Los Angeles in August, the historical chance of rain is literally next to zero. Except in 2023, that is.

The remnants of Hurricane Hilary swept through Southern California on August 20 and August 21, dumping 2.4 inches of rain on downtown Los Angeles—nearly one-quarter of the city's average yearly total. With the KCON LA 2023 Korean-culture event bringing nearly 100,000 people to the Los Angeles Convention Center and the nearby Crypto.com Arena (formerly the Staples Center) from the morning of Friday, August 18 until the evening on Sunday, August 20, the storm's arrival in the city early Sunday afternoon was just late enough that it did not interrupt any of the event's programming. The exhibits and activations at the convention center ran until Sunday afternoon without issue, as did the final-evening concert at the arena that featured Korean pop bands playing for 18,000 spectators.

At the 878-unit JW Marriott at LA Live near the convention center and arena, one staffer told MeetingsNet on Monday, August 21 that there was a meeting group in house that began its event that day, experiencing no issues other than some attendees arriving late morning Monday rather than Sunday night due to cancelled flights.

In San Diego, though, things were a little tricker for at least one meeting group. The SPIE Optics + Phototronics annual meeting for more than 3,500 attendees delayed its start at the San Diego Convention Center by a full day because San Diego saw 1.82 inches of rain on Sunday, the most the city has ever gotten on an August day. The show's schedule was changed from Sunday through Wednesday to Monday through Thursday. SPIE brings its annual meeting to San Diego regularly.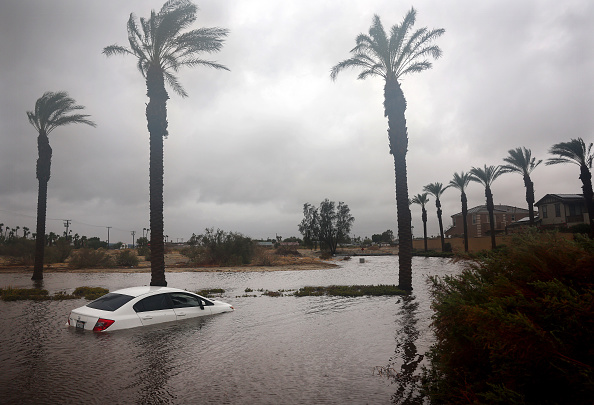 Unfortunately, not all popular Southern California meeting and incentive destinations came away unscathed. Less than two hours east of San Diego, the Coachella Valley, which is home to resort destinations Palm Springs, Palm Desert, Indian Wells, La Quinta, and Rancho Mirage, received 3.2 inches of rain—the most the area has ever received in a single day since records have been kept. With the compacted desert floor unable to absorb water, fast-moving floodwaters and sliding mud overtook Interstate 10 on both the east and west sides of the valley, cutting off the region completely for at least a day. The Palm Springs Police Department said in a statement on August 20 that its 911 emergency-call system was out of service for much of that day. The service has since been restored. At press time, MeetingsNet was unable to learn which business events, if any, were taking place in the valley during the storm.

About 200 miles to the northeast of Palm Springs, the Las Vegas Strip received about one inch of rain. There were no reports that the storm affected any business events being held in the city.