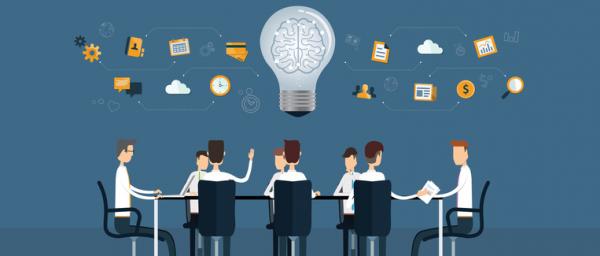 What if you could bring together an engaged group of people with different backgrounds and expertise but with a shared passion to innovate solutions for a monumentally challenging problem?  Would real solutions be found?
One model for this type of goal-oriented meeting is the hackathon, where collaboration meets competition. The term is typically used to describe multiday programming events where teams of software engineers collaborate to build apps or even computer languages, but today's hackathons often take a turn toward the social good—consider the British government's hackathon offering prizes for teams that came up with technologies to help people suffering from dementia—and some don't involve coding at all.
In September 2016 the GE Foundation, CAMTech (Consortium of Affordable Medical Technologies), and Massachusetts General Hospital in Boston launched the 2016 Opioid Epidemic Challenge Summit & Hack-a-thon, with the goal of finding viable solutions for preventing and treating opioid addiction.
The concept was a competitive think tank, with participants from a variety of backgrounds teaming up to "hack" together creative solutions to the health crisis. Teams spent two days developing and refining their ideas, leading up to their pitches to a panel of experts from the public health sector and other related specialties. Five $1,000 prizes were given to the winning teams, and the GE Foundation awarded an additional $10,000 to the team that made the most progress within 90 days of the hackathon. While some of the winning ideas involved technology, others, such as a mobile treatment-on-demand van and a meeting and activity space for recovering addicts, did not.
This was the right model for the meeting, says Jennifer Edwards, GE Foundation director, U.S. developing health, because  "hackathons foster innovation," she says. "And the result is usually more than one solution, which is imperative." In addition, CAMTech, based within the global health department at Mass General, already had a footprint in hackathons—but in Uganda and India where it has used the model to innovate creative solutions to health issues in areas where doctors have little access to funding or technology. The idea was to create a similar model here.
Day one of the three-day event set the context and lay out the range of problems for the 200 hackathon participants to tackle. Speakers included the governor of Massachusetts, director of the White House Office of National Drug Control Policy, and recovered opioid users. On the second morning, all participants had an opportunity to present a challenge to the group (in 60 seconds or less) and about 70 people got up to speak. After that, hackathon teams formed organically as people with similar ideas and goals found each other. Some challenges were clinical in nature, some related to marketing, technology, or products. Some people wanted to lead; others just wanted to be on a team. In total, 18 teams formally registered. Teams and mentors worked late into the night and returned the following morning to continue. Starting mid afternoon on the final day, teams did a three-minute presentation and two-minute Q&A with judges, who ultimately awarded the prizes in five categories.
Leveraging the Hackathon Model
The Opioid Epidemic Challenge Summit & Hack-a-thon was successful in producing a variety of practical ideas, some of which are in development. Can hackathons work in other industries on different problems?
Elizabeth Bailey, director, CAMTech, says, "It's hard to imagine an area where the model wouldn't work to some degree because cross-disciplinary collaboration is such a powerful and important way of tackling problems. What we've learned is that bringing together radically different perspectives in a compressed timeframe, with a clear focus on unmet needs, sparks innovation." 
The key, Bailey says, is "making sure there's a balanced representation of expertise in the room. For CAMTech's hackathons, we strive to have an even mix of clinical, academic, engineering, business, and government. You need to make sure you're hearing from each side about what they see as the biggest challenges to a problem, so that solutions are developed with each of those viewpoints in mind."
Inherently diverse, global associations seem to be a perfect fit for hackathon innovation. "We love this model for tackling issues," says Deborah Sexton, PCMA president & CEO. "We hosted a hackathon during Convening Leaders 2014 in Boston, and having an outside perspective for industry challenges proved enlightening."
Sexton says PCMA is exploring this approach for its June 2017 Education Conference, but sees the benefit for the industry as a whole. "We as an industry need to look beyond the 'usual suspects' and seek out those with differing perspectives for innovative solutions. The challenges we face, from the sharing economy to advocacy to data intelligence would all benefit from experts in those sectors."
Jeff Hurt, executive vice president, education and engagement at Velvet Chainsaw, agrees. Hurt has worked with many associations over his career, some that have used facilitated problem solving to address community issues, daunting challenges, new directions, product development, and more. It's a model Hurt likes. Velvet Chainsaw helps clients engage in a similar process that gives participants an avenue for collaborating, coming up with consensus between those of differing views, and ultimately effecting the change they want to make.
"The meetings industry cannot afford to create status quo, average conferences or meeting experiences that are transactional in nature," Hurt says. "Traditional conferences treat education and networking as transactions…listen to a speaker and you receive their knowledge; get someone's business card and you've networked. It's all based on transactions. It's missing the relational and transformational elements."
Hackathons are nothing if not transformational. As the GE Foundation and CAMTech leaders stressed, one reason hackathons succeed is because they are not top-down instruction. Rather, they provide the opportunity for a community to collaborate and create its own solutions, which is powerful.
Mark Fein, SVP strategy at Freeman XP, calls the hackathon model, "one of the most underutilized value areas of events in every industry. You pull together dozens, hundreds or thousands of knowledgeable, passionate, and focused practitioners into one space at one time—people who left what they were doing by choice to come to the event—and the fact that there isn't an effort to solve something together is almost embarrassing."
Every industry, after all, has challenges. "Why wouldn't you tap into the hearts, minds, and hands of your captive audience," Fein asks, "and get them to work? It's good for them individually, it's good for the industry and, depending on the challenge you tackle, it can have serious societal impact as well."
For the meetings industry, it's really a no-brainer. "Events and travel tend to mimic (with a slight lag) the broader economic cycle or, specifically, the cycle of that industry," Fein says. "What if we put all minds together to figure out how to lessen the fall when an industry slows down? These downturns can be crushing. Consider the housing/construction sector during the housing crisis! What if we put the minds of the people this most affects to work on this challenge when we have everyone together in one place?"
Fein sees Freeman as capable of a key role in that kind of engagement. "Ultimately, we have the benefit of touching virtually every industry, and we touch multiple sides of each industry since we work with the 'golden triangle': exhibitors, who are often the companies and organizations that drive economic activity in a space; show organizers, who are often the associations that represent and advocate for the space; and audiences, people whose day-to-day lives are dedicated to innovating, practicing and driving the space forward. As a result, we can help this diverse triangle come together and solve big-picture issues so all players can do their thing better."
That's what hackathons do so well, he adds. "They focus on an issue and get ideas out. There's not a huge investment that any one party has to make to do this, yet the impact can be great."