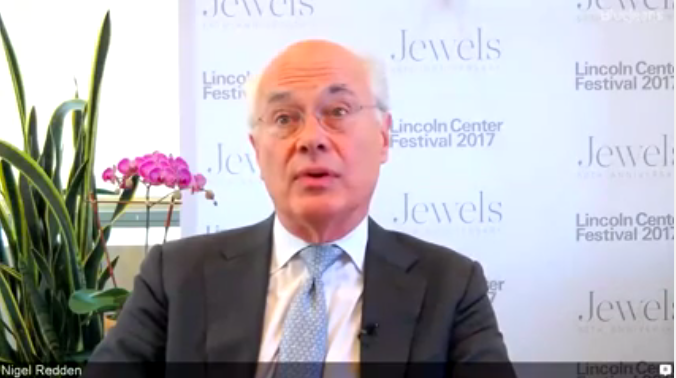 When the Lincoln Center for the Performing Arts wanted to let the world's media know about an iconic ballet it would be featuring in 2017, it turned to Facebook Live. The 16-acre, 30-venue, 27,000-seat complex, which draws 5 million people annually for performances of its resident organizations—from the New York Philharmonic to the Metropolitan Opera to the New York City Ballet—turned to Facebook to fill in the press on the summer 2017 Lincoln Center Festival lineup that would highlight three of the world's top ballet companies.
Mary Caraccioli, chief communications officer with the Lincoln Center for the Performing Arts, says that, after Lincoln Center Festival's Nigel Redden informed her about the collaboration between the Bolshoi Ballet, the New York City Ballet, and the Paris Opera Ballet, to share the stage at the 2017 festival to celebrate the 50th anniversary of George Balanchine's three-part "Jewels" ballet, "I was impressed with the incredible international reach. I wanted our announcement to have the same impact."
It would have been very difficult to ask the three busy artistic directors involved—Peter Martins from the New York City Ballet, Aurélie Dupont from the Paris Opera Ballet, and Makhar Vaziev from the Bolshoi—to all drop projects in order to fly to New York for a press conference, she adds. "Through live video, we could bring them all together and not cause a major disruption of their work.
"The other attractive aspect of using social media was the idea of bringing the message to an international audience where they are, on their phones, desktops from virtually any spot on earth. It really is in keeping with the message of Lincoln Center Festival to bring the world to our campus. This press conference has given us the chance to reach out to our audience where they are," says Caraccioli. 
She had already been introduced to Blue Jeans, the company the Lincoln Center worked with on the Facebook Live press conference, and was impressed with how they could broadcast multiple channels as one. "They were up for the challenge and were excellent partners to help us make this happen.
"We are very pleased with the results," says Caraccioli. "As of this writing we are at 21,000 views, with a reach of 250,000. That is on top of the press that has reported on wonderful presentation of George Balanchine's Jewels at this year's Lincoln Center Festival.

"We will continue to innovate to get our stories to audiences. We would consider this format again and will continue to find the best ways to reach audiences and to help them have greater access to the arts."