The Four Seasons Safari Lodge, nestled in the heart of the Serengeti National Park in Tanzania, had me at jambo (Swahili for hello). On a recent press trip sponsored by the lodge, I experienced the elemental thrill of actually being in the place I'd only seen in National Geographic documentaries, listening to zebras call out to each other as wildebeests bucked and leapt against a cinematic backdrop of plains dotted with acacia trees.
If you want to give your incentive winners a mind-blowing trip that will connect them with nature, each other, your organization, and the wildness within themselves, you can stop looking 
This is the place.

This video is a 10-minute compilation of photos and short clips of some of the highlights of the trip.
Getting There
Let's get this out of the way: Yes, it's a long way to go if your group is coming from North America, and no, you won't get a direct flight from the U.S. 
However, I was able to fly from Boston to Kilamanjaro International Airport with just one stop in Amsterdam on Delta and KLM. In addition to Kilamanjaro, other popular entry points are international airports in Dar Es Salaam, Tanzania, and Nairobi, Kenya. (The Lodge has a lot of information about flights on its website.) Clearing through Tanzanian customs and immigration includes fingerprint scans and paying for visas on site ($100, and it must be in cash. And do remind your participants to get a yellow fever vaccination or waiver from a travel doc. They take that very seriously.) 
Because we landed at night and you can only fly to the Seronera Airstrip (a 45-minute drive from the lodge) during daylight hours, we spent the night in nearby Arusha and headed out from there the next day.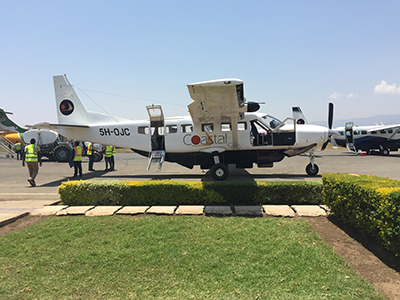 While those with motion sickness might not love the bumps of the small Cessna 208 Caravan—my seatmate called it the "Tanzanian taxi"—the short flight from Arusha to Seronera was spectacular. The guy sitting next to me was explaining how the Maasai care for their cattle when I thought I spotted some down below. "Those are elephants," he told me. The idea that elephants are as common a sight in Tanzania as cows are in Vermont really blew my mind. 
The flight also took us over the Ngorongoro Crater, the world's largest intact volcanic caldera and a hot spot for safari tours. Some groups opt to drive to Serengeti, stopping for a day or two at the crater to get their first glimpse of the Big Five. (For the uninitiated, like me, the Big Five are lions, elephants, African buffaloes, black rhinos, and leopards. And yes, we saw them all.)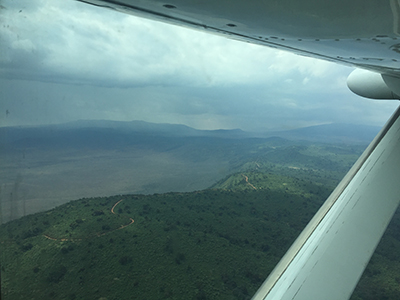 Arusha: Hugs and Heartstrings
Before we took off for our safari adventure, we spent the night at the Mount Meru Hotel in Arusha. It was a modern, business-oriented hotel that was perfect for our overnight needs, though we heard that the Arusha Coffee Lodge, set in a working coffee plantation, is a great option for groups who are looking for the stop to be a destination experience in itself. 
After a much-needed night's sleep, we had a leisurely breakfast at the hotel before heading out for our first adventure, a visit with the kids at the Fruitful Orphanage in Arusha, which is supported by a fund established by the Four Seasons Safari Lodge. The 50 or so children, ranging in age from two to 14, who live or spend their days at the orphanage may not have much in the way of family support or basic comforts, but they welcomed us with smiles wider than a dazzle of zebras.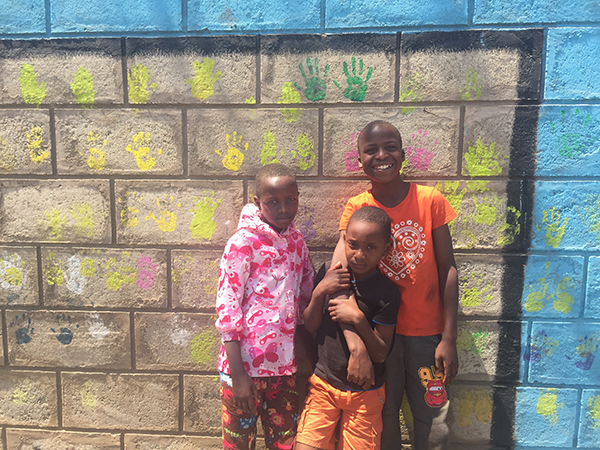 We weren't sure what the protocol for the visit should be, but the kids didn't stand on ceremony. They grabbed our hands before we got off the shuttle and climbed up into our arms. We sang songs and played games and felt our hearts melt at the innocence and enthusiasm and wonder of these kids. 
To help support these kids with food and toiletries, feed for the orphanage's chickens, and basic classroom equipment, groups can add a donation to the group rate. These donations also go toward improving the orphanage's water and electrical supply, and building bigger and better living accommodations and classrooms.
A Dazzle of Zebras, a Bloat of Hippopotami, a Mind Blown
We flew in to the Seronera Airstrip during a thunderstorm, which is rare for September, though it had also rained the past few days before we arrived. Somehow sensing this, some animals decided to migrate early to the area near the lodge. 
I had hoped to see a few zebras in the distance, or maybe a gnu or two, on the drive. But no—there were literally hundreds of zebras and wildebeests on the hoof everywhere we looked. And troupes of baboons, buffalo, elands—they do exist outside of crossword puzzle clues!—Thomson gazelles, elephants, giraffes, and a leopard lazing in an acacia tree…I think it took us at least two hours to make that 45-minute drive, and another several hours for me to pick my jaw up off the floor.
Eventually we pulled up in front of the Four Seasons Safari Lodge and were handed cool towels to wipe the dust of the road off our hands and faces. Martin Cody, the lodge's general manager, was on hand to greet us—he makes it a habit to personally welcome his guests as they check in. We then were escorted to our rooms via elevated walkways. 
I knew my room would be nice—this is a Four Seasons, after all—but it was one of the lodge's 12 gorgeous Terrace Suites. It had a huge sitting room, an equally huge bedroom, and a bathroom bigger than my kitchen at home, all beautifully appointed with contemporary African décor, local textiles, and artwork featuring Serengeti wildlife. Oh, and air conditioning and high-speed Wi-Fi that worked like a champ.
Four Seasons Safari Lodge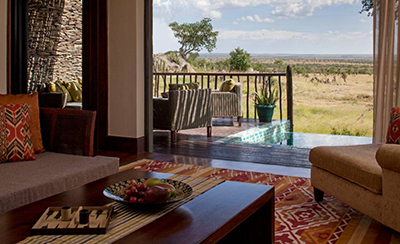 But the deck out back that stretched the length of the suite was my favorite spot. It came complete with outdoor shower, a mini infinity pool, comfy couches and chairs, and a view of the park that stretched to the horizon. At night, all I could see was stars and the Milky Way overhead—there was not a man-made light as far as the eye could see. The only downside to that proximity to wildness is that sometimes the wildness—in the form of baboons—wants to come in and raid the in-room coffee station. Staffers were quick to warn us to securely lock the sliders when not on the deck.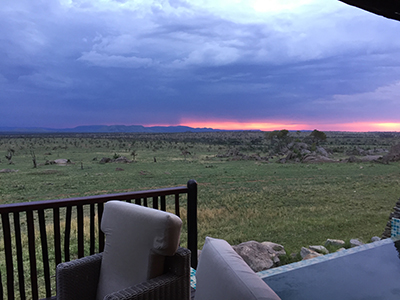 The lodge also offers the smaller Horizon rooms, which have thatched-grass ceilings, and Savannah rooms. While they lack the suites' enormous sitting rooms, they all feature those Serengeti views from their decks and beautiful artwork and appointments.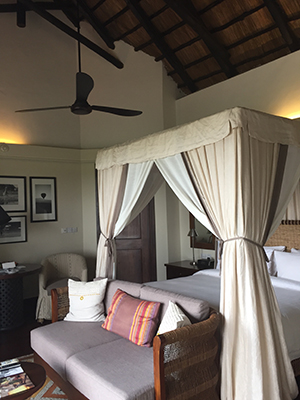 One of the lodge's Horizon rooms

The lodge's 77 guest rooms also encompass three villas. 
Four Seasons Safari Lodge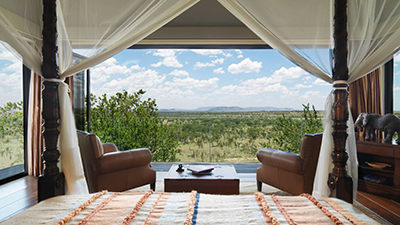 There is a two-bedroom and a one-bedroom villa, each of which has a full kitchen and optional butler service. We had dinner one night in the three-bedroom Presidential Villa, which has a full kitchen, dining room, living room, a private gym, 24-hour butler service, a private chef—and a view of its own watering hole.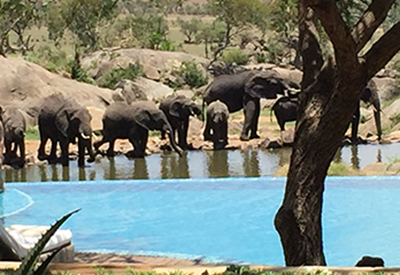 We were in the midst of a site tour when we caught a glimpse of the watering hole at the foot of the infinity pool from the walkway near the spa and, wait, what was that approaching the water? "Elephants!" we yelped as we took off to check them out.
And then, as suddenly as they appeared, they ambled off—in the direction of my suite. I scrambled back to my room and dove onto the terrace just in time to see them wander by not 20 feet from where I stood. Sometimes you go on safari, but at the Four Seasons Safari Lodge, just as often the safari comes to you.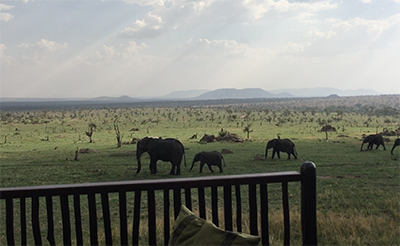 I did feel badly about abandoning our guide mid-tour and sought him out afterwards to apologize. He said it happens all the time. "When the elephants come, everyone goes."
Into the Wild
The lodge has a fleet of nicely appointed Land Cruisers with pop-up tops tailor-made for toting amateur wildlife photographers on half- or full-day game drives. Don't worry that anyone would get short-changed if you opt for a half-day trip: just a short drive from the lodge was the hippo pool, lions, a gazillion gazelles, giraffes, elephants, buffalo, wildebeest, and zebra—you are right in the middle of all the animal action from the start. Did I mention that the Land Cruisers come equipped with USB ports, Wi-Fi, and rolling refreshments?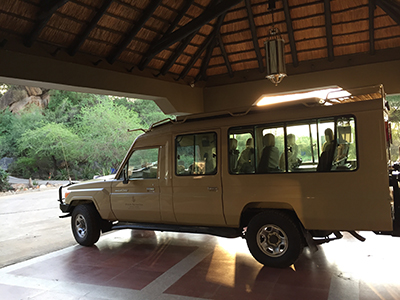 Well-trained drivers who speak knowledgeably about the animals, expertly navigate the rutted dirt roads, and find hard-to-spot species are a part of the package—the importance of our driver, Priscus, to our safari experience was incalculable. On our full-day safari to the southwestern area of the park, Moru Kopjes, it was Priscus's eagle eye that spotted three black rhinos, a rarely seen endangered species, in the distance.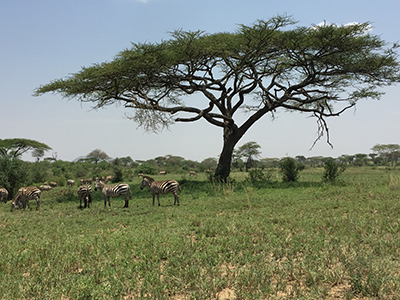 The full-day safari also included a stop at Gong Rock, a wild formation with a pock-marked slab on top that, in fact, sounds like a loud gong when you pound on it. But it was the view of the plains and mountains in the distance that were truly breathtaking. We stopped for a picnic along the way, with Priscus pulling out picnic baskets full of salads and sandwiches, which he set up on the Land Cruiser's hood. Who knew that the front of the car would make such an excellent bumper bar?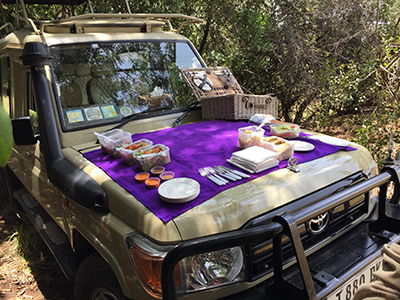 The lodge also can arrange to have a professional wildlife photographer accompany your groups on game drives and give tips, or hold pre-safari workshops. For those who don't come properly equipped for a photo safari, the Discovery Centre has cameras, lenses, and binoculars available for rent.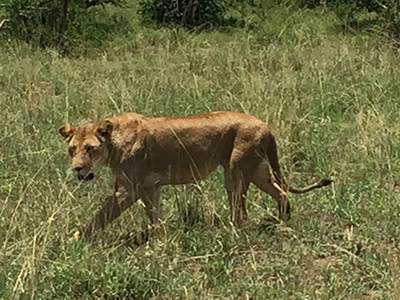 Yes, there were lions—lots of lions.
Some groups opt to go further afield. Trips to the Ngorongoro Crater can include visits to a Maasai village, the Olduvai Gorge, and the dunes of the "shifting sands." Some groups take trips to Lake Victoria, and even gorilla trekking outside of Tanzania. The lodge can put planners in touch with ground operators who work across the continent. 
In addition to game drives, among the experiences that took my breath away were:
• A sunrise hot-air balloon ride. We swept over the Serengeti plains and up over the hills before finally dropping down an hour or so later for a champagne toast and a bush breakfast under a spreading acacia tree. Provided by Serengeti Balloon Safaris, it was an absolutely magical experience.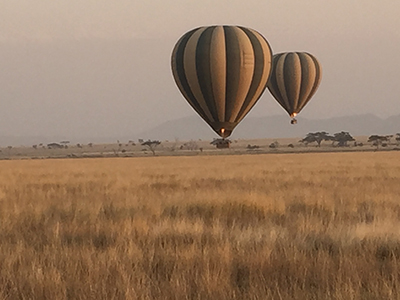 • An expert-led walking safari. Flanked by two rifle-toting Tanzania National Parks Authority (TANAPA) rangers to keep us safe from the animals and led by the lodge's wildlife expert and Four Seasons Discovery Centre Manager Oli Dreike and Maasai guide Kinama, we hiked through the bush and learned more than I could have imagined about animal tracks, droppings, insects, and how smart even the vegetation is in that part of the world when it comes to survival strategies. We watched a giant, multicolored raincloud slide across the horizon, backlit by the setting sun, as elephants and zebras grazed nearby. For safety reasons, walking safaris are limited to six guests, but groups can arrange multiple outings over several days to accommodate larger numbers.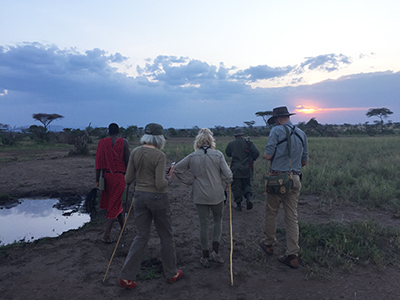 • A bush dinner. We were greeted at the end of our walking safari by a roaring bonfire, an acacia tree hung with glowing lanterns, glasses of champagne, and cool towels before enjoying an amazing sit-down dinner created by private chefs. The bush dinner area, which is just a five-minute drive from the lodge, can accommodate up to 20 for a plated dinner, and up to 160 for a buffet. We heard the story of how one group brought in opera singers and staged a version of the "Lion King" on the site that proved to be powerfully moving.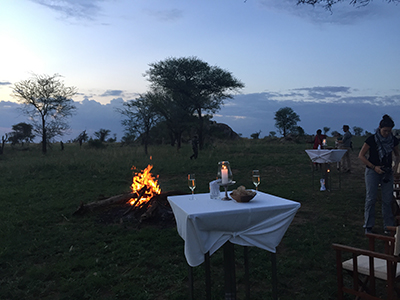 For those who prefer to hang out at the lodge, the spa offers a wide variety of luxuriant treatments, and there is a meditation room that's used for early morning yoga classes. Yoga and meditation classes can be held on a rock formation outside upon request. You can also arrange for small-group classes in everything from Maasai-style beading to cooking. 
A Place to Meet
The lodge, which is available for full buyouts for up to 160 attendees, may be built for pleasure, but it has lots of nooks and crannies to elbow in some meetings in between on-site wildlife sightings and photo safaris. For a full buyout, the lodge's elegant Kula Restaurant—just upstairs from the pool/watering hole and the more casual Maji Bar and Terrace, where we enjoyed lunching on the fresh, organic, casual fare—can be turned into a conference room with full audiovisual capability. 
Four Seasons Safari Lodge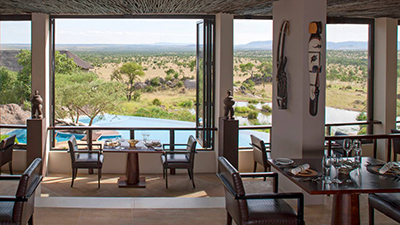 Kula's Restaurant

For smaller meetings and breakouts, there is a billiard room, a TV room, the business center, the children's activity center, the Boma Grill, which has a unique circular seating design that centers on an open firepit, and the living areas of the villas, though not all of these are available if there are other guests in the hotel. The terrace restaurant, which has its own outdoor fire pit, is popular for networking receptions, and the Wine Cellar is a great spot for a wine-tasting session or a private wine-pairing dinner for up to 16 people.
Four Seasons Safari Lodge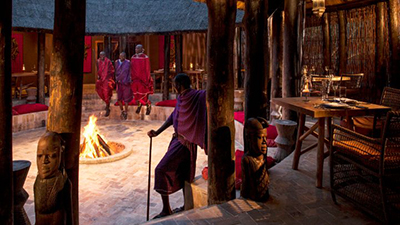 The Boma Grill
The Discovery Centre also has AV and a screen for presentations, and can hold up to 80 people. One popular option is to invite wildlife experts or inspirational speakers with an environmental message to address groups in the Centre, which is part museum, part gallery, and part movie theater. We got to hear one such presentation by wildlife expert Erik Winberg, a workshop manager with the Frankfurt Zoological Society. The lodge's Discovery Centre raises funds to support efforts by FZS, TANAPA, the Tanzania Wildlife Research Institute, and the Serengeti Tourism College to stop poaching, de-snare injured animals, and educate the next generation of wildlife and hospitality professionals.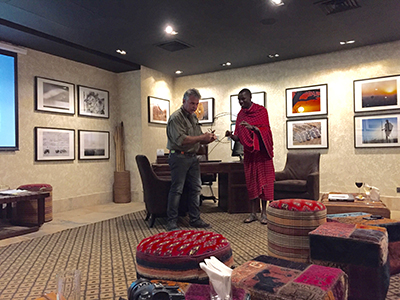 Groups that want to add a CSR aspect to their events can build a donation to the fund into their group rate, or hold a separate fundraiser for the de-snaring project. Just started last spring, the project's single team of former poachers, driver, TANAPA rangers, and team leader have already collected more than 7,000 snares set to illegally capture animals in the park to butcher and sell for meat, and released more than 100 captured animals back into the wild. But, says Four Seasons Discovery Centre's Dreike, "There's still a lot of work to do." The goal is to add several more teams to patrol the park, and to find the sources of wire that the poachers use to make the snares so it's more difficult and more expensive to kill the animals, and hopefully increase the price of the meat to an unsustainable level. Here's more on the Lodge's wildlife and community support programs.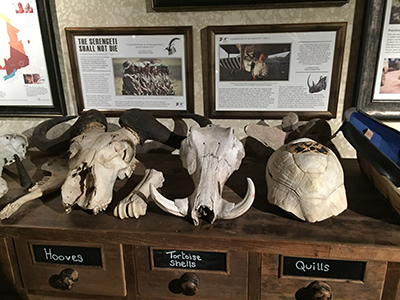 Once your group experiences the place, they will feel a personal connection to this mission, and appreciate how the local hospitality business supports its local environment.
I felt like I was waking from the most amazing dream when I climbed on board my flight back to Boston. The animals, the land, the people, the property—this little gem could be the bedrock for your most amazing travel incentive yet.