A customer recently told American Express Meetings & Events' Linda McNairy that her CEO likes to refer to himself as "chief events officer" because he realizes how vital events are to achieving his organization's goals. That anecdote is just one illustration of a key result gleaned from data gathered from more than 600 meetings and events professionals around the world who participated in the AMEX M&E research behind the 7th annual Global Meetings and Events Forecast: A growing recognition of the importance of meetings and events to a company's bottom line.
This is among the factors leading to a boom time for meetings and events after several years of caution and hesitation. In fact, as AMEX M&E Senior Vice President and General Manager says in the report, "Following the shifting sentiment in 2017, next year should be more positive around the world in terms of spend, number of meetings, and attendees. Economic and geopolitical influences will continue to create uncertainty, but we anticipate ongoing industry resilience and continued focus on successful experiences."
McNairy, who is vice president, global operations with AMEX M&E, spoke about the report at a packed session held during IMEX America this week at the Sands Expo and Convention Center in Las Vegas. Here are some of the highlights she shared.
Global Predictions
• Global hotel rates are expected to continue to grow next year 2.8 percent in aggregate. North America is expected to show the most robust growth at 3.5 percent, while the Asia Pacific region will show the least growth at less than 2 percent.
 • With an increasing level of scrutiny on meeting spend and other optics, overall there will be an increase in the complexity of a the approval process, she said. In all regions, incentives and special events are the types of events most under the microscope these days, and planners have to go through more approval levels to satisfy both internal and external pressure to prove the value of these programs.
Across the board, training and development activities had the lowest level of approval hoops to jump through. McNairy said her team discussed the reasons why that might be, and "We took the view that this is because organizations understand the importance of training and development to their ability to attain their corporate goals."
• Meeting budgets are relatively flat, globally. North America is the only region to show an increase, and that is an anemic 1 percent. Asia Pacific is expected to show a slight decline next year, with other regions not expecting any change. Companies are paying more attention to meeting budgets now that there is increased internal and external pressure to be cost-conscious with events, and to ensure that they align with company goals.
• There is 40 percent more demand for mid-tier properties, McNairy said, "this is likely because of the increase in scrutiny and flat budgets." Also there is more interest in, and demand for, unique meeting venues and boutique hotels that can provide more localized and engaging experiences, another trend identified in the report.
• Space availability is expected to remain relatively flat globally in 2018, though the hotel community is expecting to see more of an increase further out.
• The report is forecasting positive trends in air capacity and new routes as demand continues to rise, McNairy said. Planners also are taking airfare, in addition to hotel room rates, into greater consideration when making destination choices—"We're seeing more of a convergence there. In some areas, an increase in air availability is driving new hotel development."
Because meeting durations globally tend to be shrinking—though not in the U.S.—planners are staying closer to home—or the airport, or corporate headquarters, or the customer location—"there's a push to get closer to where we need to be," she said.
Group air rates are expected to rise, with the highest increases expected in North America and Central/South America. Planners also are going to be more likely to push for more inclusions, such as baggage fees, to add value doorstep to doorstep, not just at the meeting itself, she said.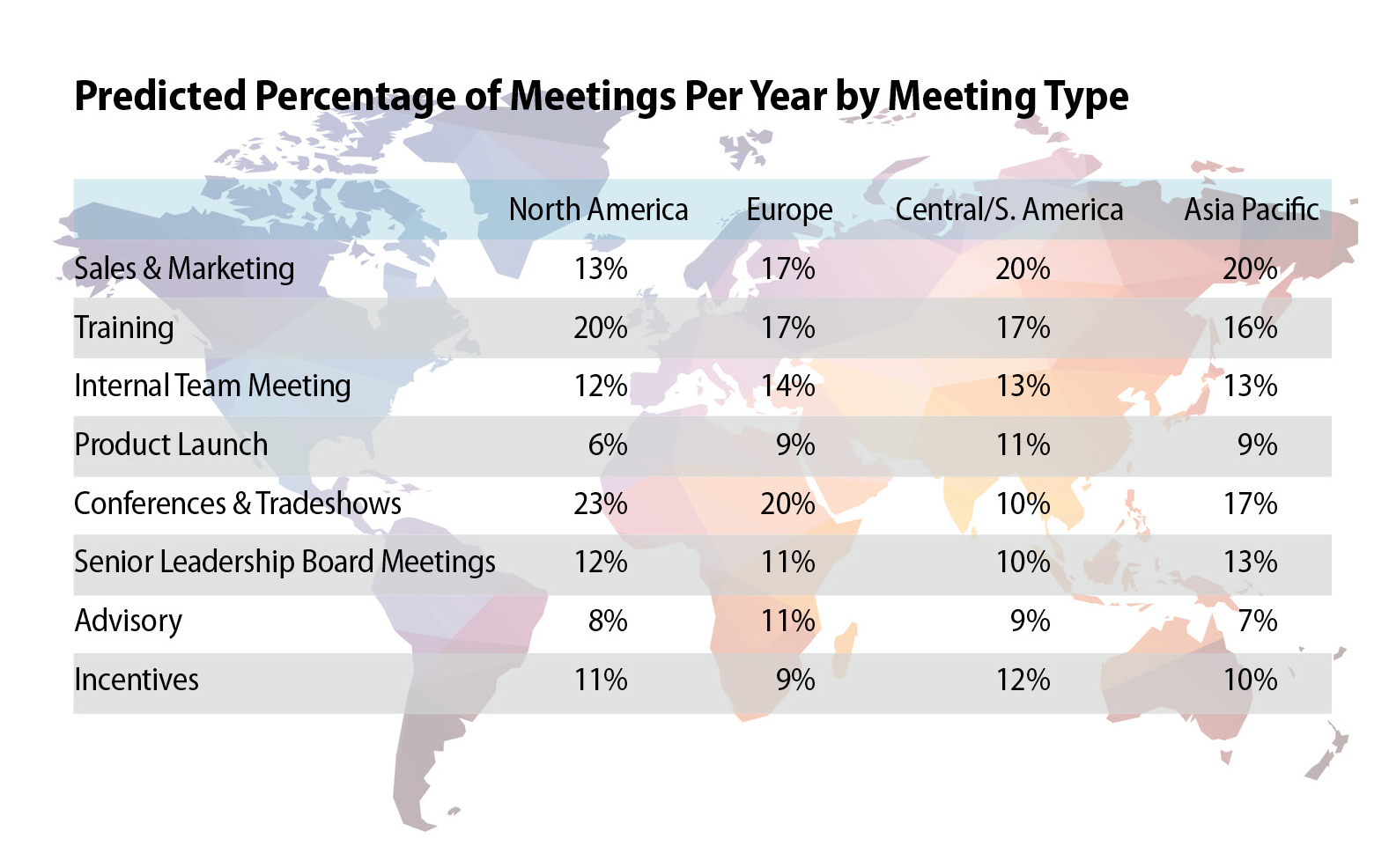 Macro Trends
• "Safety and security are top of mind for everyone," said McNairy. "There will be more focus on potential risks for attendees, from social and political issues as well as Mother Nature."
• There will be more focus on the experience provided throughout the event—"This was a common thread throughout our feedback. Creativity and wellness choices are on the rise. We're ensuring there's more time and space on the agenda to operate as whole human beings throughout the meeting."
• Look for more electronic sourcing as the demand for streamlining the planning process continues to increase, for small meetings as well as larger events.
• There is an increased interest in strategic meeting management as organization's look to make their meetings more effective, compliant, and cost effective, McNairy said. Some companies are finding that SMM, the gold standard for the past twenty years, may be more than they need, and so they are choosing whether they need to manage each meeting individually to look for potential efficiency gains, while others are in the next stages of consolidating their events into a more strategic program; having an established policy that includes approvals and a sourcing process; or an optimized stage, where they have an established SMMP and are just looking to continue to refine and improve it. Organizations also are becoming more interested in benchmarking and assessing their programs to determine next steps. This year's report includes a special section on benchmarking and program assessment that includes a web-based assessment tool planners can use to get a customized report that includes suggestions on where to focus efforts to best drive future growth.
• Developing a better understanding of who your attendees are is another important macro trend. "They could be brand fanatics, reluctant attendees, tech-savvy networkers…it's important to understand the profiles of the different types of attendees you have so you can deliver a satisfying experience for all of your attendee profiles," said McNairy. As the report says, "Success begins with getting to know your audience members—what motivates them, what makes them engage or disengage. Tailoring your event design to create meaningful, personal connections with attendees will ultimately help you drive behavior change and create value for your business."
• China is in a big business growth curve and an attractive area to expand to for multinational corporations—and their meetings. However, planners who want to safely and ethically do meetings in China need to understand that there are risks they should be aware of that can affect meeting execution in that country, including the potential for meetings to be used to facilitate fraud. "Not that people shouldn't hold meetings there, but they do need to understand that some types of meetings are at a higher risk." To do it safely, planners should understand the risks involving bribery and kickbacks, third- and fourth-party money funneling, and fake activities and receipts, and have a plan managing those risks. The report provides some suggestions on how to get started with a China risk-management plan. "Once you know the basics, you can optimize and enhance your meeting," McNairy said.
• Look for an increased use of technology, especially event tech that enhances the end-to-end management of delivering attendee experiences, according to the report. Among the tech tools expected to be gaining in use next year are artificial intelligence and virtual reality, and mobile app and hybrid meeting solutions.
Regional Notes
North America—the report predicts an increase in the number of conferences, trade shows, and training meetings shows. While the report does anticipate a small increase in U.S. budgets, they won't keep pace with expected increases in airfare and hotel rates. Cost per attendee is expected to bump up a half to 1 percent for larger U.S. meetings. Conferences and trade shows will constitute a quarter of North American events, and training events will make up about a fifth of predicted meetings next year. Meeting size also is expected to rise, especially for U.S. training, conferences, and trade shows.
Europe—the cost per attendee is decreasing, especially in Belgium and Switzerland, while the report anticipates an increase in average group rates across the region, except in France where it's expected to remain flat. Europe is also trending toward an increased use of electronic RFPs, shorter meetings, and an increased focus on consolidating the spend across the region, said McNairy.
Asia Pacific—there will be an increase in the average group rate in this region—Australia, at 5 percent, is expected to have the largest increase of any region globally, she said. The Land Down Under also is expected to have an increase in both the amount of money spent on meetings and the number of attendees. Luxury properties and large cities are expected to be the top venue and destination choices in 2018, though other countries in the region are anticipating rising hotel rates and a drop in meeting activities, along with increases in costs per attendee, leading to a continued focus on capturing meeting spend, she said.
Central/South America—Most in this region are anticipating modest growth across most categories, and most are expecting to see a bump in the size of most types of meetings, especially in Argentina, which is also expecting increases in the length of most of its meeting types. Mexico also is anticipating an increase in conferences, trade shows, and product launches.
Copies of the full report are available for download at the AMEX M&E website