Discussing trends at this year's KRIAB, the annual advisory board meeting attended by planners from financial and insurance companies and hosted by Krisam, the Washington, D.C.–based hotel membership company, participants echoed some themes from recent years: flat budgets, a tough air situation, and too much on their plates. This year hoteliers mentioned their particular stresses with short lead times. "The early bird gets the worm," said one. With competition extremely high, the business may go to the first to respond, making hoteliers feel they must be instantly, and always, accessible.
But the flip side of everyone's increased workload, of course, is that meeting bookings are going strong in this sector, and signs point to that strength continuing. With all that meeting activity, planners also talked about the challenge of creating more recognition for top performers, new ways to enhance their experiences, and how to recognize varying levels of performance without increased budgets.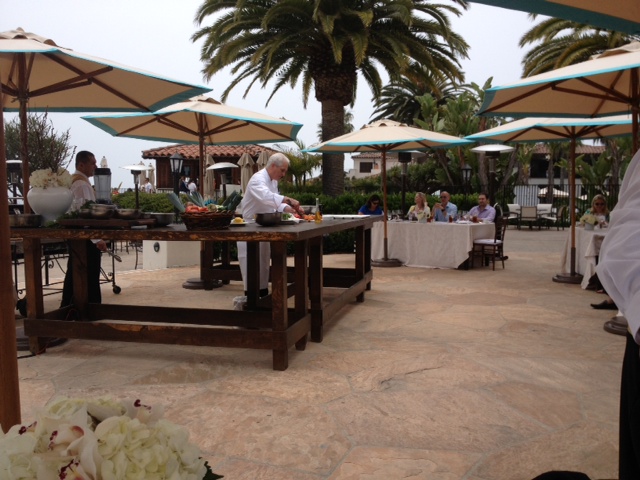 Bacara Resort & Spa Executive Chef David Reardon conducted a demonstration while KRIAB attendees enjoyed an al fresco lunch.
What planners and hoteliers are saying:
• Changing a meeting or incentive conference's pattern can help hotels and planners. Planners are open to helping hotels fill holes based on considerable cost savings, and they share these savings with executives to show the value of pattern shifts. Hoteliers noted that this trend represents "an enormous change in thinking."
• Airfare is a concern for both sides. Pattern doesn't seem to matter. While upgrades are available, overall pricing and limited capacity is on the increase.
• Hoteliers commented that 2013 was slightly behind pace though definitely in recovery mode. Demand is up for 2014 and will drive rates up as well. Planners, however, are predicting the same budgets they have been working with for several years.
• Senior management needs to be educated about rising rates and competition from other groups for meeting space. Decision dates are being held to more strictly, as hotels are not able to hold space for as long as they used to.
• Hotels, especially those in the four-star and five-star categories, are bullish about 2014. Group bookings are ahead of pace at resorts; citywides are doing very well. 
• Planners reported an increase in booking and interest in international destinations for both meetings and incentives.
• A new acronym—FLOSS, which stands for fresh, local, organic, seasonal, and sustainable—is increasingly being referred to and requested by groups, though their budgets haven't been increased to accommodate it.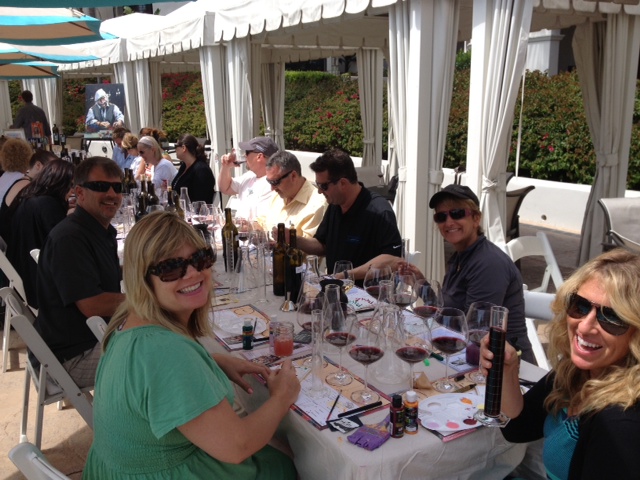 Now that's a creative group activity: Blend your own wine and design and paint your label, too.
Reinventing Meetings
Many comments involved the need to create new experiences for attendees.
• Established top properties are trying to find ways to be "the shiniest penny in the box," said one hotelier. They need more than a great reputation to survive in the competitive market. Likewise, meeting planners are looking for ways to keep attendees engaged and excited about their conferences.
• Planners are seeing a need for more free time to be built into their agendas, allowing attendees to network but also to disconnect.
Contract Issues
• Food-and-beverageminimums in contracts may be affected by rising food costs. Hoteliers advised planners to ask how the F&B minimum is derived, as properties have different ways of handling it.
• Provide histories of what you've spent before, including bar tabs.
• Ask if spending in F&B outlets on property counts toward the F&B minimum. Are they resort-owned and -operated outlets or independent operations that don't necessarily impact the resort's bottom line?
• Most planners are putting Wi-Fi requirements for the guestroom and the meeting space into contracts. Hoteliers noted that they need a lot of information to provide Wi-Fi quotes—for example, how many attendees will need Wi-Fi and how many devices is each person likely to bring? What type of access is needed: e-mail/social media or the ability to download large presentations?
• Hoteliers advised knowing if the Wi-Fi is handled by the hotel, the on-site AV company, or an outside provider. "Bandwidth is an expense and negotiation powers do lie in the hands of those that pay for it," said one.
Gamification
Jason Saffran, of Krisam partner Go West Creative Group, presented a session on increasing meeting engagement through gamification. Gamification, he said, offers a way to conduct interactive learning in a fun environment, while lending itself to the competitive and instant-gratification impulses of salespeople and the younger generation.
Saffran covered the benefits of audience response technology as well, such as Tuff Txt, which allows attendees to vote, answer polls, and text responses to questions posed to the group. Instantaneous results create a sense of excitement about the topic.
This type of technology also works well with international groups, as it can accommodate multiple languages. And with some cultures, where speaking out is less common, this type of anonymity makes it easier to get necessary feedback.
Finally, gamification tools also can enhance virtual experiences such as webinars or remote broadcast events, by creating buy-in and engagement in an otherwise low-energy environment.
Work/Life Balance
In a discussion of our 24/7 work modes, one participant commented that "we are ourown worst enemy. We set unrealistic expectations for ourselves while no one else is expecting us to meet those standards in most cases. Not everyone needs everything yesterday."
Still, is it realistic to think we can "unplug"? Some participants confessed to working on weekends so they have a less stressful day in the office on Mondays.
Some planners commented that as they continue to"do it all," they are given more work and fewer resources, thus creating a cycle of increasing expectations.Most companies continue to shy away from hiring more planning staff, and some have begun hiring consultants or seasoned planners on a part-time or meeting-specific basis.
Communication and Partnership
No matter the issue, "communication" often arises as the key to success. "Talking to us as partners to explain needs, the reasons for requests, concession-list priorities, potential flexibility with dates, deadlines for responses, and what's most important to the meeting owner will really help all of us be more successful in what we are trying to accomplish," said Colleen Brzozowski, director of sales, Krisam Group and Global Events Partners.
Krisam partner properties participating in this year's KRIAB include: host hotel Bacara Resort & Spa, Santa Barbara, Calif.; Charleston Place, Charleston, S.C.; Fontainebleau Miami Beach; Hotel Del Coronado, San Diego; Jumeirah Hotels; Resort at Pelican Hill, Newport Beach, Calif.; Salamander Resort & Spa, Middleburg, Va.; Sanctuary at Camelback Mountain Resort and Spa, Scottsdale, Ariz.; and Turnberry Isle Miami. Destination services were provided by Global Events Partners member Bixel & Co.