The chatbots are coming! The chatbots are coming!
If the results of this year's IMEX Pitch are any indication, chatbots are making their way into the meeting scene in a big way. A company called Sciensio, one of two chatbots companies up for the prize, came out on top at IMEX America's annual event technology startup competition, #IMEXpitch.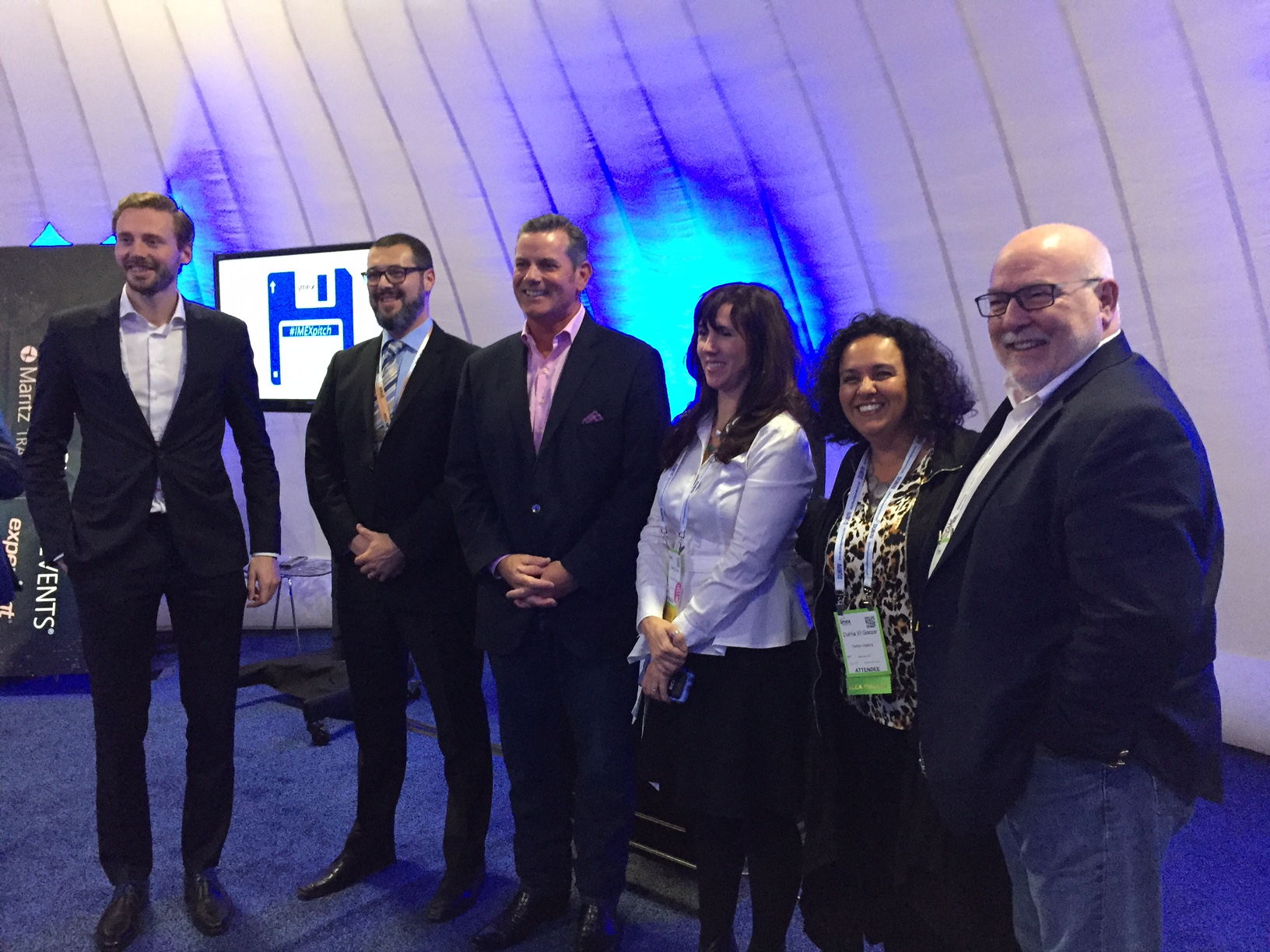 In a jam-packed meeting room in the lower level Inspiration Hub, at least 50 people on site and more in a virtual audience delayed cocktail-hour festivities to listen to the stories behind five startup technology companies in fast-paced, five-minute pitches.
Sciensio, pitched by founding partner Bob Caldwell, builds and deploys messaging and bot solutions, including a Concierge EventBot designed to provide an efficient way to share event logistics and details to attendees. The bot is accessible through Facebook Messenger, SMS, and other platforms—there's no need to download an app or remember a password.
The judges—Greg Bogue, Maritz Travel; Tahira Endean, CMP, DES, CED, BC Innovation Council; Tim Groot, Grip; Dahlia El Gazzar, DAHLIA +; James Johnson-Miller, IMEX Group—considered practicality, innovation, ease of use, uniqueness in the marketplace, user adoption to date, and the sustainability of the business model. The other companies that made it to the live pitch included:
Mixtroz, pitched by Kerry Schrader, CEO, is an app designed to match attendees with three to 10 others based on their answers to customized questions. It then guides them to meet with those people face-to-face for a curated group networking experience in real time.
AtlasRTX, which like the winning entry provides event chatbots that are designed to enhance event engagement, act as an event concierge, and provide attendance promotion and post-event followup. Pitched by Laura Smous, VP of product marketing, the event chatbot also works on text and messaging platforms such as Facebook Messenger and web chat to provide on-demand conversations with attendees. The company provides real-time analytics, and also humans to provide bot backup.
Bizly, pitched by founder and CEO Ron Shah, is a meeting platform designed to make small meetings easier to plan by providing a curated venue network of relevant U.S. hotels, restaurants, and other event venues that planners can book immediately, or send a direct message to the venue to customize the events' sleeping room, food and beverage, and other needs. Planners also can register attendees, centralize logistics, and coordinate their meeting's details through the platform.
Snöball, a marketing tool planners can use to leverage event-influencers such as speakers, exhibitors, and sponsors to market meetings. Pitched by Rachel Stephan, chief snöballer, the tool planners a way to help influencers spread the word via automated email campaigns and pre-written social media posts, reward their most active influencers, and monitor results in terms of social mentions and landing page traffic.