Wellness-focused corporate-group travel reflects the increasing importance placed on employee well-being, work-life balance, and health-conscious lifestyles. One destination that caters to these needs and provides an growing number of healthful self-care opportunities for meetings and incentive groups is Puerto Rico. While the island is known for sun and surf, planners who dig a little deeper will find unique wellness programming and activities.
"The past few years have made everyone more aware of their lifestyle and its impact on well-being. The options to create a perfect retreat in Puerto Rico is focused on just that—a varied approach to serenity," says Leah Chandler, chief marketing officer with Discover Puerto Rico.

Here are five hotels and a private-event venue that keep health and wellness front and center for groups coming to the island.

• The 388-room Fairmont El San Juan offers a group wellness package that makes the most of its beachfront setting, with morning meditation sessions and sunset yoga in the shade of a 300-year-old banyan tree. The package, available for group of 20 or more attendees, also includes a sound-therapy session, a group float-fit class, and Himalayan salt-stone massage.

• With an eye to luxury, Dorado Beach, a Ritz-Carlton Reserve, provides traditional fitness and wellness activities, including beaches, water sports, golf, and spa treatments. The resort's sprawling, lushly landscaped Spa Botanico integrates native botanicals with local healing traditions for bespoke experiences in natural surroundings (you can even book your massage in a treehouse,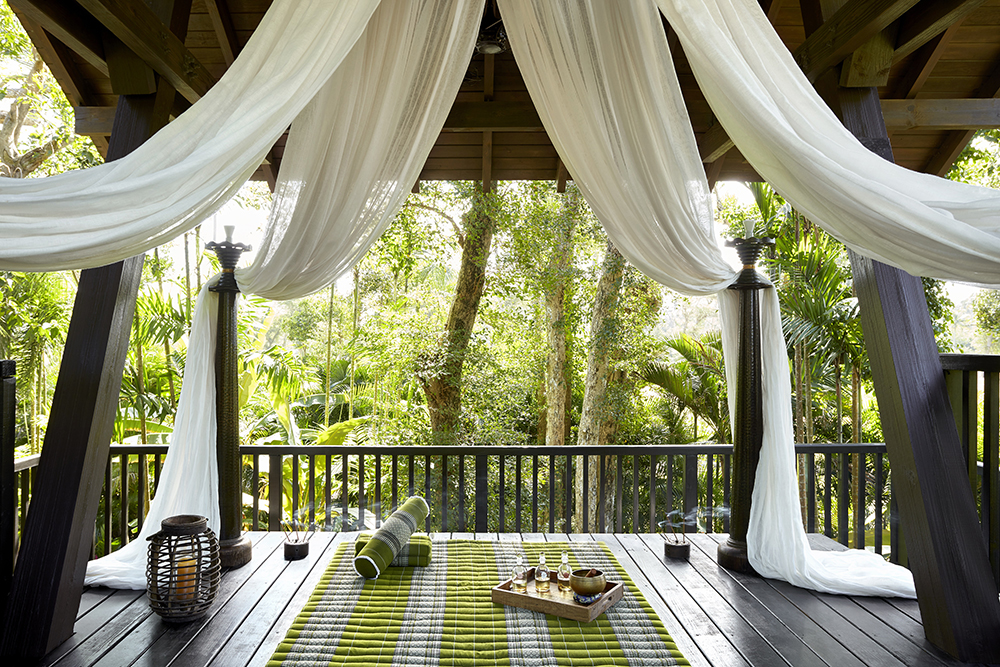 shown). An 11-mile nature trail winds through the 50-acre property.

• For an immersive and intimate experience, the eight-room Casa Alternavida is a wellness retreat on the eastern side of the island. Groups of up to 10 typically spend several days or up to a week following a customizable program of meditation, breath work, yoga, coaching sessions, teambuilding activities, and more. Healthy organic meals are part of the package.

• Guests at the Palacio Provincial, a historic 43-room boutique hotel in Old San Juan, enjoy complimentary access to an in-house wellness coach and activities like sunset rooftop yoga. The hotel's wellness-oriented team-building activities include journaling and meditation for up to 50 people.

• Puerto Rico's restaurants are increasingly embracing a farm-to-table approach, and visitors can gain a better understanding of the farm portion of that relationship at Frutas del Guacabo, an agroecological complex less than an hour from San Juan. A supplier to many of the island's restaurants, the farm focuses on sustainably grown produce and can host educational group tours, tastings, and private events.

• Food is also a focus at Dreamcatcher, a vegetarian boutique hotel in San Juan's Ocean Park neighborhood. The 19 individually designed rooms are devoted to relaxation and restoration, with outdoor showers and hot tubs, terraces, and hammocks. Guests can sign up for in-room massages, snorkeling, yoga, surfing lessons, and other immersive nature activities.