The new Renaissance Atlanta Airport Gateway Hotel at Atlanta's Hartsfield-Jackson International Airport is designed to give travelers a boutique hotel experience in a convenient location for business. The property is connected to the airport via SkyTrain, adjacent to the Georgia International Convention Center, and offers more than 6,200-square-feet of meeting and event space. Named for the radio phonetic alphabet, Alpha, Bravo, Foxtrot, Echo, and Tango 1 and 2, are flexible, fully equipped meeting rooms, and the 3,345-square-foot Tango Ballroom can accommodate up to 350 in theater-style seating or 260 for a banquet. There is a reception terrace adjacent to the ballroom and the hotel's Magnolia Patio can accommodate up to 100 attendees for seminars and presentations or 160 for cocktails.
Local artists contributed 11 murals to the public spaces and eight guest suites, and the 204 guest rooms boast original local artwork and were designed using raw materials such as polished concrete and walnut to appeal to clients looking for a youthful aesthetic.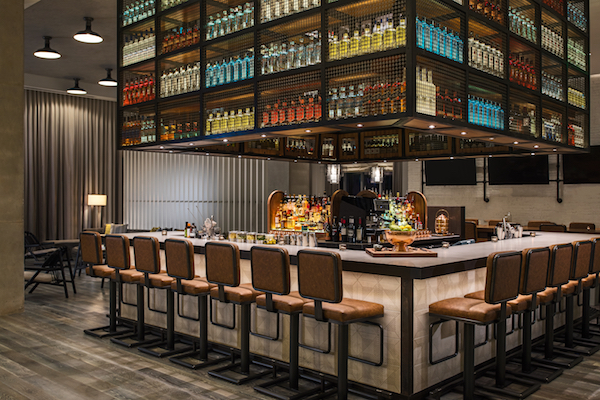 The almost 3,000-square-foot, 106-seat restaurant, Hickory & Hazel Southern Table and Bar, has a New Orleans–influenced menu and a horseshoe-shaped bar. 
Brian Povinelli, senior vice president and global brand leader, Renaissance Hotels, calls the approach "business unusual," and says, "From the hotel's artful design to its engaging experiences, Renaissance Atlanta Airport Gateway Hotel definitely defies the conventions of business travel today."
This is the second Renaissance hotel at this location, Renaissance Concourse Hotel, with its dramatically stepped exterior, is located on the other side of the airport.
The Renaissance Atlanta Airport Gateway Hotel opens just as the city of Atlanta announced a $6 billion project to add another concourse and runway to Hartsfield-Jackson as well as make cosmetic upgrades to the existing terminal. The first order of business is to tear down and rebuild the airport's parking decks, so staying at the well-connected Renaissance Atlanta Airport Gateway Hotel could remove a major parking headache for visitors to the city.