Mid-June saw the rollout of a multi-million-dollar renovation and rebranding of a 181-room business-focused hotel in South Charlotte, located near the regional corporate offices for several financial and insurance firms as well as the global technology center for home-improvement giant Lowe's.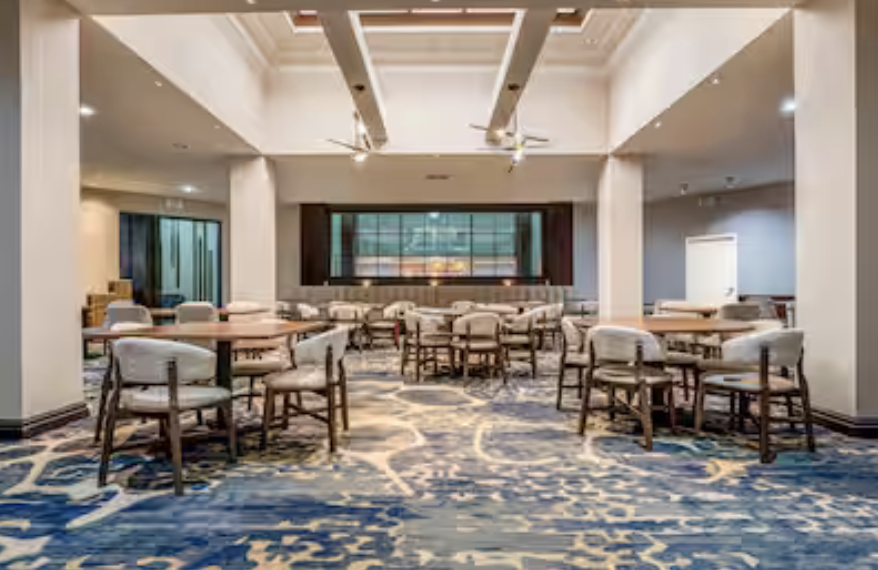 DoubleTree by Hilton South Charlotte Tyvola is the new name for the former Hilton Charlotte Executive Park. The renovation touched on every aspect of the property, including the 10,000 square feet of meeting space. That space is anchored by a 3,900-square-foot ballroom; it also features a 2,640-square-foot junior ballroom, three breakout spaces of 1,300 square feet apiece, plus three smaller breakout rooms. And a outdoor courtyard (image below) can accommodate 200 people for a reception.

A ground-floor bar/restaurant serves three meals daily, including a breakfast buffet. Other amenities at the hotel are an outdoor pool and a fitness center.

The DoubleTree by Hilton South Charlotte Tyvola is six miles from the Charlotte Convention Center in center city, and eight miles from Charlotte Douglas International Airport, a 15-minute drive.