As this is the Chinese Year of the Dog, I thought it would be appropriate to address the idea of "dogged determination." One of the definitions I came across described doggedness as "tenacious; continues on even when things become difficult." Moving ahead when there are bumps in the road is not always easy. Here are five things consider when the going gets tough:
1. Give activities the right amount of effort. To evaluate the correct amount of effort, use the procurement grid below to plot the amount of effort with the impact of the activity. Ideally, most of your time should be in quadrant one: High Impact, Low Effort. In reality, many activities also take place in quadrants two and three, and time spent on tasks quadrant four should be minimized.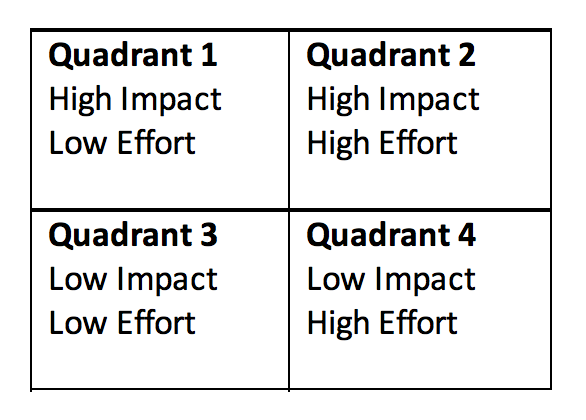 2. Envision the future. Take a moment to extricate yourself from a bump in the road and visualize some of the results of the future state, such as easy-to-use tools for non-professional planners, a centralized calendar, and data with which to make informed business decisions. Stay focused on the end game.
3. Make digestible short-term goals. This allows you to frequently celebrate successes along the journey to achieving your long-term goals. For example, you may have a plan to go live with your new SMM technology in four months. Set interim goals every two weeks so you can get a sense of accomplishment and celebrate quick wins.
4. Consistently communicate your successes to stakeholders. Your internal clients, your team, and your internal and supplier partners should be in the loop to see the positive momentum of the project.
5. Avoid "analysis paralysis," especially when evaluating data and designing program structure. Reduce the amount of deliberation you do and move forward with concrete actions. As Jedi Master Yoda said in Star Wars Episode V: "Do or do not, there is no try."