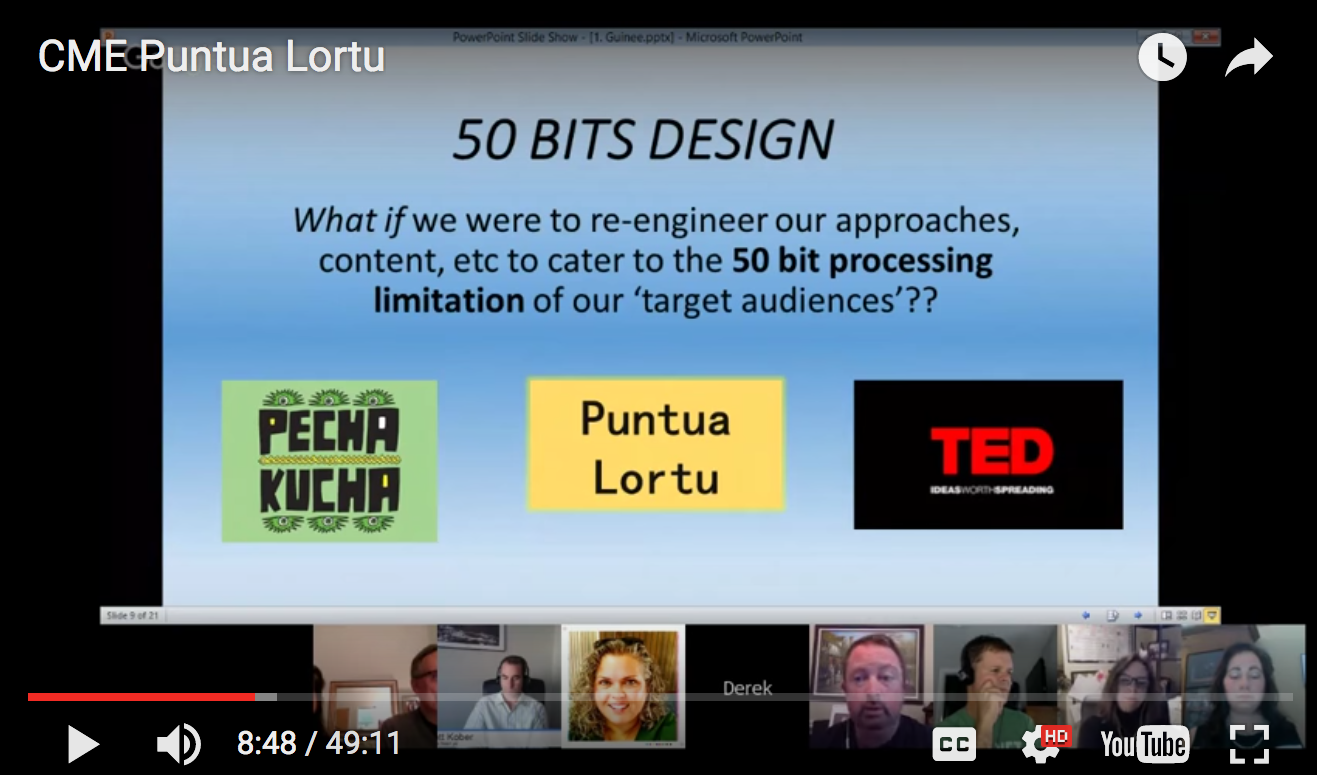 One good thing about long commutes is that they give people like Daniel Guinee, MBA, CHCP, lots of time to listen to ebooks. When Guinee, who is executive vice president of continuing medical education provider ASiM, started listening to The Power of Fifty Bits: The New Science of Turning Good Intentions into Positive Results by Bob Nease, he thought that it not only had some good advice for individual improvement—it also was a great way to think about planning education for healthcare professionals.
Guinee explained how—in 20 slides over six minutes—during a Puntua Lortu session (similar to Pecha Kucha) at the 2016 Fall CMEPalooza, a free, one-day online educational program organized by Derek Warnick, a continuing healthcare education professional, and Scott Kober, MBA, CCMEP, principal at MedCaseWriter.
Stop the Info Overload
Guinee said that, while our brains process 10 million bits (about 10 gigabits) of information per second, our conscious minds can only handle about 50 bits per second. Most of our brain function is set to autopilot and working in the background. "This explains why our 'default' mindset is inertia and inattention," he said.
It's the reason why people retain so little of the information that's being given to them at continuing education activities, he continued. It also explains the gap between people knowing what they should be doing, but not actually doing it. Guinee believes, "It keeps us doing what we've always done," which also might explain why it takes an average of 10 years for new treatment guidelines to become widely adopted.
What if we re-engineer our educational approach, and our content, to cater to the 50-bit processing limitations of our audiences?
Get Strategic
According to Guinee, there are three types of strategies at the heart of the book and one overarching strategy that guides the rest: "simplify…wisely."
"We want to be smart about how we help them get to the optimal choices," he said. You want to make the "right" choices as frictionless and easy as possible, create hesitation in front of suboptimal choices, and get participants to slow down so they'll have to consciously choose to head down the wrong path.
There are three "enhancing strategies" and three "power strategies" you can use to get to that wise simplification outlined in the book. Each of these strategies fall somewhere on the continuum from commanding learners' attention to taking advantage of their default inertia.
Power strategy 1: Make them choose. If they have to deliberately make a choice among options, it will get their attention. Can you design your activity in a way that makes folks actually choose the optimal treatment decision?
Power strategy 2: Lock in good intentions. Design your education so that it requires participants to decide today about the choices they will encounter later.
Power strategy 3: Let it ride. Set your default to the desired option and hope that they'll stay the course rather than choose to opt out.
Enhancing strategy 1: Get in the flow. Look for where participants' attention will turn naturally and align your most important content accordingly.
Enhancing strategy 2: Reframe the choice you want the learner to make so you set them up for success.
Enhancing strategy 3: Piggyback it. Make the choice or behavior change you want to make a side effect of something that participants already find attractive or engaging. Their inertia will make them want to ride it out to the end, and hopefully it will take them where you want them to go.
Of course, how you translate this into practice could be a little tricky. Guinee said that his organization was just starting to implement these strategies into the CME and continuing the professional development activities it provides, so he could not yet provide much in the way of examples, but he said he believes it does hold great promise for increasing the effectiveness of CME and CPD.