My hat is off to the London Convention Bureau for its Love the Event, Love the Experience campaign. You've probably already read some of the reports coming out of it—with a press release headline of "The events industry needs more creative thinkers according to new study of MICE professionals," you know we meeting journos just can't resist. But I'm not sure that's really what the upshot of the report should be.
First off, the idea that anyone is predominantly right- or left-brained, creative or logical, has been pretty thoroughly debunked. But we'll leave that aside for the moment because there is, of course, a grain of truth to the notion as well, as some people obviously do tend to think more creatively or more logically, whether it has to do with brain-area activation or not.
Personally, I think the fact that so many meeting professionals are laboring under the budget limitations and time pressures, as reported in the survey, is going to limit the amount of innovation they can bring to the table. You need leisure time, even boredom, for creativity to flourish, as this Fast Company article explains—only a third or so of the 400 survey respondents reported being given free time to think. And the half of those researched who feel pressured to deliver innovative work? That pressure alone is going to work against you. When you add in that two-thirds said risk-taking is not encouraged at their organizations, well, it's pretty clear that it's not your brain, it's your environment, that's limiting your ability to be creative at work.
As Chetan Shah, founder and CEO of MICEBOOK.com, says in the press release: "Whilst time-constraints and restricted budgets can sometimes hinder creativity, a balance is always needed between the creative and the logical. Great teams bring together a mix of personalities, approaches to work and creative or logical attributes. Whether someone is left or right-brained, their attributes and strengths should be encouraged and nurtured, to ensure their events are spectacular, both rationally and emotionally." Right on.
OK, so enough of that—let's get to the fun part: The 30-second brain test, developed by creative agency SOMMER+SOMMER and available on the London Convention Bureau's Love the Event site. Of course I took it, and the results were pretty much as I suspected they would be, close to a 50/50 split.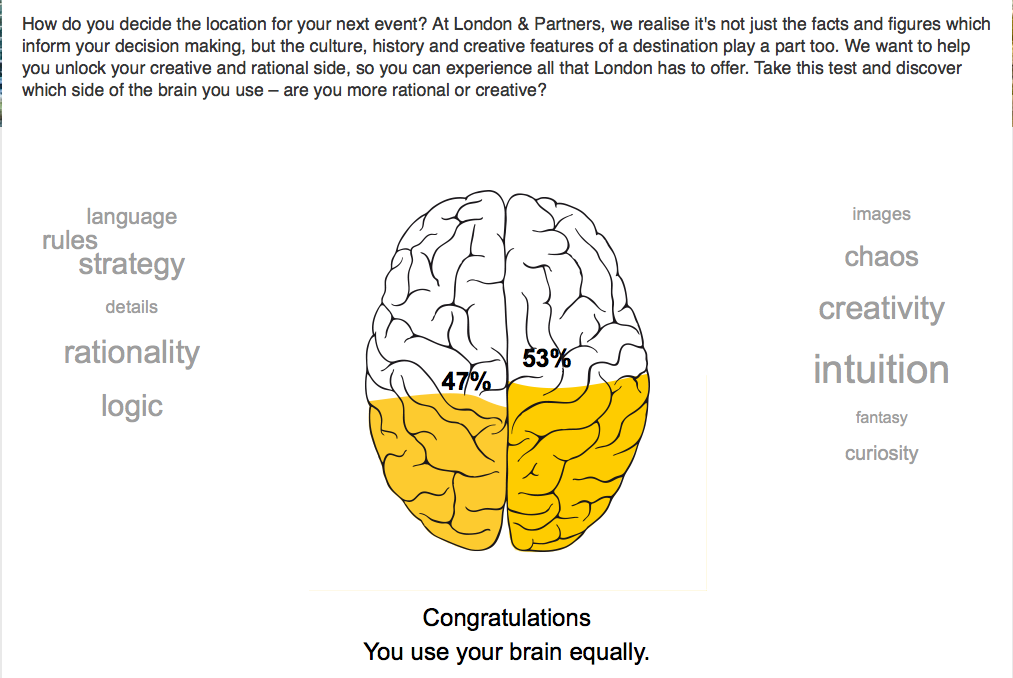 But I wonder if part of the reason I got that result was because I was sitting at my desk at work, writing a blog post, as I took the test. My job demands that I use both traits pretty equally, and my work environment supports both fairly equally. If I had been drawing for the past few hours, or walking in the woods daydreaming with my dog, would the results be different? And for you all, is there an equivalent of your brain, and then your brain on meetings, kind of like that old anti-drug ad (embedded here for you young folks)?
I suspect that may be the case. But I am a firm believer that the most Spock-like among us also is more than capable of coming up with some amazing new ideas (as, in fact Spock often did on the old Star Trek TV show); and the most creative person can work through a problem to come up with a logical solution. Perhaps not the same one as Spock would have, but still.
But if you feel you need to do more to boost your creativity, I highly recommend a book called The Artist's Way, by Julia Cameron. Or you can skim through this infographic of the daily habits of some of the world's most creative thinkers—they spent a lot of time doing things other than creating. And of course, there's an app for that. Actually, there are five free ones that sound intriguing in this Hootsuite post that I'm going give a whirl.
What do you do to get your creative juices flowing? Or do you, like me, get your best ideas when you are least likely to be looking for them? And if so, how do you create time and space for those cool ideas to bubble to the surface, given your hectic work and personal life?
Suggested Categories
More from MeetingsNet

---