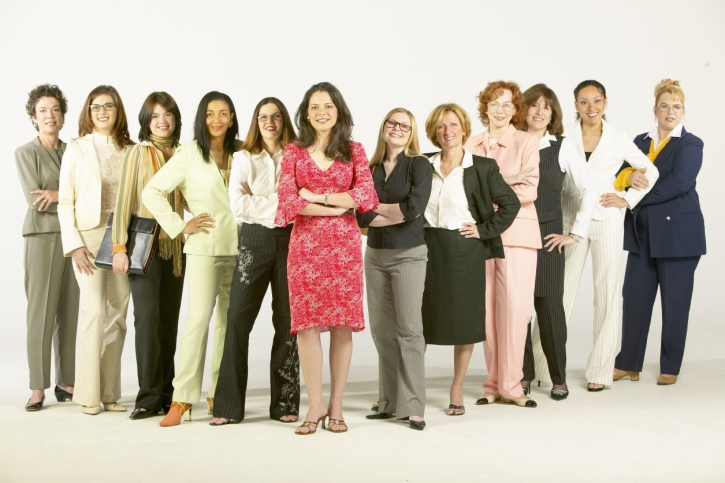 One of the many reasons I wish I could have gone to the Meeting Professionals International World Education Congress last month was to go to a session called, "Powering Up: Women and Leadership in the Meeting and Event Industry." The panel featured some amazing women—Karin Krogh, Nyt Potentiale; Fiona Pelham, Sustainable Events Limited and MPI chairwoman-elect; the always-inspiring Tyra Hilliard of Hilliard Associates; Rosa Garriga Mora with event app company myQaa; and a lone guy, Kevin Kirby, The Kirby Consulting Group and MPI's 2014-2015 chairman.
I had the pleasure of chatting with Rosa about it the other day. I had been wanted to get in touch with her anyway because of the fascinating Top 5 Women in Event Technology initiative her company had undertaken earlier this summer. While women dominate the event industry, in the event-tech niche, not so much, and I found it interesting that a tech company would take on a project like that (even though I wasn't crazy about the logo they chose). She was on the panel not just because of that initiative, but also because she was named one of the Professional Convention Management Association's 20 in Their Twenties inaugural group in 2013.
She said the session was, not surprisingly to me, SRO, with somewhere around 180 people packed into the breakout room to discuss the key challenges women in the events industry face, and what they can do to overcome obstacles on their paths to leadership. After each panelist talked about what they perceived to be the biggest barrier to thriving in the meetings business, everyone in the room was tasked with writing down their own answers, which then were tabulated and voted on, with Karin reading the top answers.
According to Rosa, while there were more than 100 answers, they mostly boiled down to the same three topics: the need for more self-confidence, improved communication skills, and, on the solutions side, how getting involved in organizations like MPI can both improve self confidence and communication skills, and also help women (and men) make contact with people who can both give them advice and learn from them.
However, as Rosa said when we chatted, it's one thing to have discussions. But if we don't do anything about what we discuss, nothing will change. So the myQaa team videotaped some of the high-profile people at WEC, including the women they identified as being leaders in event tech, giving their thoughts on the topic. The hope, she says, is to spread the word about the issues and get people thinking about concrete things they can do to better support women professionally.
Here's a link to the first short video, which is well worth watching, IMHO.
A couple of other initiatives you may find interesting:
Forward 15: Fay Sharpe, managing director of London-based event management firm Zibrant, launched this non-profit mentoring program to help women in the events industry reach their full potential. It consists of two group workshops and monthly one-to-one mentoring, and has the support of organizations including MPI and Women's Business Council. Many of 15 who succeeded in enrolling in the program (about 10 times that many applied) have already attained their goals for the year-long program, Rosa told me.
The 50-50 pledge: Sandi MacPherson, who founded the professional network Quibb, got a little tired of hearing how few qualified women speakers there were available for tech events, which tend to lean male-ward in their speaker rosters. As she told Fast Company, "Events are the face of the industry [and more than that] speakers get access to people and the press that they wouldn't otherwise."
So she issued the 50-50 pledge, which asks event organizers to commit to having equal numbers of male and female speakers. And to make those qualified women speakers easier to find, she asked women in tech to sign up on a list of available female speakers on tech topics. Within months, she had 1,100 signed up.
And then there's Doxa, which highlights tech "companies where female employees thrive." (Thanks for the pointers, Rosa!)
So, do you think all this attention on empowering and elevating women specifically is sexist and exclusionist, a charge often raised around these types of intiatives? Or is this a necessary course correction to help empower those who historically have been held back from gaining the skills, confidence, and connections they need to reach the top spots in their professions?
P.S. The always-fascinating job of searching for an image to go with this post reveals some weird things: The search term "empower women" resulted in lots of women doing yoga, in bathing suits and sexy short skirts, yelling into megaphones, and smiling vacuously. It took a couple of pages to get to one titled, "Confident businesswomen" (above, by Jupiterimages on Thinkstock by Getty Images).
Suggested Categories
More from MeetingsNet

---