I was so excited when I saw a press release come through earlier today from event app producer myQaa on its new initiative to recognize the women who are rising to the top of the male-dominated event technology field. These are no doubt some serious leaders in event tech: Julia Hartz, Eventbrite (U.S.); Dahlia El Gazzar, The Meeting Pool (U.S.); Kate Jackson, Tablecrowd (U.K.); Liz King, Techsy Talk (U.S.); and Tahira Endean, Quickmobile (Canada).
While their being lauded for making a "distinct difference in the industry" makes total sense, the addition of "and the female community" made me scratch my head for a minute. Then Carina Bauer, IMEX Group's CEO and one of those who helped identify the top five, cleared it up when she says in the press release, "these women have been real pioneers in their fields and their businesses have been very specifically focused on developing and introducing new technologies to the event sector. They were also all supportive of developing other women in their chosen sectors." Yes, yes they are. Congratulations to them all, and to myQaa for thinking of recognizing them as such.
And, as you may know I have a bit of a thing about male-centric panels, so it was heartening to see a gender-balanced panel of jurors for the initiative as well. Along with Bauer were: Carrie Abernathy, Women In Events; Corbin Ball; Guy Bigwood, MCI Group; Lawrence Coburn, DoubleDutch; Cindy D'Aoust, Cruise Lines International Association; Jackie Mulligan, International Centre for Research in Events, Leeds Metropolitan University; Allan Norbury, CAT Publications; Barbara Palmer, PCMA Convene; Anjali Sharma, Narrative: The Business of Stories; Julius Solaris, Event Manager Blog; and Renaud Visage, Eventbrite.
This is all just so awesome—what a great thing to have come across my desk on my first day back from vacation. So I merrily wrote up a "kudos to all" post and was ready to pop it up on  face2face when I downloaded the logo to go with it and did a serious doubletake. Check it out: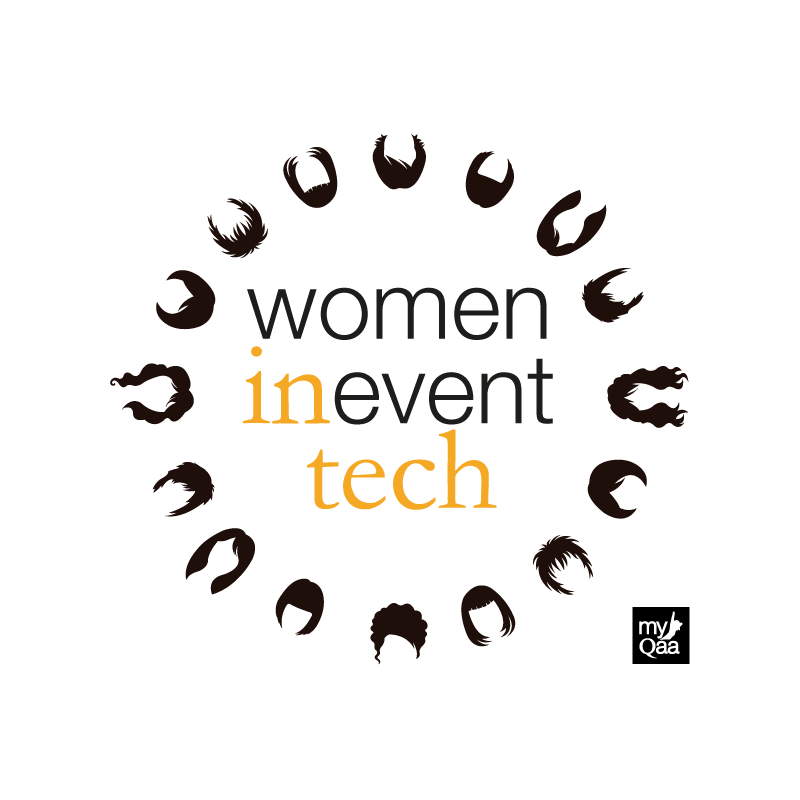 "Women in Event Tech" surrounded by … hairdos? I'm trying to imagine a world in which there was 1) an award for top men in event technology (it would just be event tech leaders, right?); and 2) the logo for that award would be a circle of mustaches and beards and combovers.
I know, this is a pretty silly nit to pick when there is so much else that is so right about this initiative, but that circle of hairdos just stopped me cold. We need to find some other way to symbolize women leaders other than hairstyles (or makeup, or shoes, or other reductive stereotypes) because none of those things has anything to do with what they are being lauded for, as I'm sure those behind the initiative know.
I wish I could be at MPI WEC this year to go to the session about Women and Leadership (where myQaa Communications Manager Rosa Garriga Mora will talk more about this initiative), but even more, I look forward to the day when no one will even understand why such a gender-specific session might be needed, logos for female-related leadership initiatives focus their imagery on leadership, not hairdos, and people get paid for what their work is worth, regardless of their gender. Until then, lead on, ladies. You are inspiring!
P.S. There are more inspiring folks listed in the myQaa press release. Who would you put on your short list for female meeting tech leaders?
Update: I just ran across this article on the use of imagery in literary fiction that speaks to the point of how important the imagery you choose is. Seeing as our brains process images 60,000 times faster than text, and 90 percent of what our brains process is visual, imagery matters more than you might think, so choose it carefully.