What did participants at this year's Pharma Forum, taking place this week at the Marriott Marquis in New York, see when they entered the general session ballroom that made their eyes widen? Just this: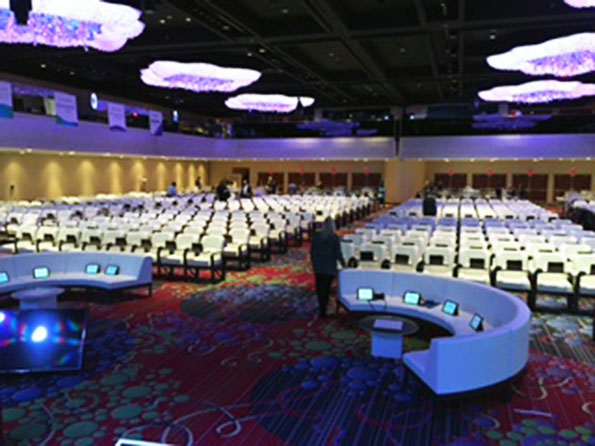 I don't know if you can see all the way to the back in my less-than-stellar iPhone photo, but when people first walked through the doors for this morning's general session, they saw a section with highboy tables (with comfortable chairs)  nearest the door, a middle section with cushy chairs that featured swivel tabletops, and crescent couches in the front by the stage, all set with iPads provided by Educational Measures they could use to respond to polls, follow presentations, submit questions, and take notes.
I was standing by the doors with our co-organizer CBI's meeting planner as people filtered in, and it was so cool to hear all the "Wow"s and "Whoa"s and to see them whip out their phones to take pictures. Many, many thanks to Marriott Convention Resort Network, Access DMC, and Totally Mod Event Furnishings for making the mixed-use, comfortable, fabulous room set happen! I also was happy to see people take advantage of Allred the different seating types, especially the couches by the stage. Up-front seating can be hard to fill when it's standard rounds or theater style, so I wasn't sure people would understand that it's all for them, but many enterprising souls did in fact take to the couches, as well as the rest of the seating types.
And check out the gorgeous stage set backdrop, designed and implemented by Iacono Creative Event Production:
Talk about seeing your branding come to life before your eyes! It was mesmerizing. Isn't it interesting that, even though I knew what was coming, to actually see it all happen—and see people react to it—was still surprising, and gratifying. And to have the ever-amazing Michael Dominguez from MGM Resorts International command the stage with his presentation on the economics of meeting planning today, well, let's just say that the conference kicked off in some serious style.
What have you done to make your general sessions more engaging and human-friendly?