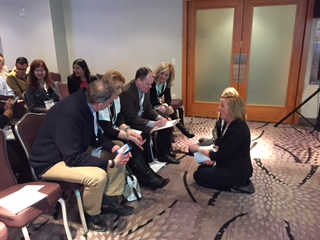 Most people I've talked with about them have a love-hate relationship with icebreakers. When they work well, they really shoot the energy level into the stratosphere and help people make connections. When they go awry, an awful pall can fall over the room as people gamely (or not so gamely, but definitely awkwardly) try to make it work before resorting to eye-rolling and bonding over trying to figure out "What were the organizers thinking?"
So at the Pharma Forum, being held this week at the Marriott Marquis in New York, we—MeetingsNet staff and our co-organizers at CBI—always put a lot of thought into trying to make sure those who come to our newcomer's pre-meeting orientation session actually get something out of those five or so minutes we devote to ice breaking. 
I'm not sure how we arrived there after a long and meandering route through a bunch of ideas, but eventually we thought, hmm, MadLibs! You know, those short, fill-in-the-blank stories our parents gave us to while away the time on long car trips (or maybe that was just my family)? Why not make up a few that would be specific to meetings, and even more specific to life sciences meetings and the Pharma Forum itself? 
So my fellow editors and I put on our eight-year-old hats and dug in. While my MadLib about what happens when two celebrities try their hands at planning a pharma meeting is, I think, OK, the one my colleague came up with about the travails of traveling to an event is downright inspired! (You can e-mail me at [email protected] if you want to check it out for possible use for one of your networking events.)
Was it helpful or hokey? Everyone got right down to it, even though we had the room set up theater style to accommodate the 240 people who had signed up for the session so they had to do the usual linked-chair shuffle. The noise level got pretty high, and when two people shared their groups' MadLib (we had two), there were some good laugh-out-loud moments. And, when we did a final full-group MadLib to end the session, we all got one mental image that may live on in infamy, at least for the next few days!
What's your favorite icebreaker? Here are a few others that one of my colleagues pulled together, some of which I've experienced and others I really want to check out some time.
Update: I forgot to mention that we also put up a slide that had a grammar cheat sheet providing definitions and example of nouns, verbs, etc., just in case anyone was a little rusty.